I wrote a post last week, but Starbucks Google lost it somewhere in the dark web.  Maybe some day it will reappear but I am just moving on baby.
It is once again Hockey Wednesday (after Hockey Monday, Hockey Tuesday….)  It is off season but I feel like I have less sewing time then during season.  I am guessing because during season I am prepared and plan better.  Of course, attending 3 out of 4 home playoff games each round takes a lot of time too.  I am not going to Game 7 of Round 2 because my grandson Shaun does have practice today.  We are taping it but I don't want to watch if we lose.  That is just not fun.
Sewing Updates
Alison Glass Trinket FPP Sew-A-Long
I totally fell off the wagon here.  I haven't posted to Instagram in forever.  I only have the Life blocks #4, #5, #8, #9, and #10 to make.  I do have my #3 made put have not posted because I have taking photos yet.  While this sew-a-long has not been bad at all, Foundation Paper Piecing doesn't really float my boat.  Good news, I am no longer intimidated by FPP.  Combine the fact that I am not an avid FPPer with I am only okay with my Alison Glass Kaleidoscope fabric, pushing through is a big effort.  With a total of 10 blocks left to make, I will finish.  Then putting together as a checkerboard layout.  I was not real clear if the May 20th deadline is just the top or a completed quilt.  I am assuming quilt top.  I was thinking I would piece together the leftover Kaleidoscope fabric to make the back.  If there is anything left after that….  We will see.  Side Note: the month of May is FPP challenge with #sbbsewfor15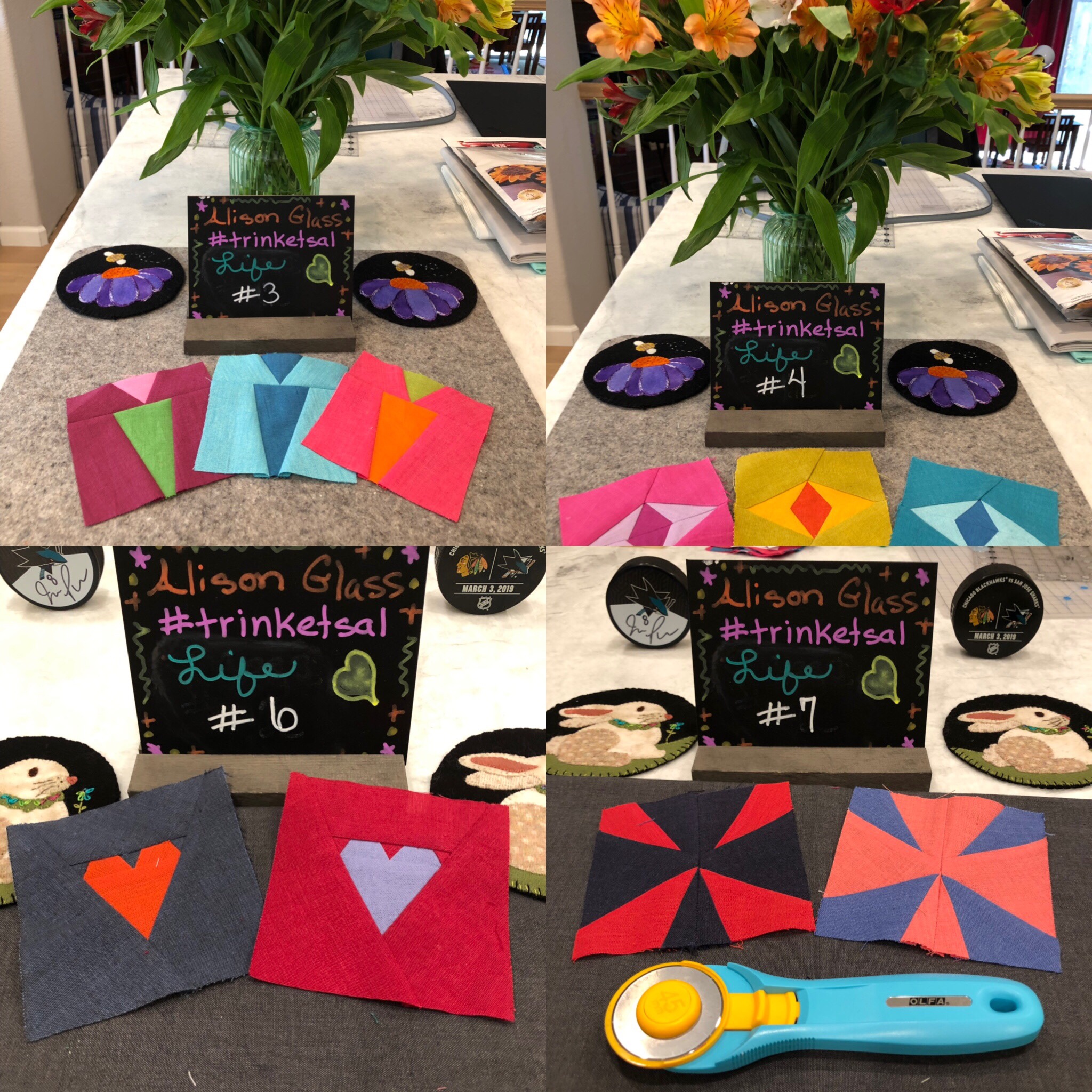 Kathyrn Kerr's 365 block quilt challenge
I have made some progress but not that we are on 6 inch blocks and they are complicated with lots of pieces, it is taking a wee bit longer than the smaller 3 inch blocks.   I managed to cut out this past weekend two more blocks, I just haven't had a lot of sewing time.  It is also time to layout the 3 inch blocks into the first dark border.  I need time and space for that.  Maybe this weekend.  I am amazed out how my skills have improved with this challenge.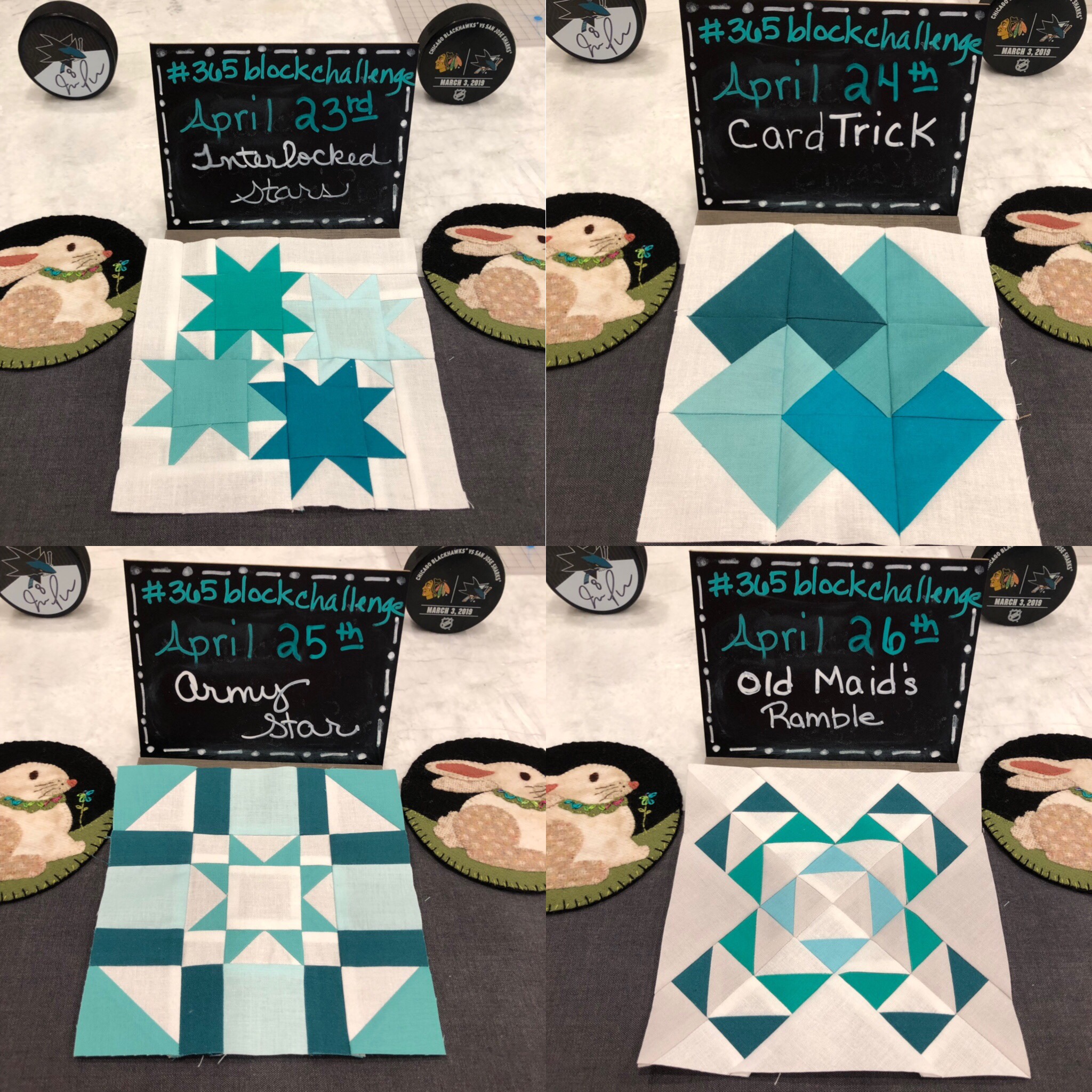 Pieced May Table Runner
My fabric I ordered to finish up the table runner came.  I am looking forward to finishing this table runner up.  It is so cute and since I did in teal and coral it will look fantastic in my kitchen.  I downloaded the June today and it will be fun to do that one too.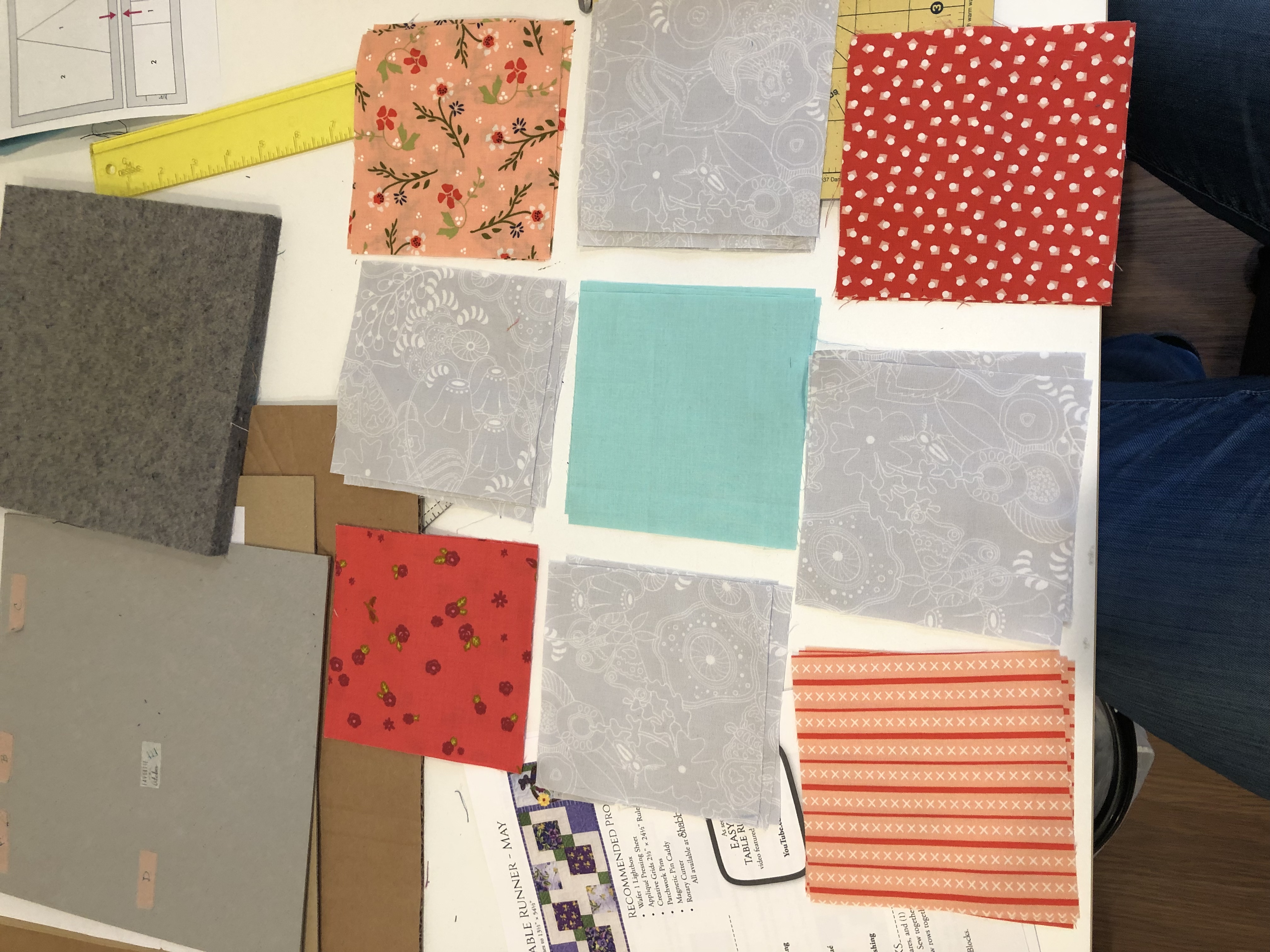 Farmers Wife 1920 EPP Sew-A-Long
I finally finished block 22 Corn & Beans.  It is a cute white and orange block made with Alison Glass fabrics.  Last night I cut and prepped block 23 and did the fabric pull for block 24.  I am officially posting on Instagram and Facebook these blocks today.  I wonder how many years it will end up taking me to make this quilt. Haha!  I am loving colors and fabric!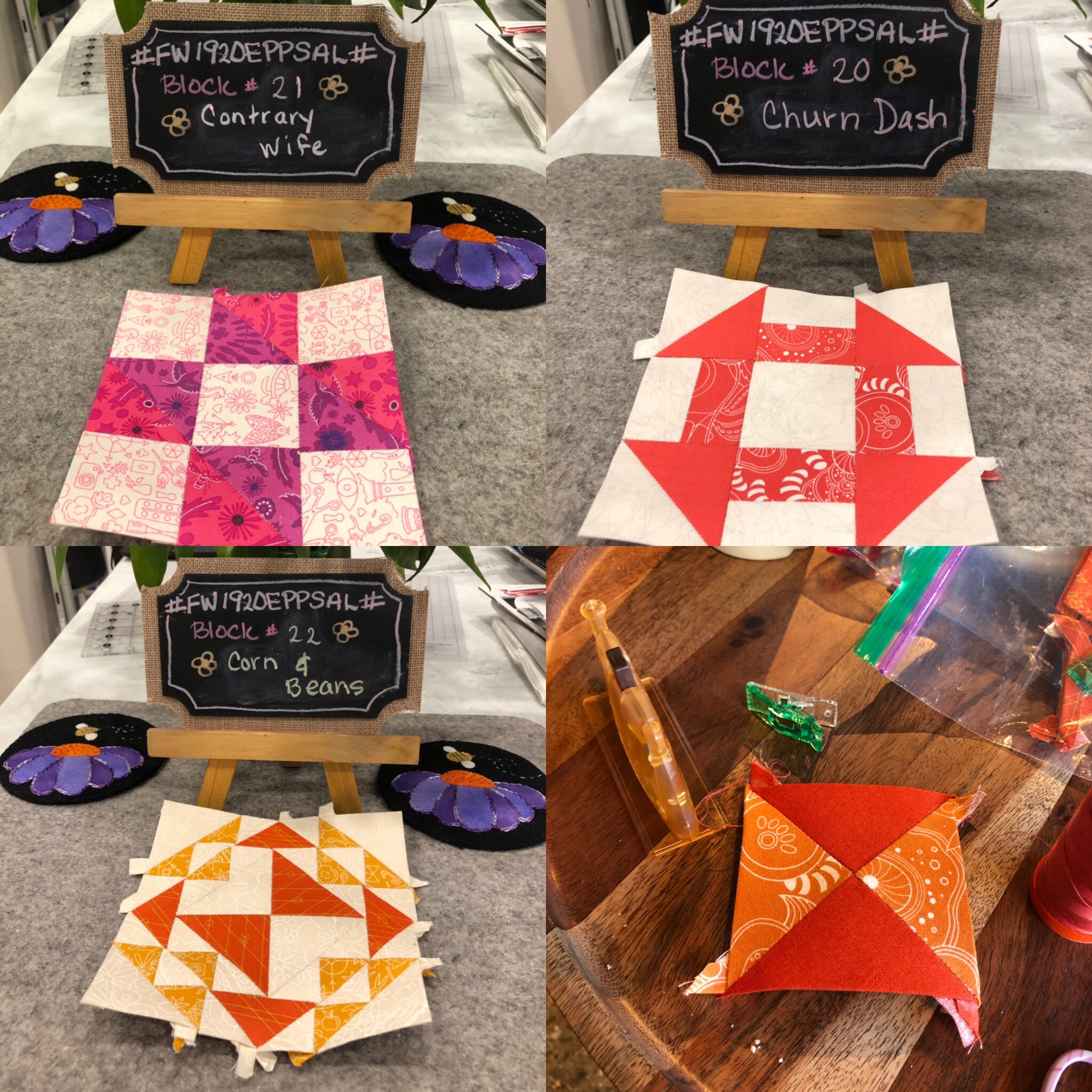 Monthly Wooly Mug Rugs – June Strawberry
I am almost done with this one.  I set it as my #onethingwithAmy for this week.  I had saved the hardest embroidery stitch for last – bullion knot.  It looks great but it is a tricky stitch.  It is perfect but unless you have a magnifying glass I don't think you will notice my booboos too much.  Finished up the edge with a blanket stitch to attach the front and back together and making a nice finish. Believe it or not this is my first finish for second quarter.  My original list is here.  I will be linking this up with Finish-A-Long 2nd Quarter at Capitola Quilter.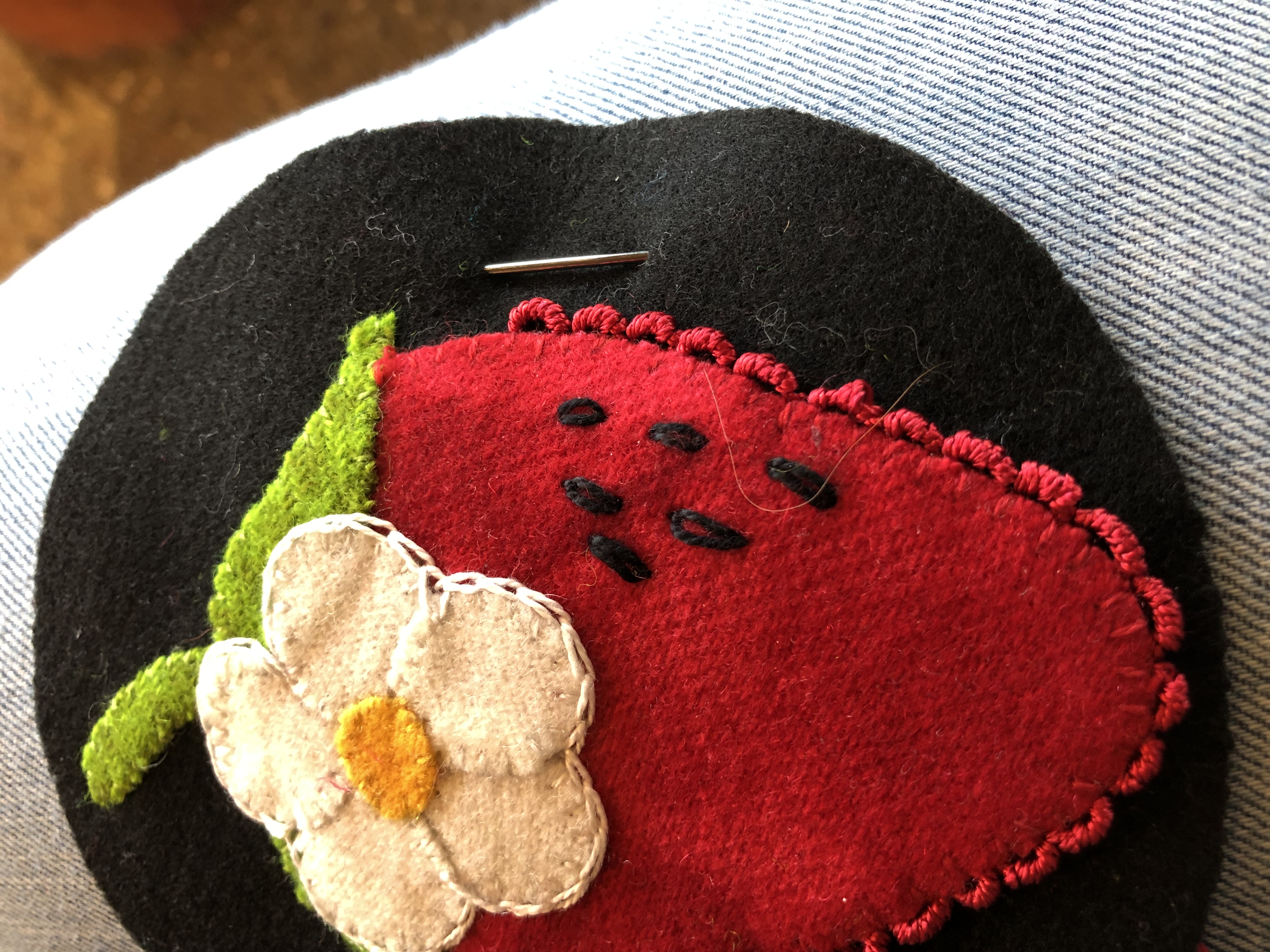 On the sewing table
Not much going on right now.  On my sewing table is my charity quilt that still needs to be quilted, my 2010 NYE quilt that is waiting for some free motion quilting, and my Halifax temperature quilt.  I didn't work on any of these this past two weeks but they are still out.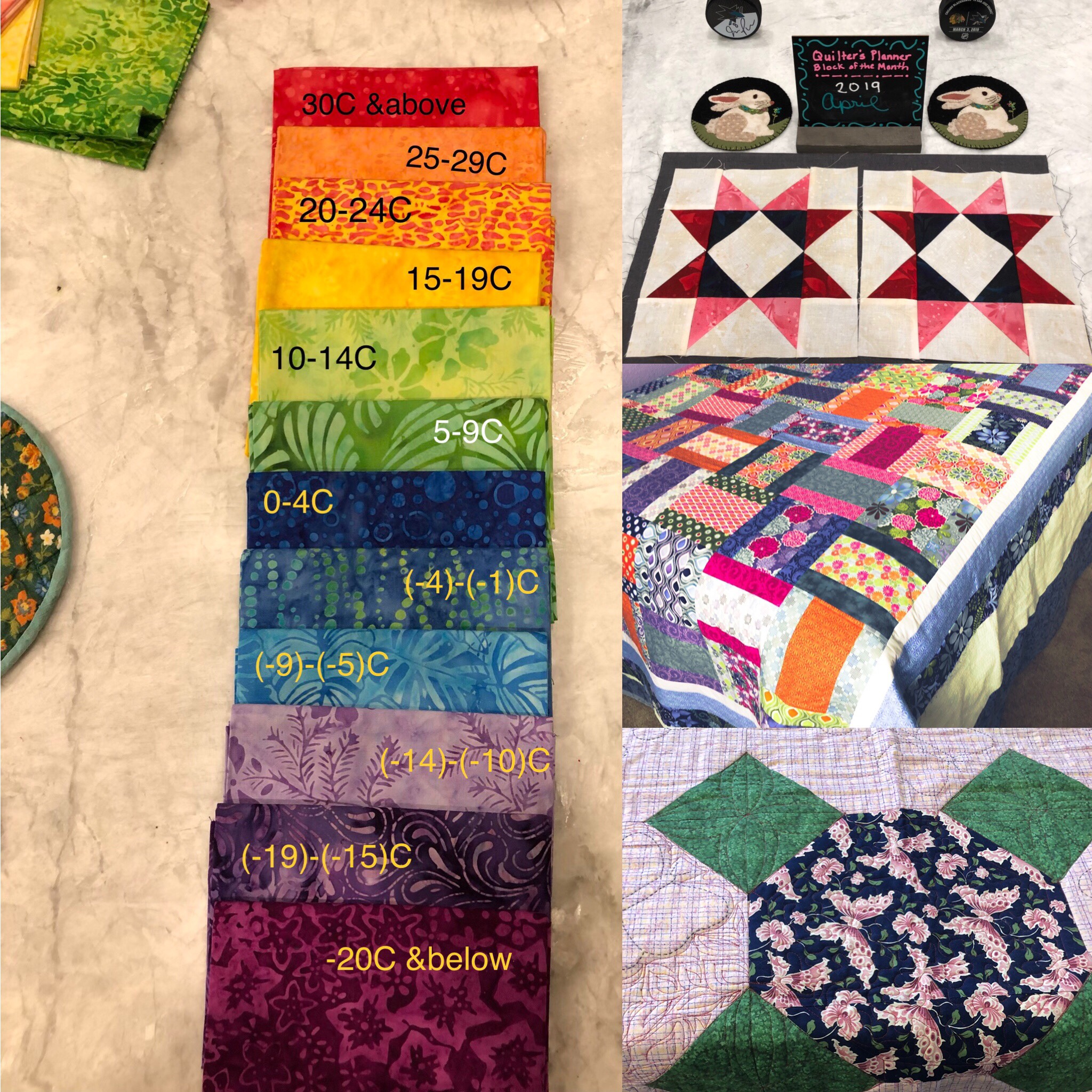 Well off to watch the Sharks!
Adventure Hard… Then go home and quilt all about it.  -@burlapandblossompatterns
Peggy Stockwell