Hello Adventurers:
Recently traveled to Phoenix, Arizona so I thought I would give you my take on that fair city.
For President's Day Weekend, I took Shaun, my grandson, to a hockey tournament in the Phoenix area.  We stayed at the Hilton Garden Inn in Tempe.  It was nice enough.  The rooms were clean and the staff was friendly.  They handled a gaggle of 10-year-old boys quite well.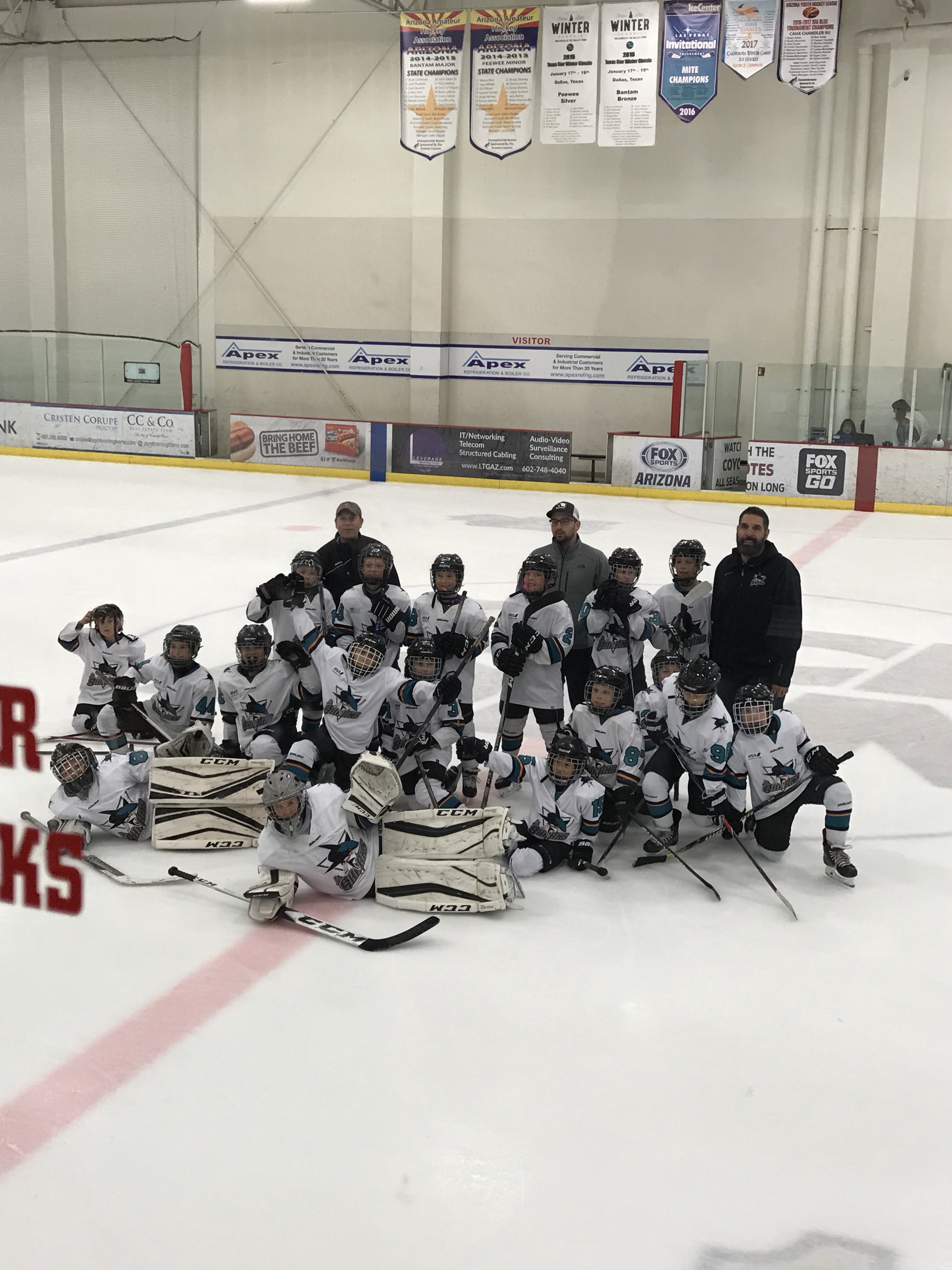 We played at the Ice Den in Chandler.  Very nice rink and well staffed.  The tournament was well refereed.  Of course when you lose, it is because the right calls are not made.  Our hotel was close to the Tempe Marketplace so food was not really a problem.  One night the team ate at Dave & Busters which has so so food.  I'm not a big fan of their food.  Saturday night we ended up being on our own as we went to a Coyotes game Saturday afternoon.  We really ate at the arena so Shaun and I just had food that we had in the room that I got from the local market.  Sunday we once again ate at the Tempe Marketplace at Noodles & Company.  The service sucked.  It was so slow that we ended up having to take our food to go as we had bought tickets to go to the Harkins Move Theater to see Black Panther.  Shaun ate his food in the movie theater and I ate mine when we got back to the room.  Shaun ate the food in our room that night.  Monday we checked out of the hotel and played our last game at the Chandler Ice Den Rink.  A group of us headed to Old Town Scottsdale for our last meal before we went to the airport.  We ate at the Brat Haus.  All those 10-year-old boys found food that they liked as well as the hockey dads.  They also had a nice choice of beer that was enjoyed by the adults and some great drinks for the kids.  The root beer float was a big hit.  The weather was windy and raining most of the weekend.
Now a quick review of the Phoenix Sky Harbor Airport.  The flights were on time coming and going for both trips.  The luggage was delivered in a timely manner.  The Southwest check in lines were quick and efficient.  Security was easy and quick as well.  My only negative for this airport was that we had to wait in line for an hour to get a shuttle to the car rental center on President's Day Weekend.  Once there, everything was well-marked and easy.  (I use Avis Preferred).  Coming back that weekend, they had a Southwest courtesy counter at the rental car center.  It was nice to drop off all the hockey gear and luggage while waiting for our bus to the terminal.  That weekend you had to drop off 90 minutes before flight time.  My second trip just last weekend, the drop off was 120 minutes but there were no lines for the shuttle bus coming or going.  That time it was quick and easy.
I flew to Phoenix last week to walk the Giants Spring Training 5k.  I decided this year to take part in the entire series.  In 2017, I did just the San Francisco 5k.  The weather was amazing.  It was a perfect day for the 5k race held at Scottsdale Stadium where the Giants play preseason games for Spring Training.  The event went really smooth.  No long waits.  I had my race bib mailed to me at home which arrived timely.  Everything was well-marked and water was provided on the race course.  The race finished in the stadium where they provided extra refreshments including ice cream!  Once there I picked up my free race shirt and bobble head.  They had a band playing which was cool.  I stayed at an Airbnb for $50 on Friday night and flew home on Saturday.  So it was a quick in/out trip.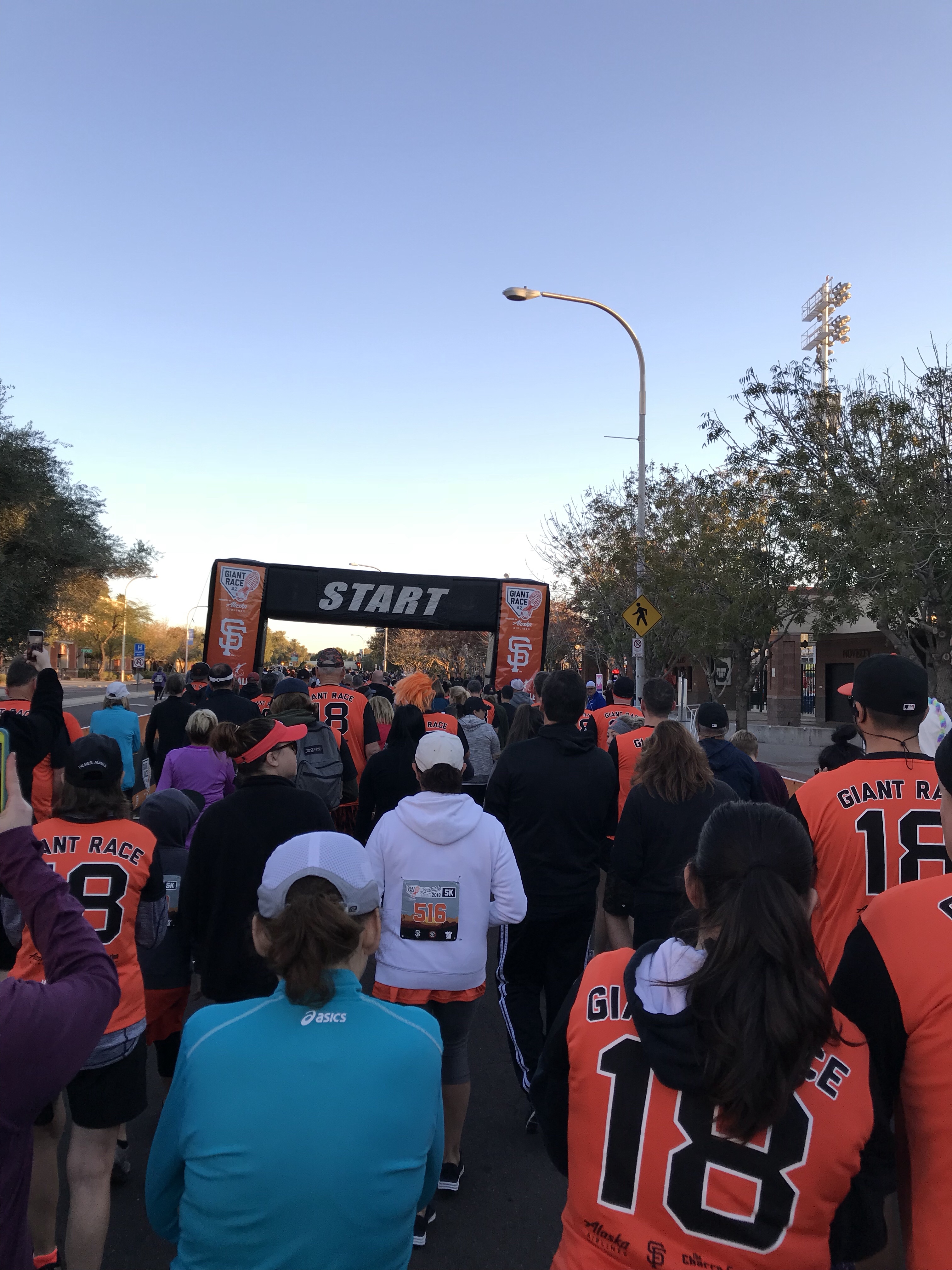 On my way to the airport, I stopped at the Scottsdale Quilt store.  I was short on time and arrived at 9:45am to the store which was supposed to open at 10am.  Instead I found a sign that indicated that they closed early on Friday and would open again at 10 on Saturday but no one showed up until 10:15.  I only had 15 minutes to shop.  Even though I was rushed, it was more than enough time.  The fabrics they carried are not really my style but I did buy a few 2 yard cuts and the price was great at $6/yd.  After I got to the airport, I realized that my $80 purchase was actually charged at $125.  When I arrived back in San Jose and confirmed everything, I called the store.  They were quick and friendly on getting me a refund on the math error.
I wouldn't mind going back to Scottsdale and spending a little more time being a tourist and checking out Old Town for real as well as the rest of Phoenix.  I saw signs for Legoland and a cool looking Science Museum.  Next maybe.
Have a great night everyone!
Peggy