It's been a while with life taking over my free time.
I started the 1920 Farmer's Wife English Paper Piecing Sew-A-Long in August with at Gnome Angel and that has been both challenging and fun.  I decided to use Alison Glass fabrics in a color wash layout.  I have spent hours on the coloring of my layout as I progress.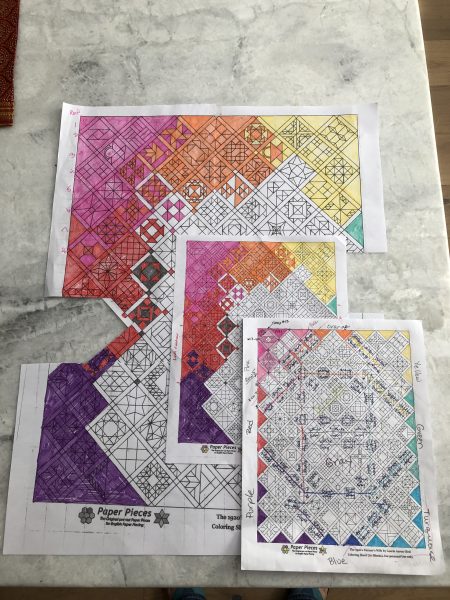 Hand piecing is a lot slower than I was expecting.  I am not sure if I will finish with everyone else in October 2019 or not but the purpose of this project was to a have a mobile project.  I am only on block 11 Broken Dishes but I am happy with my blocks so far.
I have slowly been coming to the conclusion that since this project will take multiple years that I should probably do this one as quilt as you go style.  With the sashing in the layout with cornerstones, it is ideal!
Slow but steady progress.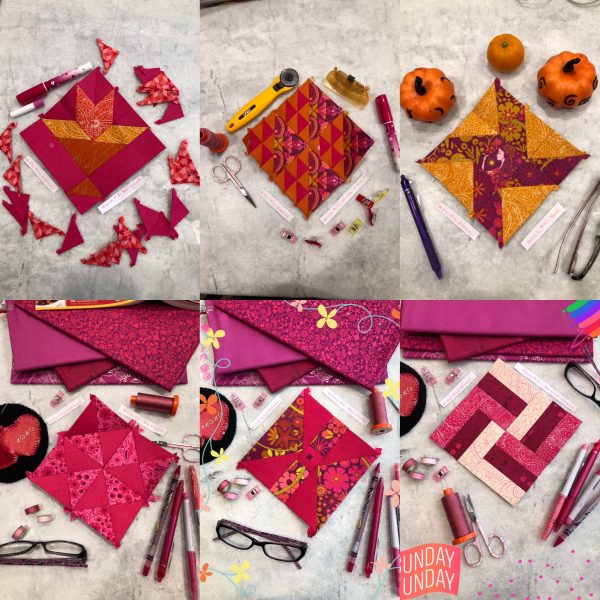 PIQF 2018
I attended the Pacific International Quilt Festival this year in Santa Clara, CA.  Took some real fun classes.
Thursday my friend Mary Elizabeth Bellizzi and I took Embrace the Chaos from Libs Elliott.  It was a fun class on randomness.  Random Fabric.  Random Blocks.  Random Layout.  It was a fun experiment.
Thursday night we did Quilt O with Pat Yamin which is always so much fun!
Friday we took an half day afternoon class on using Westlake rulers to make feathers.  It was fun since I suck at feathers.  My only regret was not purchasing the rulers while I was there.  I haven't been able to get the rulers since then.
Saturday was a class called Paperpiecing Triangles with David Sirota with Mary Elizabeth and friends that we have made over the years.  We all had a great time as well as learning how to more efficiently use paper and glue for foundation piecing.
Of course, all the projects started in these classes are still in the same state as the time I left the class.  LOL!!!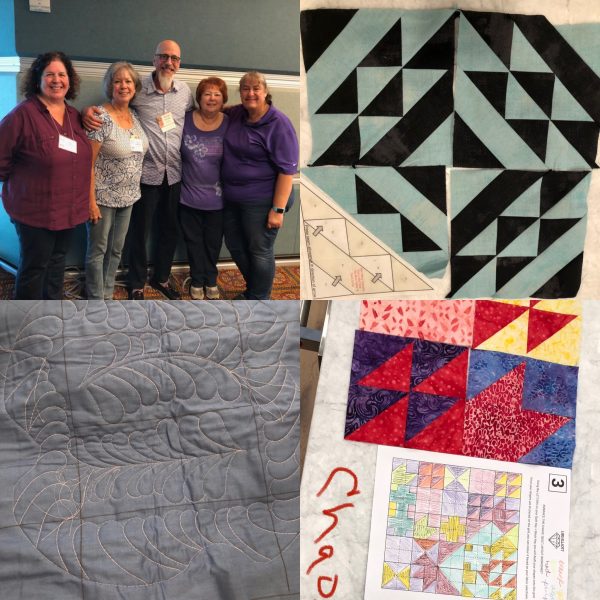 HOUSE UPDATE
My house is finally almost back to normal (part of the distraction).  My stuff was delivered from storage in late July.  Two rooms full of boxes was …. overwhelming.  It is now December and I have unpacked a fourth of them.  That will be a quarter 1 goal to at least get the old sewing room unpacked and organized so I can move my grandson to his "new" Game Room because grandma took over the old game room.  (Hey! It is way bigger!)  But  I will still store fabric and things in the new game room.
With the kitchen finally finished (just a punch list left), I have a beautiful BIG island.  Where I had no use for placemats, tablerunners, etc, now I do.  I pulled out the only set I made myself a few years ago while I was experimenting making these homey things for my daughter and sisters.  I got this bright idea to make a seasonal set for October.  I pulled together the cutest cat fabrics in orange, black, and purple.  Shaun (grandson) picked the pattern and I went to work on them.  Shame on me for letting him pick the pattern.  Halloween came and I finally finished the tops the week after which I hung on my long arm machine and decided I should start a set for Thanksgiving.  I picked out some beautiful grunge fabrics and a pattern I figured would be easy except I came up with the bright idea to make them reversible. I have two different patterns.  #sigh  Guess where those are?  Yep, you got it!  Hanging on the long arm.  Yet another unfinished set.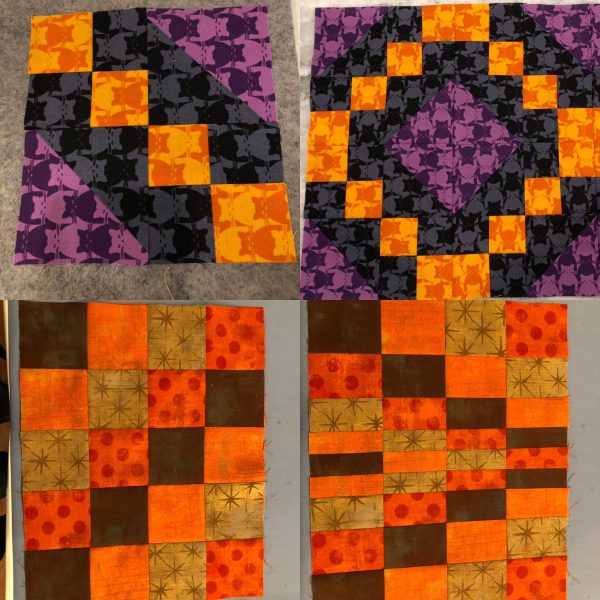 By now, I am getting very frustrated with myself.  I came up with a brilliant idea to do stack and whack placemats.  (That set I said I had on hand – same pattern)  Guess what?  Nope.  I actually finished them in time for Christmas!  (So what if it was Christmas Eve?!  They are still done.)  I now have 6 beautiful placemats for my 6 place settings at the island.  Christmas morning dawns and my lovely daughter who was visiting from Novia Scotia asked where the napkins were!  Okay so I had planned on doing them, but it didn't happen.  So….
My January One Monthly Goal with Elm Street Quilts will be to finish those napkins and a scrappy table runner.  If it works out maybe I will make some potholders and mug rugs but I am not going to add that to the goal.  I am on the road for half of January and I am trying to keep it real.  My January #omg is complete the Christmas table runner and matching 6 napkins.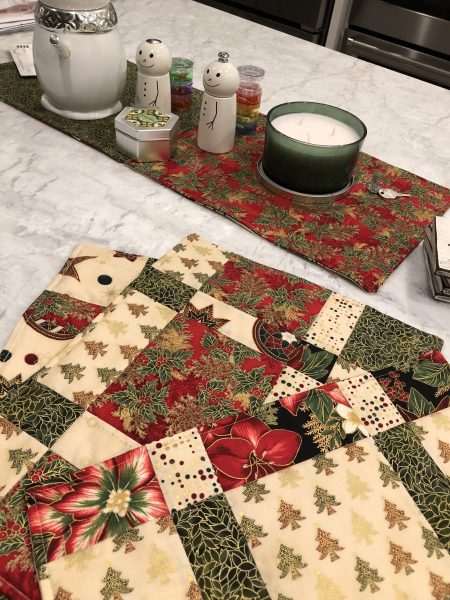 I hope to put post a few more blogs this month.  I will be putting together my goals for 2019 and first Quarter.  Stay tune.  The drop off in blogs is also a drop off in productivity home and work as I tend to get overwhelmed (translate OVERCOMMITTED).  Need to come up with my watchword for 2019…..
Have a great day everyone!  Be Safe and Happy Quilting!
Peggy Stockwell