Hello!  Spring is in the air finally in San Jose.  Still a bit nippy but the sun is shining finally.  Makes this quilter very happy.
Wanted to give everyone a progress report this week on my March projects.
#FW1920EPPSAL
Ever since I started working on this 15 minutes a day, I can't believe my progress.  I finished up two blocks this week!  That is the most I have finished in one week since we started.  Heck I have been lucky if I finished one.  This continual practice every day has helped me get over the hard spots.  I have learned how to cut and glue much better.  Placing the glue in the right place makes sewing so much easier.  Also only sewing 15 minutes at a time does not make my arthritis flare up so much.  I think I am building up my hand strength too.  All positives.  Of course, Block 15 was mostly large pieces and only three shapes.  Soooo much easier.  There were a total of 17 pieces.  I am in love with Alison Glass's orange fabrics.  The colors are so rich and the fabric is a dream (and pleasure) to handle.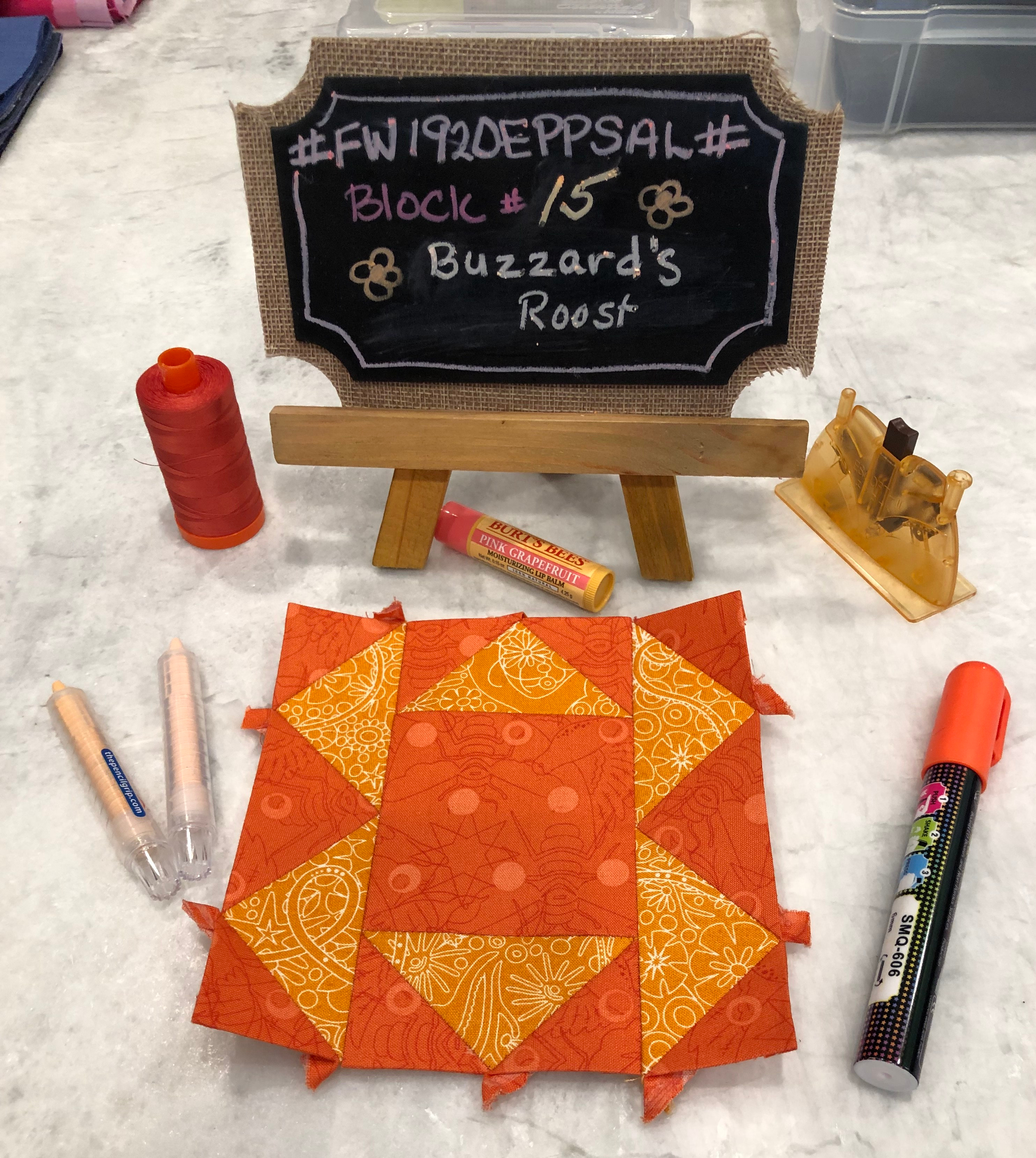 I finished up Block 15 while at the ski lodge last weekend and got a very good start on Block 16 which I finished last night.  16 is another block with large pieces and few shapes.  Even with that, I think I am getting better making everything match.  They just seem to flow now.  While watching hockey last night, I finished up half of block 17 too (and there are tons of tiny pieces) which means I need to cut and glue the next block by Friday.  I doubt if I will catch up with everyone else doing this sewalong but still… I am extremely happy that I am doing this quilt as EPP.  Can't wait until I get some free time to start putting the rows together.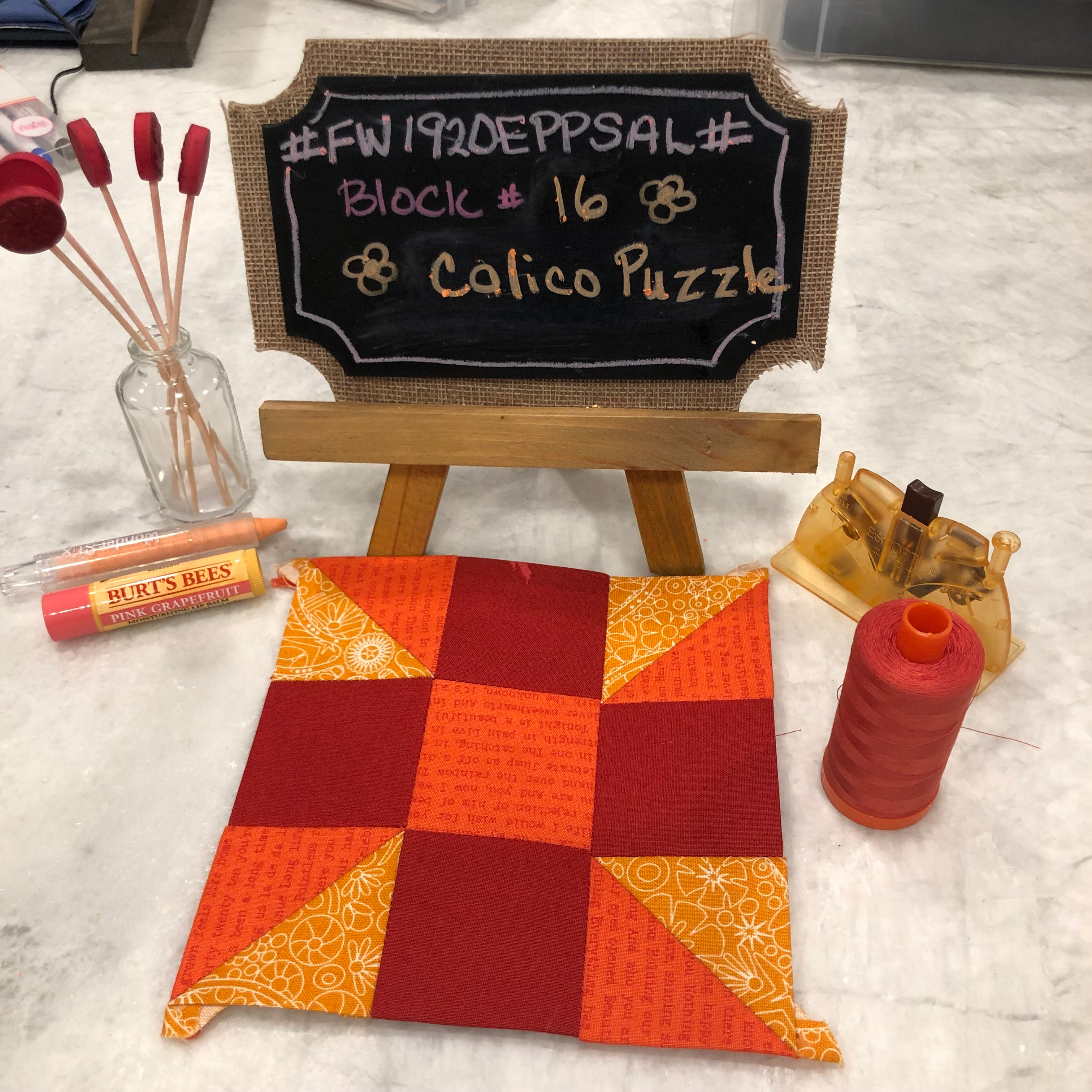 #trinketsal
The Alison Glass Trinket Sew-a-Long started on Monday, March 10th.  This is my first foundation paper piecing quilt.  I have dabbled in this area.  Taken a class here or there but never really DID it.  I remember in my early days of quilting, I signed up for a block of the month FPP but just couldn't get the hang of it.  I am extremely grateful that my friend Mary Elizabeth forced me to take a class last PIQF.  I moaned and groaned the whole time but I actually learned a lot.
I think I mentioned already that I got this trinket kit from Alison Glass' website last summer not realizing it was FPP.  I was very disappointed and set it aside.  If this sew-a-long hadn't come along who knows how long it would have been before I pulled that out.  I am very grateful to be participating in this SAL.   My kit has me making 90+ trinket blocks so as I told you last week, I made a plan and now I am working the plan.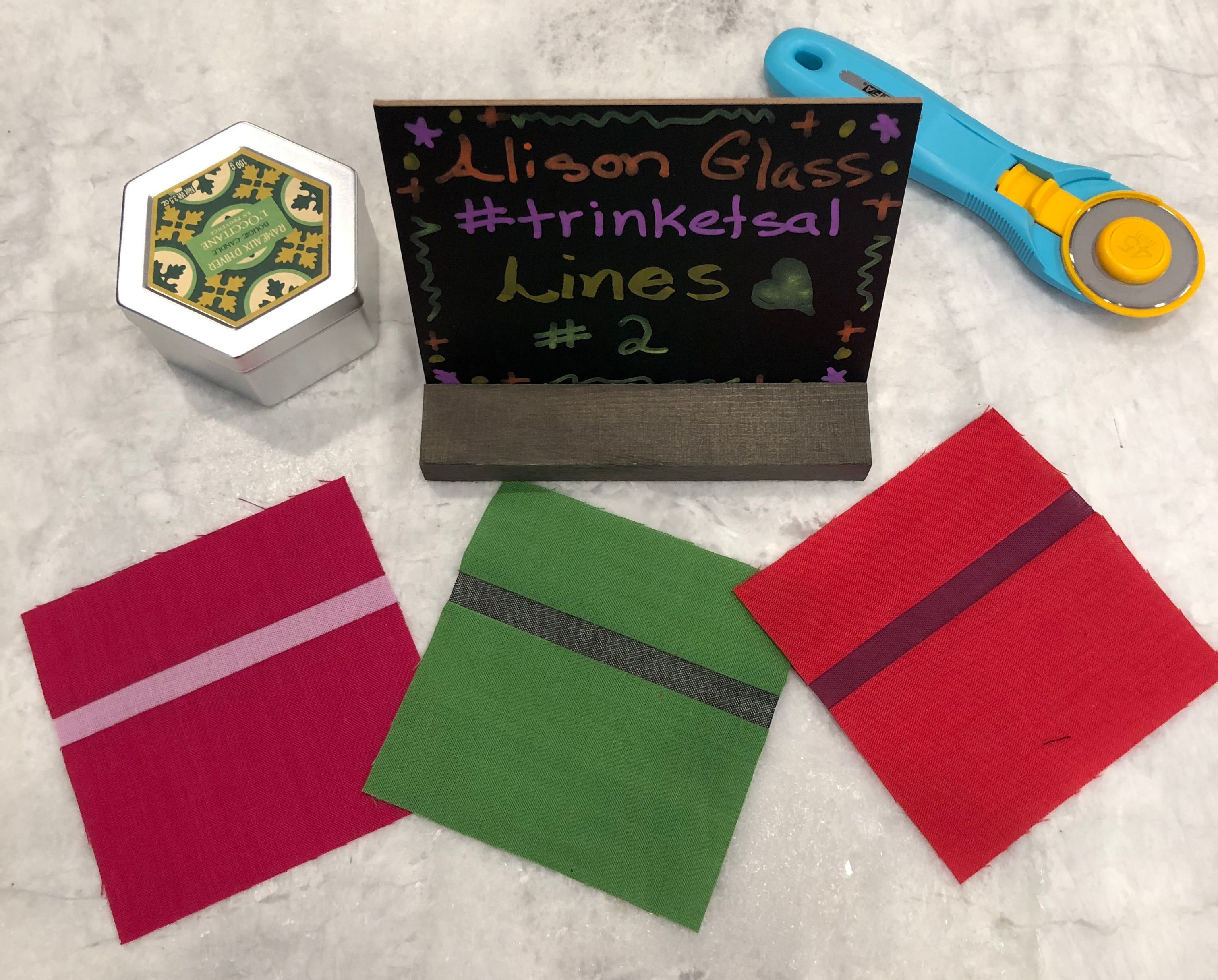 This week is trinket blocks Lines 1 thru 5.  With the ski trip that only left Sunday to play with this.  Even then I did not get the whole day so I was a bit stressed.  Lucky for me the first few blocks are simple which gives me an opportunity to get me feet under me.  I have finished and posted blocks 1, 2 & 3.  Tonight I have to finish sewing one more block 4 and by Friday two more block 5.  Worse case scenario, I do have at least one block of each to post so all is good there.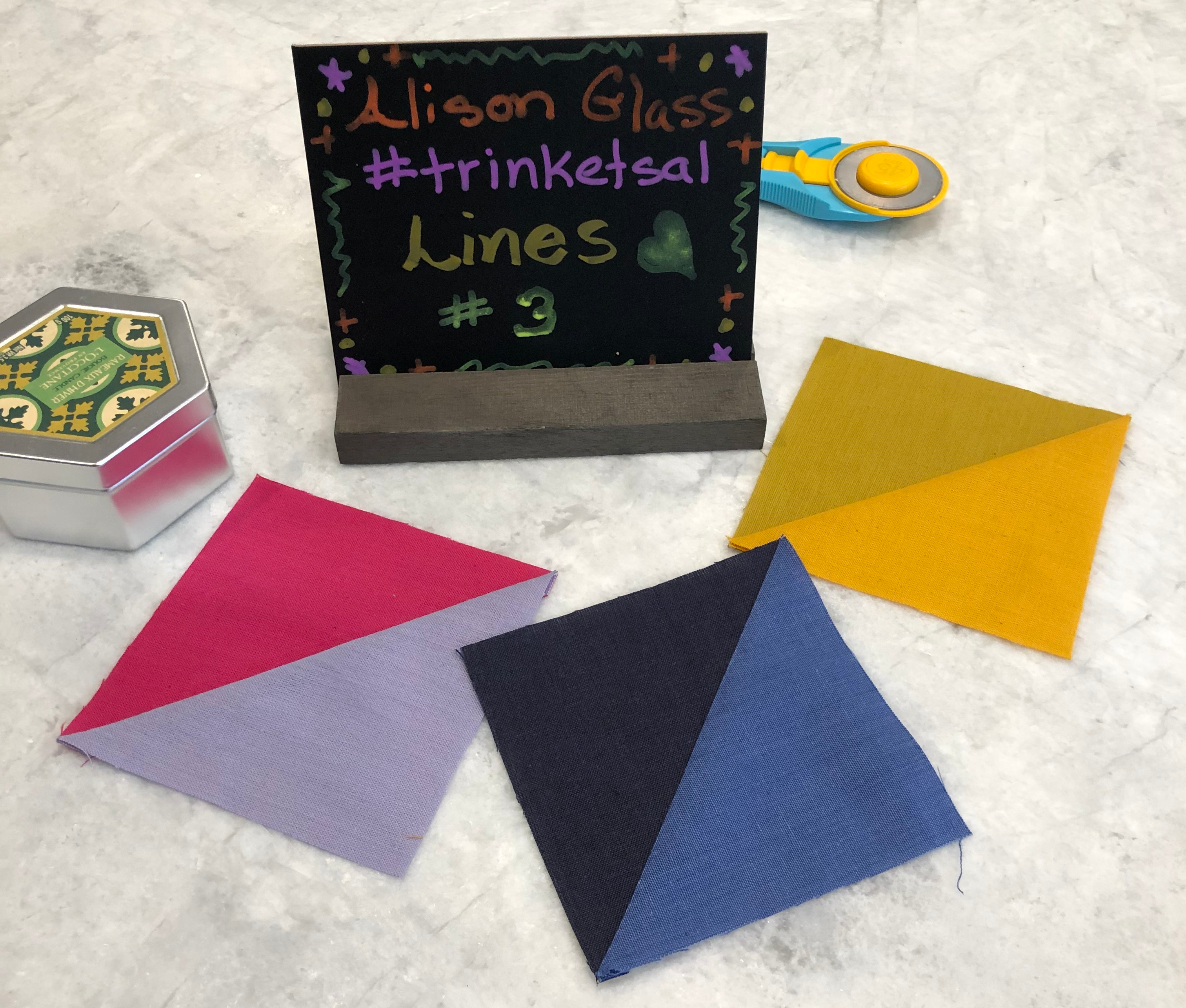 The kit fabric is a bit different from what I am use to working with.  It is still cotton but more linen like and solids for the most part.  This will be my second solids quilt.
Shabby Fabrics Mug Rugs
As discussed last week, I pulled out my June mug rug kit and did get it traced, cut, and fused together.  While skiing, I was able to whip stitch all the wool pieces.  I still need to finish the strawberry, then it will be time to watch the YouTube video to see what special stitches this one requires.  I recognize one of the three embroidery stitches (detached chain stitch).  The next two not so much but they look cute.  Below is a progress photo.  Aren't they cute!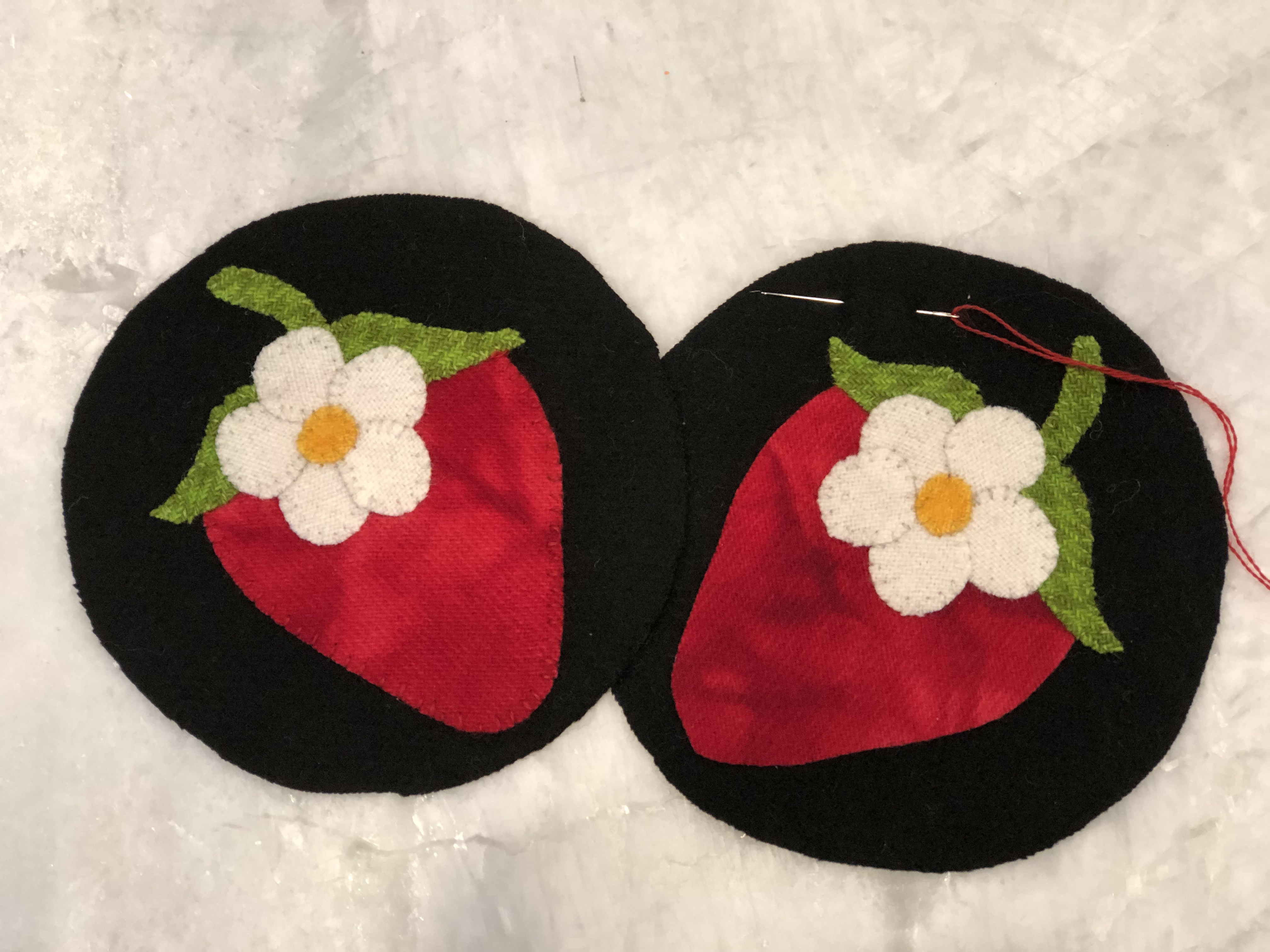 #365blockchallenge
I finally finished the March 15th (a 3″ finished block) and March 16th (a 6″ finished block) with all their glorious mitered corners.  I don't think mitered corners will ever be a favorite, but I don't think I will have the same fear of them as I once did.  Pushing through this skill has been a growing experience.  I know I have whined a lot about this and for those of you who find these Easy Peasy – Good for you!  I do love the look.  March 17th is another mitered corner block as well but pieces weren't double mitered (which seems to be my real challenge).  It is another 6″ block with four units sewn together.  It will look fantastic when done.  Once again, solids have made it so much easier.  I still did a lot of unsewing, but not as much if I was using directional or prints.  Sometimes my fronts and backs got mixed up, but with solids – not to worry.  The 2019 photos have their little chalk board props which I think enhances the photos a lot.  I get more comments on my "presentation" of blocks now that I am doing that then I ever did before.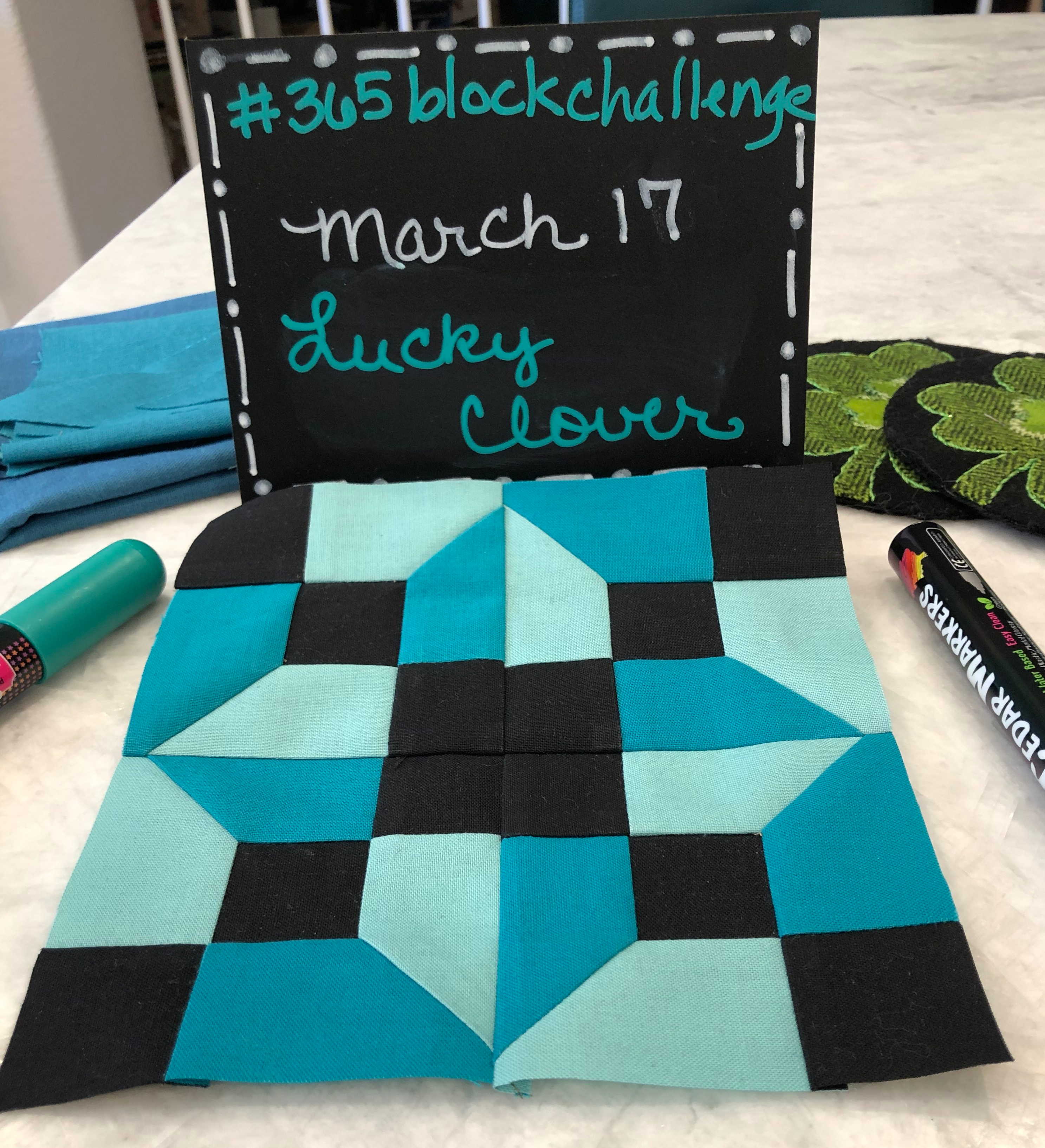 What else is on the sewing table….
Unfortunately with all the travel and new sewalongs, I haven't made ANY progress on my other projects.  We have jr hockey playoffs this weekend.  Lucky for me it is in our hometown even though not our home rink.  As Grandma, I have Shaun my grandson this weekend.  He does not like his parents taking him to tournaments so usually stays with me.  Even with all the hockey this weekend, I see quilting in my future!
I hope to finish August on the Halifax temperature quilt.  I need to sew my February blocks for the #qp2019sewalong.  Maybe I will just do one this weekend.  The NYE quilt needs to be set up either on the long arm or mid arm so I can work on it.  With my crazy schedule, I am just going to have to force this.  With free motion quilting, I find it easier to do 15-30 minutes at a time.  I like the results so much better.  Plus this is my one monthly goal as well as my finish for Sunflower Stitching & Quilting finish-along AND the regular finish-along.  Who wouldn't want to put this quilt on their bed.  It is gorgeous.
I don't see any progress on my charity quilt, Tula Pink blocks, or February place mats in the next week.  Maybe the following weekend.  With all the sewalongs, these are a very low priority.
My Peacock Story Miss Rosie blocks I'm not likely to get to, but sometimes, I just sew a step to help move it along.  I have 4 blocks with units sewn and cut.  It wouldn't take much to do one or two between other things……  Maybe.  That's it for this week.  I will try and get in a Travel Diary about Dodge Ridge.  I am sure not many people know about it and it is a fantastic place.
Adventure Hard…Then go home and quilt all about it! -@burlapblossompatterns
Talk to you next week!
Peggy Stockwell