ONE MONTHLY GOAL
Last month I set a very big goal to finish my NYE quilt started in 2010.  I did work on it but got derailed when I started the Alison Glass #trinketsal in March.  With working on two different daily sewalongs, I do not see me having enough bandwidth to reset that as my April goal.  So I am going to set that aside and work on my Charity Hexagon Quilt which has also been on my list for a couple of years and I have worked on it.  I do not like my thread choice so totally derailed.
BUT no matter what I am going to finish up free motion quilting this one as well as finishing the binding.  It takes up space on my list and my mind.  With a few hours of focus, I could probably make a lot of headway.  So….finishing this quilt is my April one monthly goal.  I am linking up with Elm Street Quilts.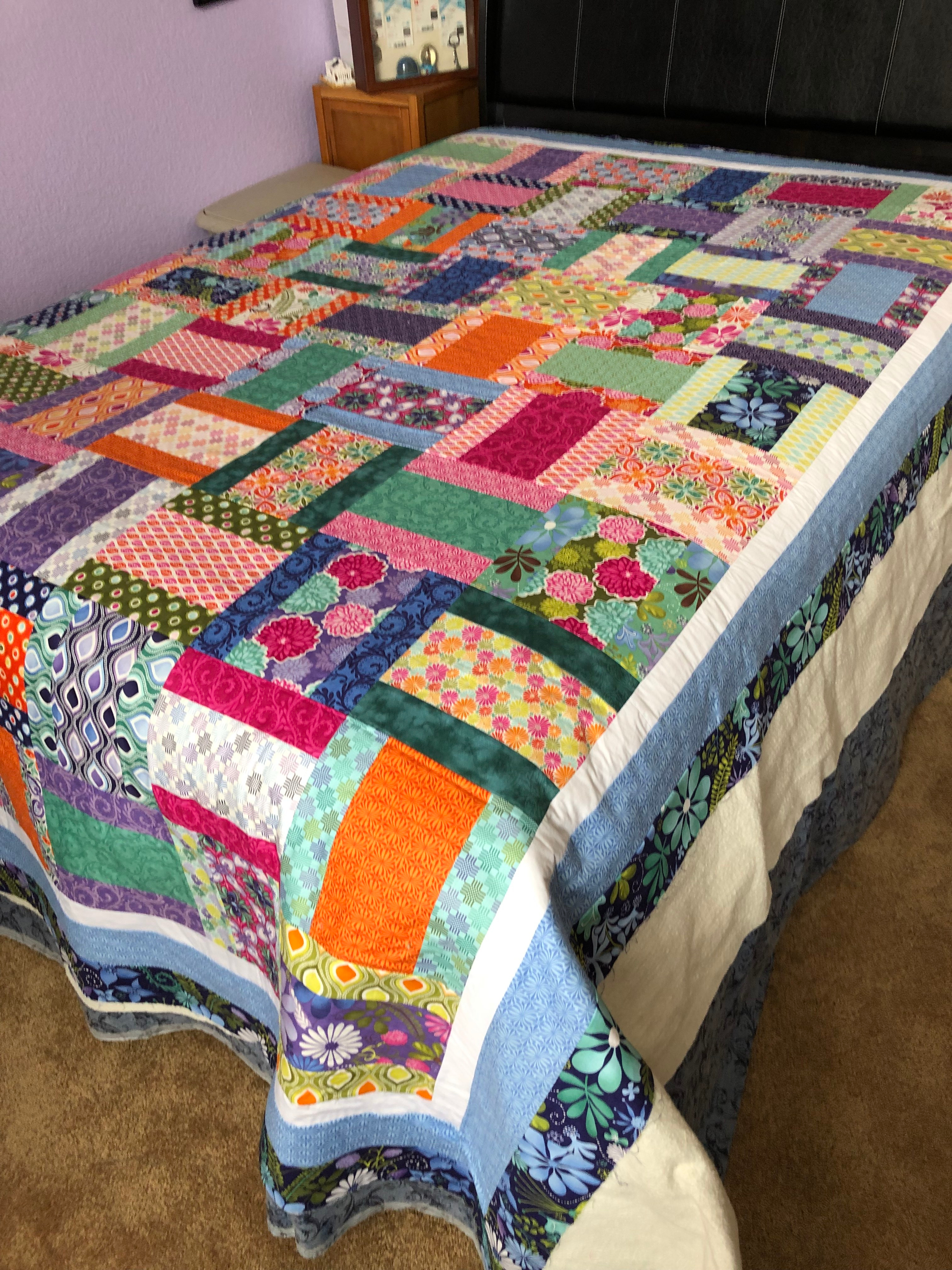 I am actually making a lot of progress and current on this project.  I have no idea how long that will last.  Some of these blocks are so hard  They are 3″ and 6″.  Of course they look great.  This week we are working on the borders and corner stones for the Center Medallion.  I have already finished all 4 borders and two of the corner stones.  They are amazing looking but freaking hard.  Mitred corners continue to be my biggest challenge.  Sometimes the directions are not very clear or detailed enough.  Who am I to complain about a free sampler quilt pattern?  They are being posted on instagram under several different hashtags.  #365blockchallenge #365blockchallenge2019 #365quiltchallenge #365quiltchallenge2019  There may be more but those are the ones that I have found.  A lady is doing a red & purple one that is gorgeous and a gentlemen is doing orange, yellow, green.   It is awesome looking too.  Of course, there are many more but they have been consistently posting.  Below are a few of my recent blocks.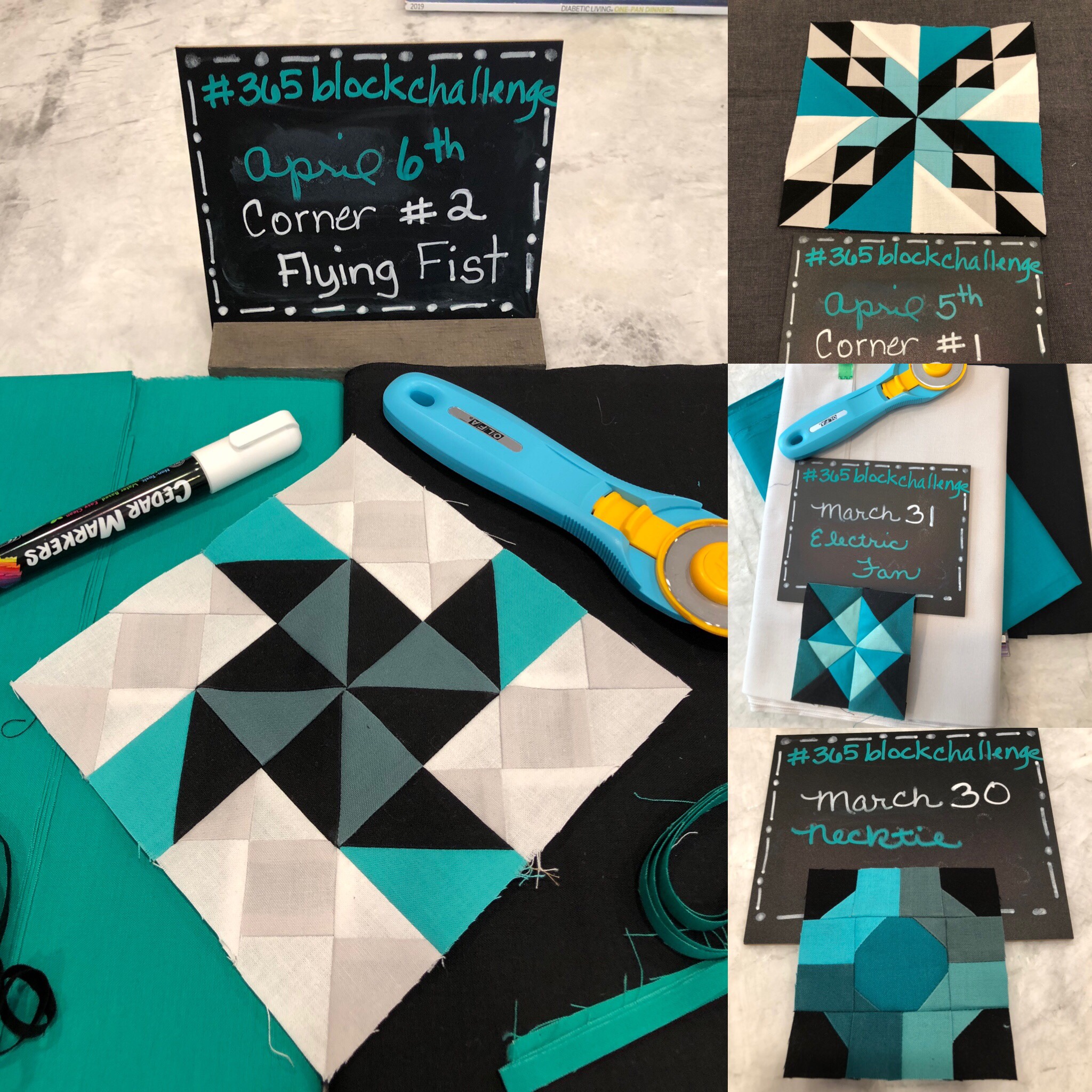 #FW1920EPPSAL
Once again, this is going very well.  I am trying to stick to the 15 minutes a day with this one.  It really helps with the momentum.  I had also been very good about always having one in the bag ready to begin. Oops!  Last night I finished my last one.  Today will be cutting the three who I already prepped my strips for cutting the pieces.  Here are the last two I completed – Block 18 Century of Progress & Block 19 Checkerboard.  The next few blocks are the edge of two different color groups and I have the edge blocks containing both colors.  The backing fabric arrived last week so when I get freed up, I will start quilting as I go on this one.  This sew-along is sponsored by @gnomeangel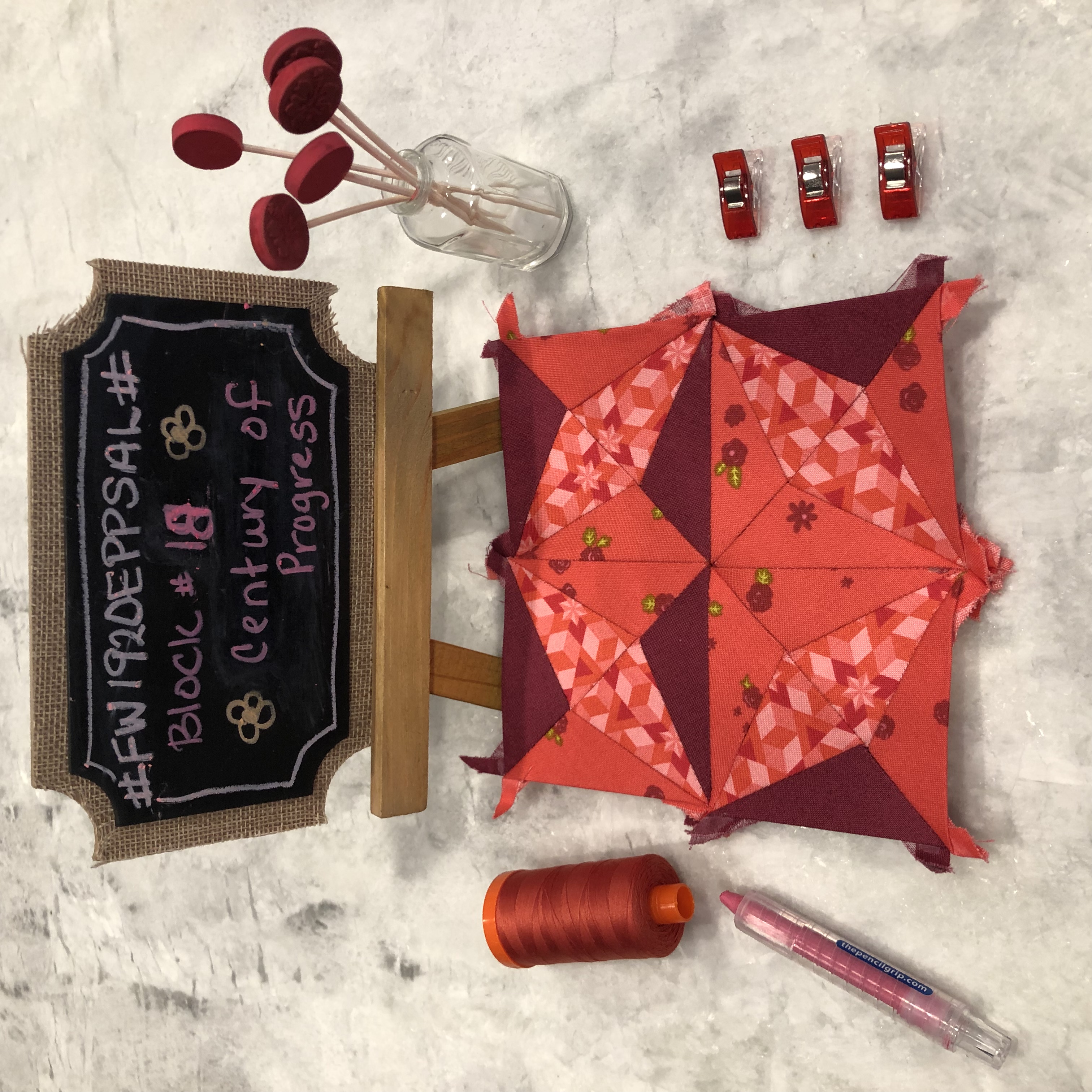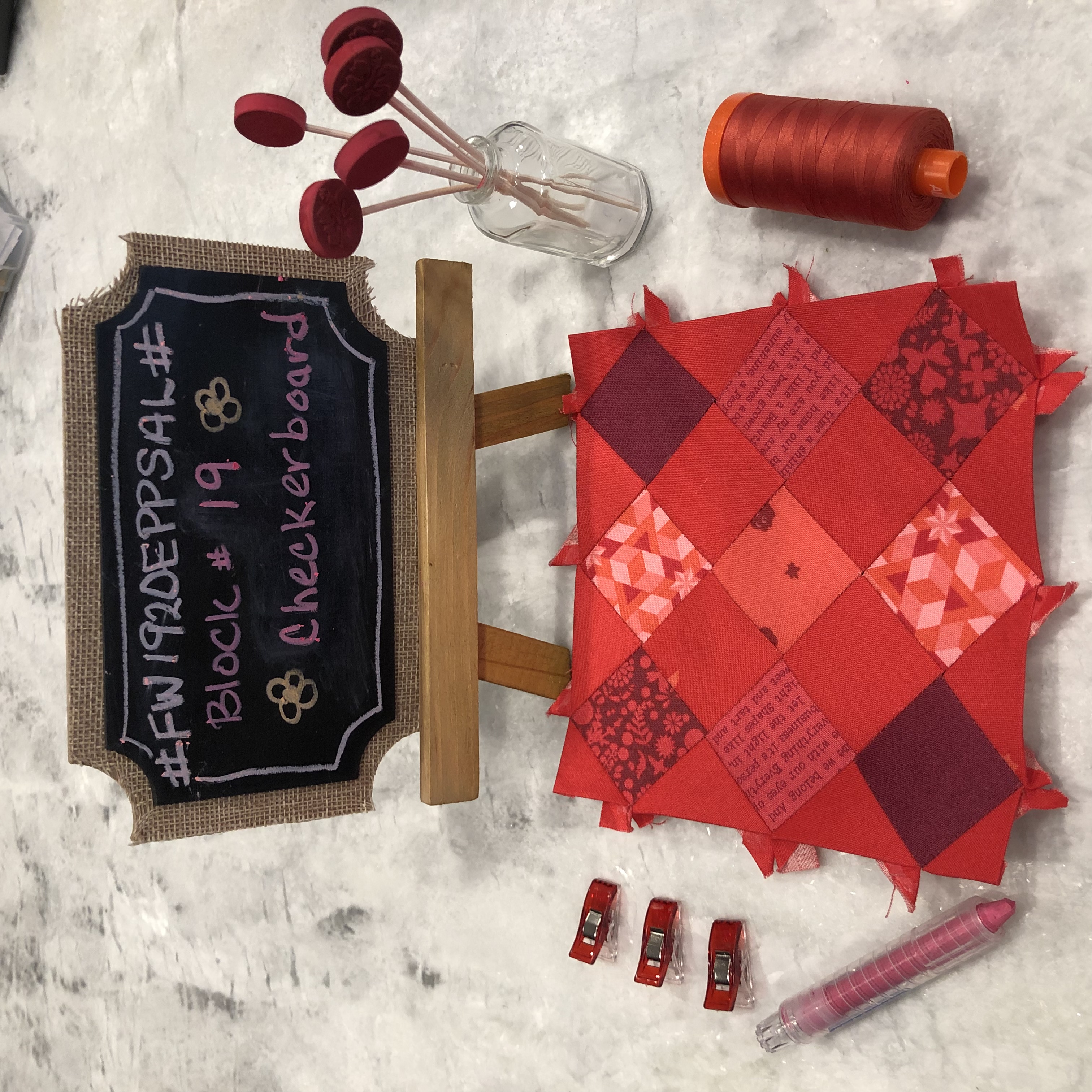 #TRINKETSAL
We are halfway through the trinket sew-along.  This is sponsored by Alison Glass and is one of her patterns.  If you are interested, you can purchase the pdf off her website and get started.  I happened to have purchased this quilt kit a year ago but never started.  It feels like a win-win for me.  This is a foundation paper piecing quilt.  I have never done one before and sure have made many mistakes, but am pleased with my process.  I have to laugh because theoretically all my points should be matching, but they don't.  Here are a few of my blocks I have finished up.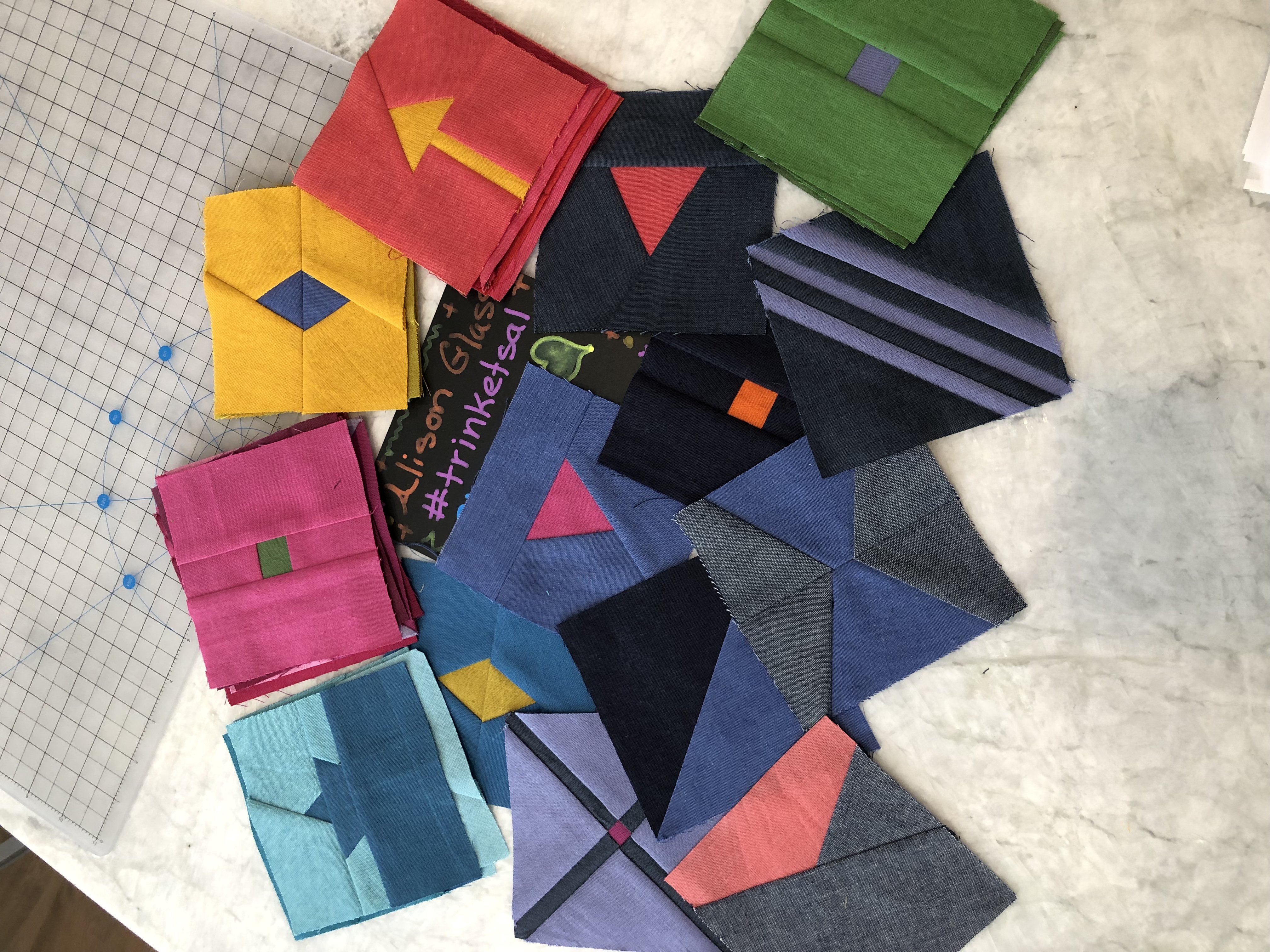 #QPSEWALONG2019
Here is the other sew-along I am participating in.  This one is monthly so it is not so bad.  It has been fairly easy to keep up with after doing these daily ones.  This is the first 3 months of blocks.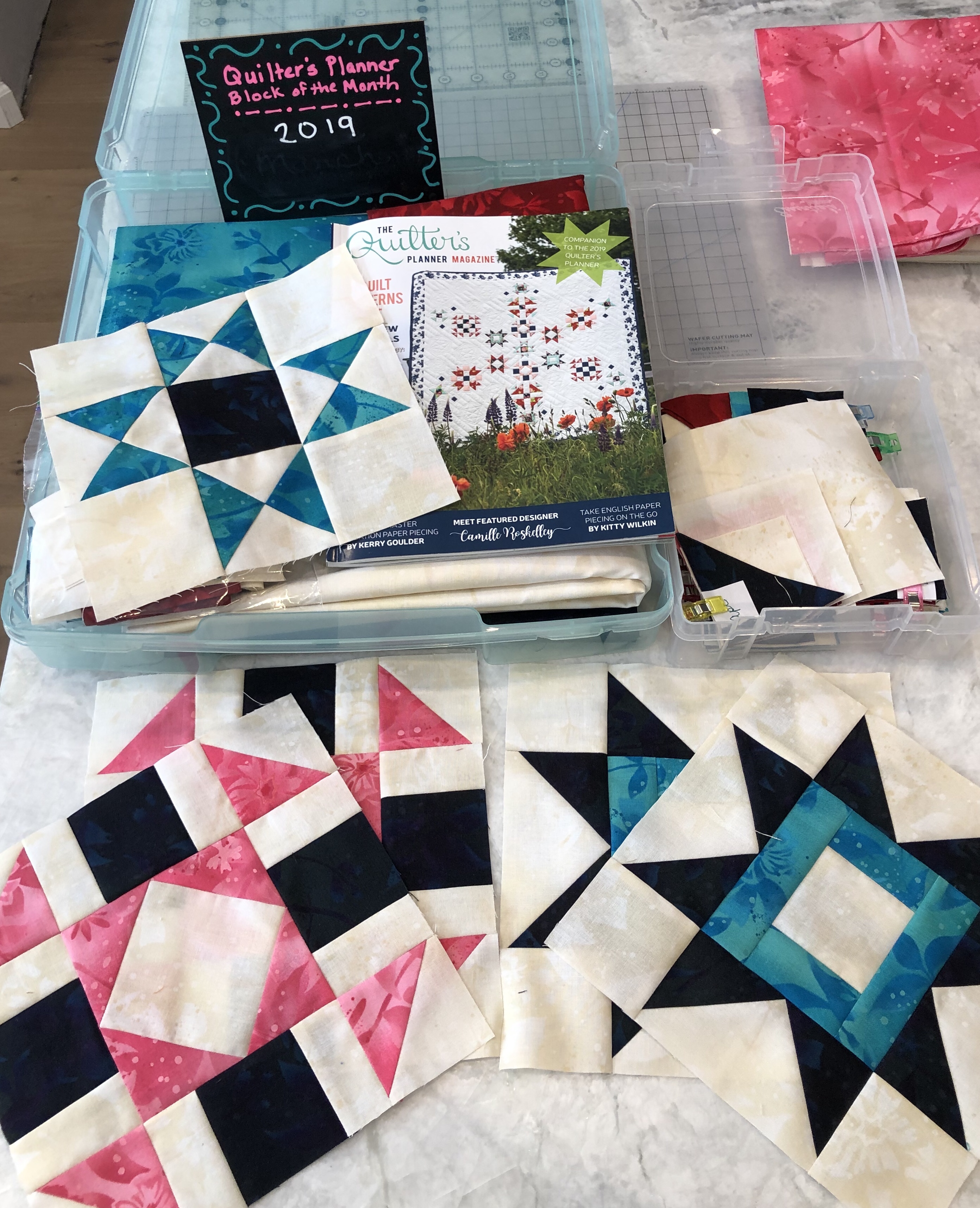 Other projects on the table
I have sewn a couple of the blocks for my Halifax temperature quilt but can't honestly say I have made very much progress.  All of the above is sucking up my time.  But I have them by the sewing machine as they make nice blocks to do between blocks.  Need to cut some more orange triangles.

My mug rugs are still moving along.  I haven't finished the strawberry one.  I almost made it my one monthly goal because I got stalled out on this one but decided it was important to finish the hexagon quilt.  The strawberry is for June so I am way way ahead.  I finished July last summer because I was so excited about the watermelon.  I was looking at what is left to do and realized I will be jumping to August which is a Sunflower!  I am so excited to do that one.  When I finish the strawberry I will be halfway through this mug rug of the month.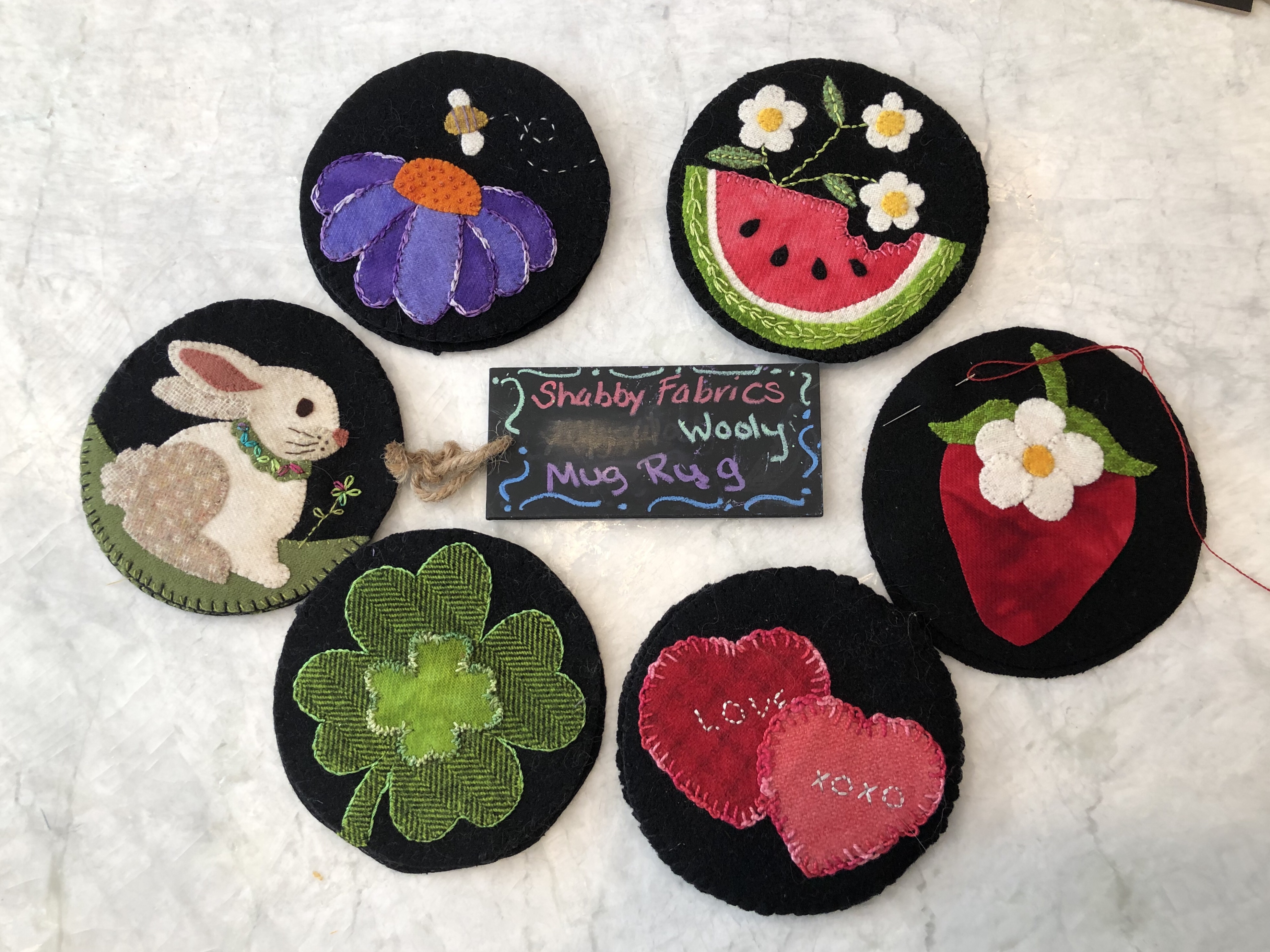 The other project up for consideration as the one monthly goal was my August Adoornament which is a sunflower.  (Did I mention I love sunflowers, pumpkins, and hummingbirds?)  If either of these are hanging out by the time we get to May (and assuming I finish my hexagon), they may be next just to get that little extra push.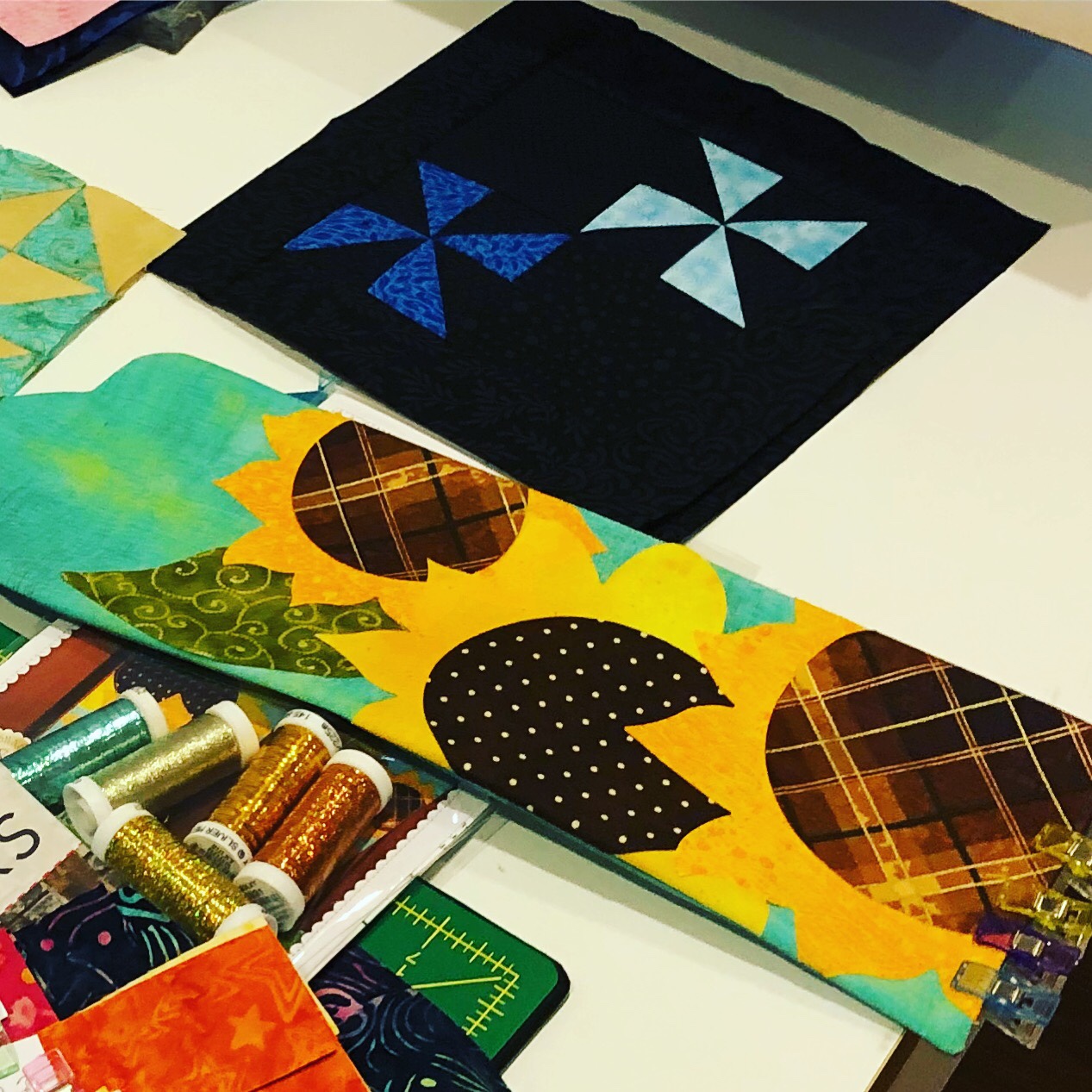 Well that is is for now.  The sun is shining, taxes are waiting, and my sewing machine is calling my name.
Adventure Hard….Then go home and quilt all about it!
Peggy Stockwell