I had all these plans to do all this quilting this past Easter weekend as it was suppose to be some alone time for me.  The rest of the family originally had all these other plans.  The only things I had on my agenda was a MLS and a NHL game to attend and watch respectively.  Tons and tons of me time!
Ha.  Last week went pretty good.  I was on top of all my daily blocks.  Was feeling so in control.  Then the weekend hit.  Boom!
My son and my granddaughter Grace showed up.  My son wanted me to do something Easter-like with her.  I was in the process of doing a fabric pull for my new table runner that I planned to use in May.  Easily Pieced which is free off the Shabby Fabrics website.  Here is the pull.  I did get the piecing done but realized that I need some additional fabric.  Found more "Walkabout" fabric at Jordan Fabrics.  It arrived today!  So quick.  Love it.  I also pulled the fabrics to use for the applique (which is optional).  I can't wait to finish this table runner.  I love the coral, teal, and grays.  Most fabric was pulled from my stash.  I just didn't have enough for the backing for the runner (and the place mats that I just got to make too).  Grace helped me iron, cut, and stack up all the pieces for the table runner blocks.  She loved it.  Her color choices were awesome.  It was her idea to use gray.  (She is a 7 year old artist.  Her sense of color is fantastic.)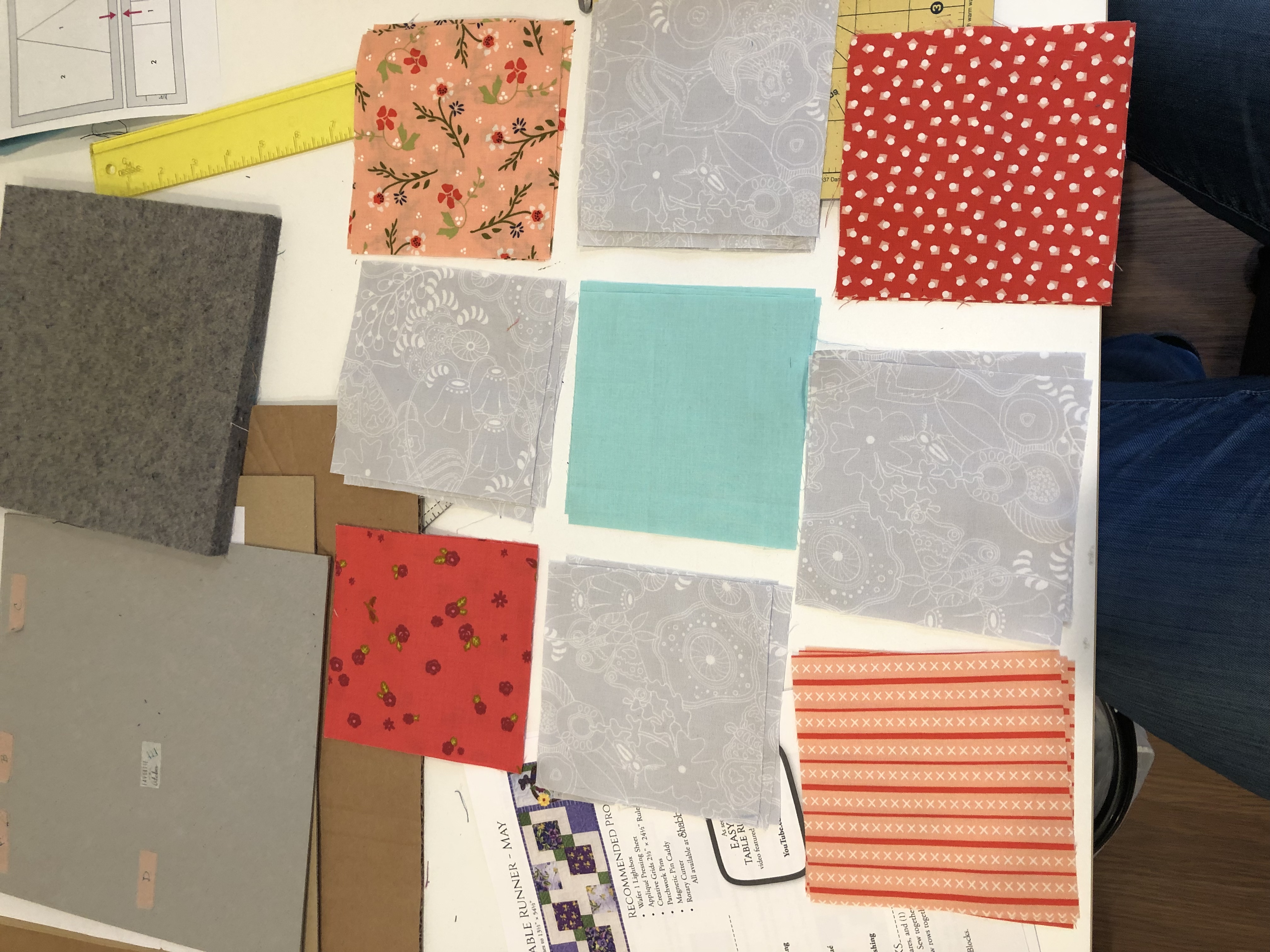 Then I searched through my projects to find a fairly easy project for us to do.  I ended up pulling my A-door-naments for April which is adorable with Easter eggs and a butterfly. (You might remember that last week I was itching to do one of these anyway.) We used the light box to help place all the appliques which she enjoyed immensely.  It only took us about 20 minutes since all the pieces were all laser cut we just need to fuse the elements together then lay them on the background.  When we were done with that, she was done.  Perfect amount of time for the 7 year old.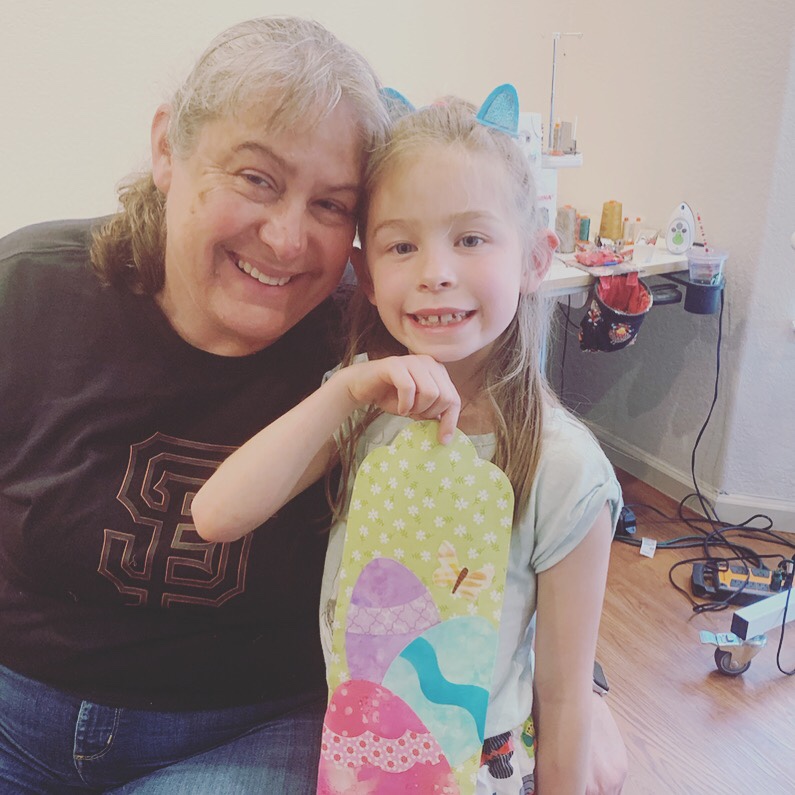 While working on all this, my grandson Shaun stopped by to pick up his hockey sticks and ended up staying for an hour working with his dad taping up his new sticks just right.  We made plans for him to attend the soccer game with me later in the evening.  He went to a open ice time called Gretsky hour to try out his sticks with his hockey friends and i was scheduled to pick him up at 3ish.
When I got there, I was thinking I would get 2 hours of sewing time before the soccer game, but as is normal with kids, they had arranged an additional play date at a trampoline place.  There went my time to work on my Trinket SAL and my 365 day challenge SAL.  I went from being ahead of the game to being behind in one fell swoop.  Didn't lose hope.  There was going to be Sunday.
Before I got home on Saturday, I find out that my sister and her family are coming for brunch (We haven't seen each other for months.  How can you say no?) While they were at my house, Shaun wanted to come over to watch the Sharks playoff game, so my sister stayed longer so she could see him too.  The whole day got away from me.  The only machine piecing that happened were the blocks for the table runner and the center medallion for the 365 block challenge.  There was a bit of unsewing to get everything to line up better.  Still not exact, but after undoing multiple times, close enough was good enough.  Now it was hockey time, so we EPP during the entire exciting double overtime game.  I got pretty far on the block.  Crazy huh?  Below is a project by project update versus a story.  I think all of us run into these challenges, but I love it!
Trinket Sew-A-Long
I did not get to sew ahead like I have been doing each weekend for this week.  Since I knew I was going to Game 7 of the Stanley Cup Playoffs on Tuesday and I got home late Monday from work, I ended up staying up until almost midnight (despite being up at 5am for hockey practice that day.) I pushed through sewing Life Blocks #1 & #2.  So technically I am still current on this Sew-A-Long as long as I do Life Blocks #3 tonight.  We will get home from hockey at 8ish tonight so I should be able to do that.  Hurrah for small things.  Here are the ones I completed since last week's post.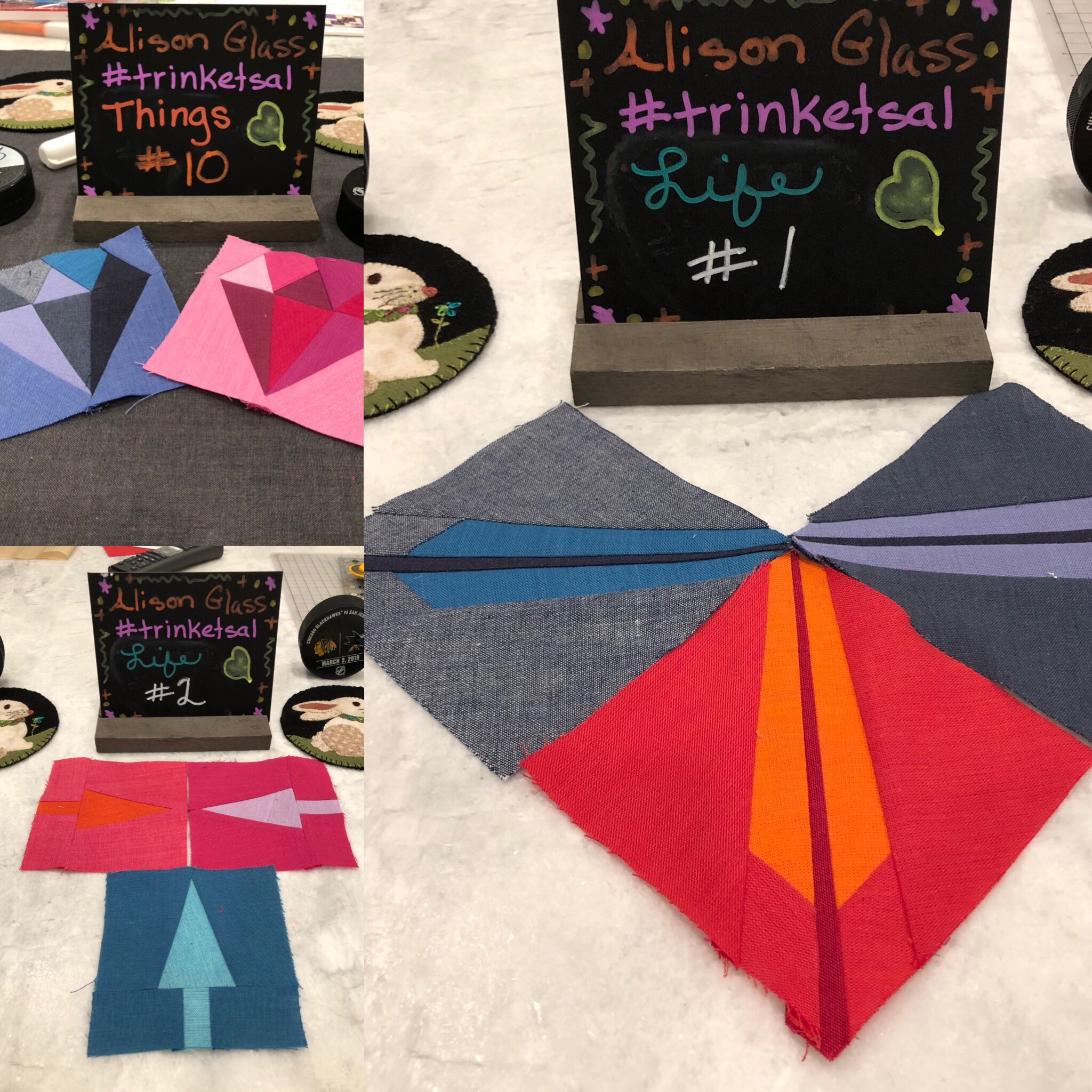 Kathryn Kerr's 365 block a Day Challenge
We transitioned to 6 inch blocks this week and I have totally fallen off the wagon.  It is doubtful I will have time to catch up tonight.  So far every 6″ block is harder than the 3″ blocks and can take awhile to cut the pieces and sew together.  Heck sometime the fabric pull is the hangup.  I posted Monday on time (last 3″ block for now) but I did the bonus block instead of the designated block for Easter.  I will keep trying to put together that block but it has 16 mitered corners and the directions suck!  I am not giving up though.  If I figure it, it will be so cool.  Meanwhile, I will soldier on with the other blocks.  I started cutting Tuesday's block before work while waiting for the painter to do a wall in the kitchen he missed.  I got about half cut and it doesn't look to hard to sew and I didn't even get today's cut.  Not to worry.  Taking a deep breath.  Everyone is in the same boat.  Those of us who work a 60 hour a week job just don't have as much time as being retired (I can dream about retiring!).  Plus I did deliberately choose to work on the projects with Grace instead of working on these.  I needed the break.  Now I will get back on it.  As long as I am not 10-20 days behind I am good.  Right now it is just 2.  I will start working on the layout for the first dark border which is 94 – 3″ blocks that I will be sewing together.  I decided that would be easiest by designating a place to put up my design wall or some flat surface so I can walk by occasionally to see how it looks.  I can't wait!  Here are last week's blocks I did get done.  My cover photo is the center medallion I completed.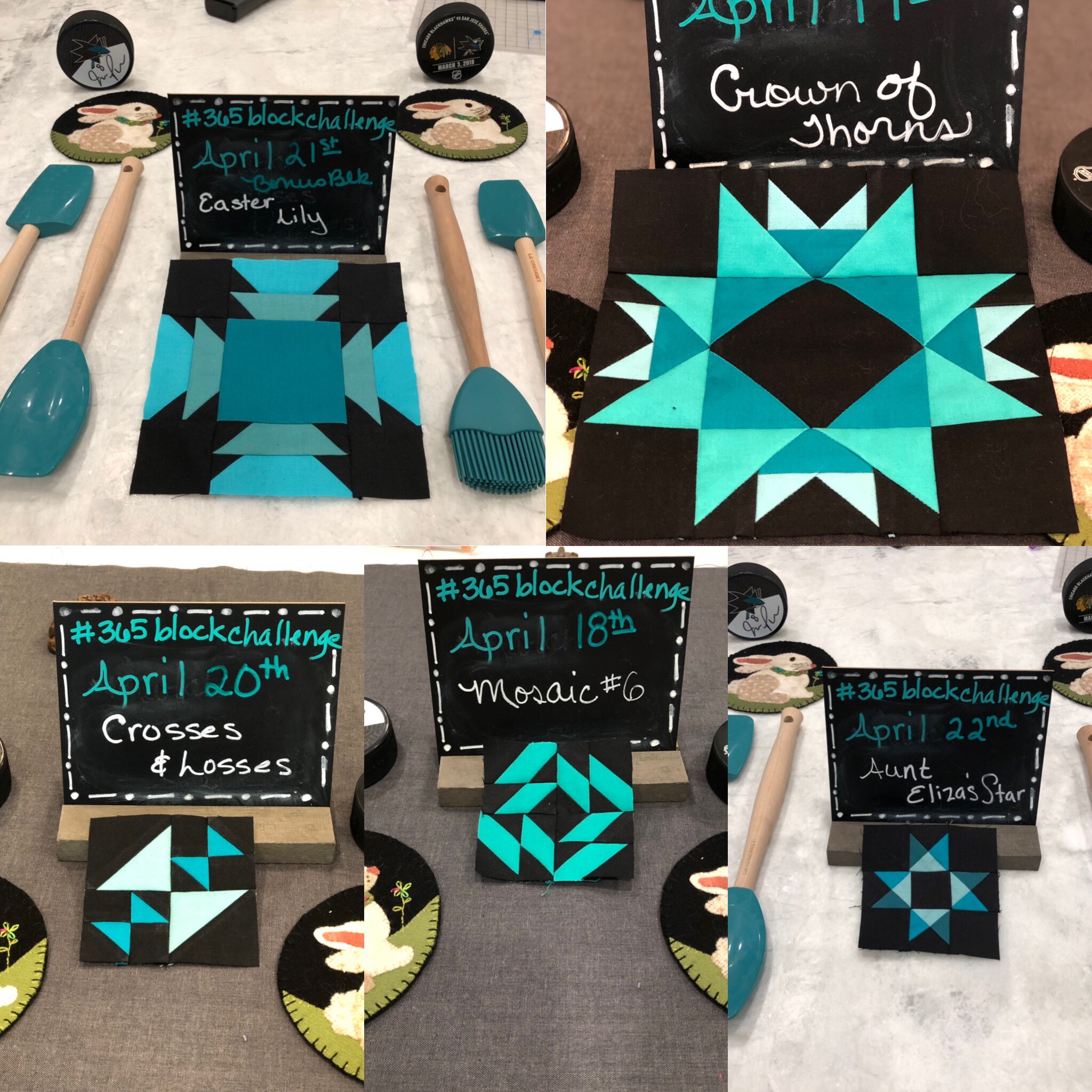 Farmer's Wife 1920 EPP Sew-A-Long
Last week I posted pictures of my block 20 & 21.  I still am flattening them and have not taken their official photos to post on Instagram and Facebook.  It will get done this week as I am almost done with Block 22 – Corns & Beans.  I am loving the color placement in this block.  It is playing well together.  I can't believe that I am almost done with this block already due to all the hockey practices, Stanley cup playoffs, etc.  I made finishing this block by Sunday my weekly goal with Amy @amyscreativeside on instagram.  It is a new challenge to help us set little goals.  Pull fabric, finish a block, whatever just to have a positive feedback.  So I joined in on the fun with this one.  I am pretty sure I can do it.  This is my last block that is prepped to be sewn so I will need to do fabric pull and cutting for at least one more but normally I pick 3 blocks just to have some in reserve.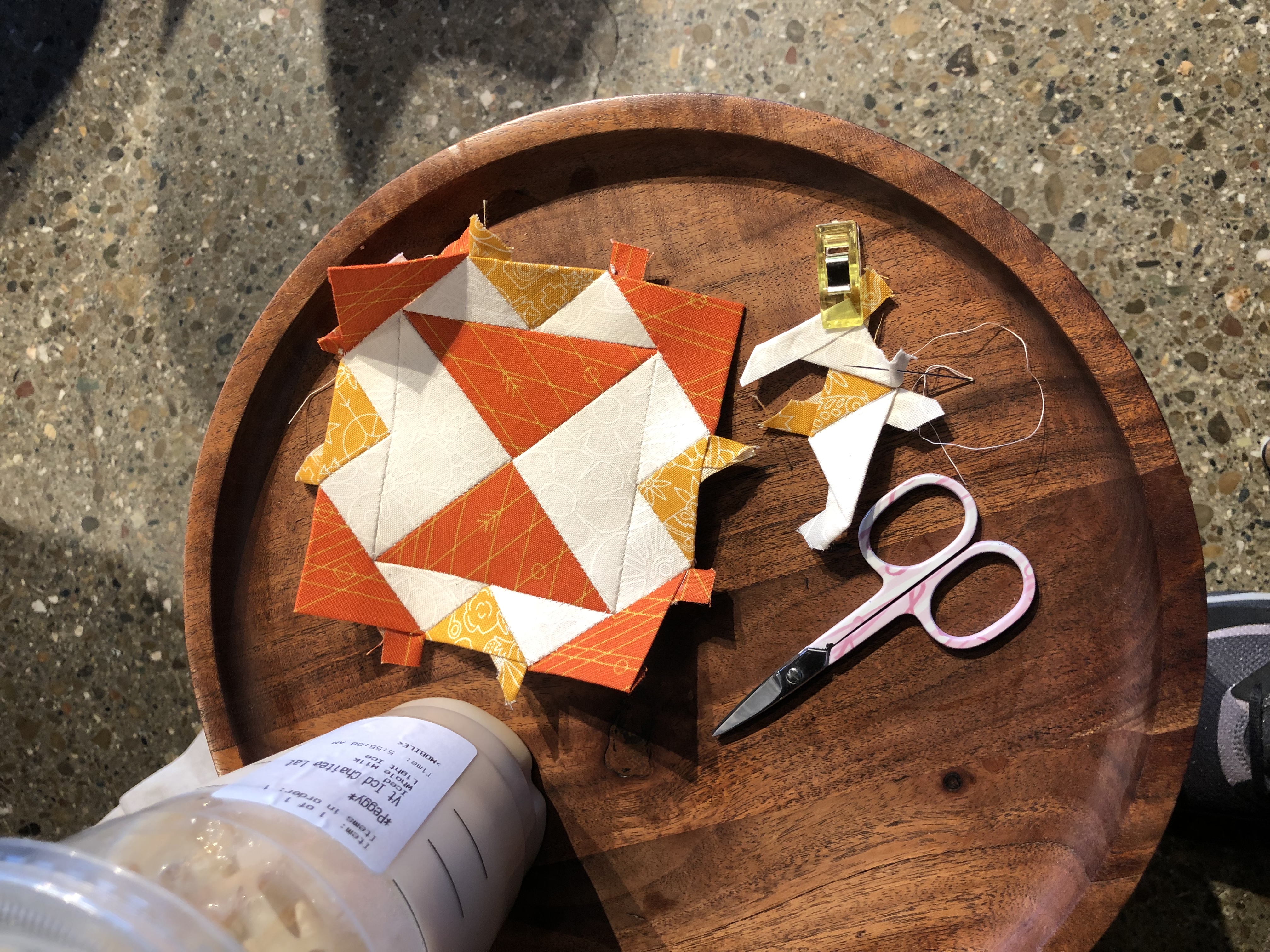 Monthly Wooly Mug Rugs
No progress to report.  I am pretty intimated by the bullion knot and am just procrastinating even though I have successfully completed several of these.  So if I don't get any EPP blocks prepped before I finish my current one, just means I won't have any excuses for not working on this.  It is going to be fantastic when I finish.  I have no idea why I am letting fear rule me.  Anyone else feel like that?
One Monthly Goal – Hexagon Charity Quilt
With all that happened last week, I am starting to wonder if I am going to make this goal by April 30th.  I didn't get last months.  I certainly would hate to miss my goal two months in a row.  So I will probably push myself on this one.
#onethingwithamy Challenge
I talked about the goal above but decided I needed to have a separate line so I don't forget to followup from week to week.  But once again, this week's goal is to complete my Farmer's Wife 1920 EPP block 22.
On the sewing table
As you probably gathered, I got totally derailed this week.  So I still need to finish my April Block of the Month for the #qp2019sewalong.  No progress to report yet.  Still on the sewing table is Caitlin's patio tablecloth, 2010 NYE quilt fmq, and now the Easily Pieced May Table Runner.
Thank you for reading this.  I really appreciate the comments that some of you leave.  Most don't say anything and that is fine.  Hopefully you find my antics entertaining and don't mind the hockey craze in my household.  My hockey friends have to deal with all my quilt pictures I post so I guess it is fair.
Remember….
Adventure Hard…. Then go home and quilt all about it. -@burlapandblossompatterns
Peggy Stockwell