Hello Fellow Quilting Adventurers!
I can't believe that 3 weeks have slipped by. February was a mad rush with many long work days and mid month hockey tournament in Phoenix with the grandson. Needless to say the quilting took a back seat but I am in seventh heaven to realize that I finished my first quilt of 2018! I wrapped up the quilting and binding of my brother's quilt. I ended up naming it Two BeJeweled. Many things go into that name. The pattern is the Two Step pattern presented by Jenny Doan of Missouri Star Quilt Company. This is another one of those instances where I was watching the you tube video and decided I wanted to try the pattern. Looked into my stash and Viola! The top laid around the house for months because it was a spur of the moment quilt top with no receiptent or use in mind. (That happens to me a lot). Unlike many of my projects though, I only did it in 2017. I have one in my closet that is from 2008. When I moved, I lost the backing and border fabrics so I keep it in my closet in hopes of uncovering the missing fabric.
Back to Two BeJeweled. The fabric line I used had Jewel in the name and then I quilted a jewel in the four corners as well as the stars in the cream squares. I am very pleased with how it turned out. It is my second quilted project on my new long arm Babylock Cornet. I did get very frustrated with two things – thread breaks and only half of one row at a time could I quilt because I bought a frame that could actually fit in my house. I am sure I will get faster at moving it and reclamping everything. I am also find it challenging to do some of the quilting patterns on the long arm versus the sitdown Babylock Tiara. I am developing a process that is for sure. This one I used a ruler to do stitch in the ditch. I think in the future, I will use my domestic to stich in the ditch. It is faster and more accurate. This time I used my sitdown machine to do the borders which I think turned out fantastic. I find ruler work easier on the sitdown then on the longarm, but I practiced on both machines on this quilt. I liked how I picked my quilting patterns a mix of ruler and free motion. Obviously all free motion is way quicker, but I really liked the results of mixing the two.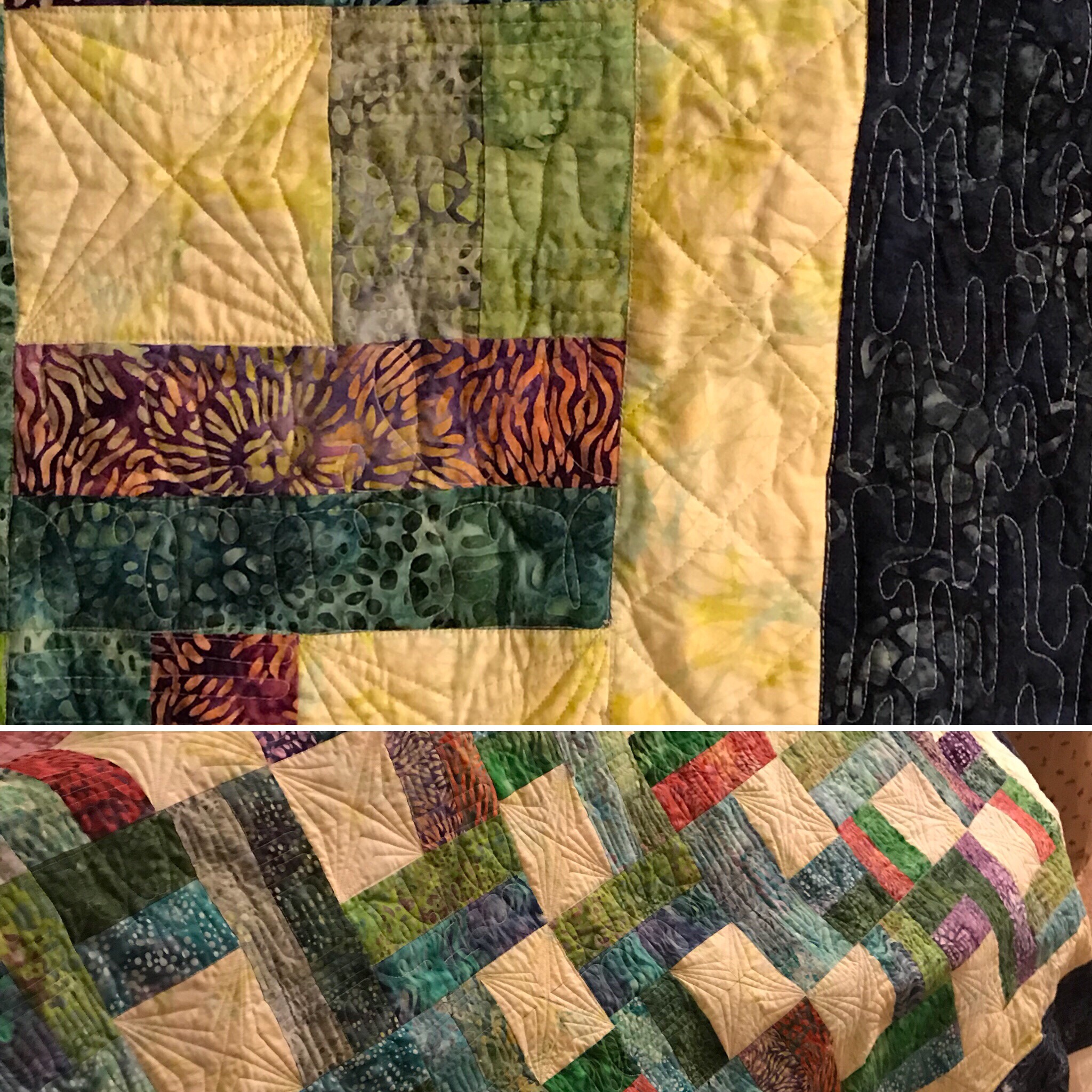 I did decide to invest in pounce chalk and a couple of stencils for my next ruler project.
Texted my brother tonight with pictures of his quilt and he was very excited. He lives in New York and I live in California. We both have kids on the opposite coast but neither of us are planning a trip soon so I think I will bite the bullet and actually ship it to him but with Fed Ex or UPS Two day or something with a tracker. I made him matching potholders too.
The other thing I gave a whirl was quilting my brother Scott's name into one of the blocks and his wife Victoria's name as well. It was fun and looks better than expected and was pretty easy to do on the long arm. I will have to experiment with these things in the future.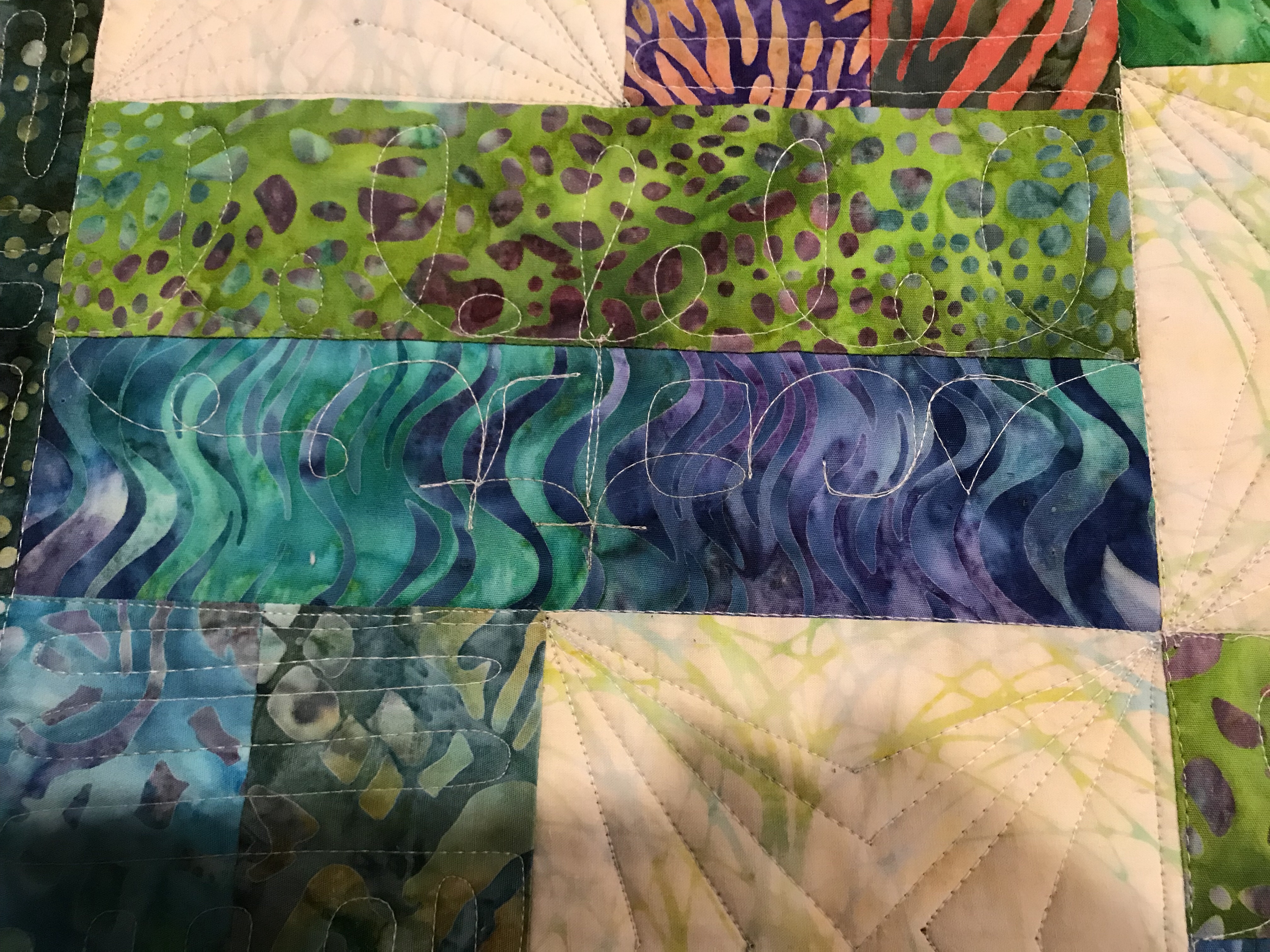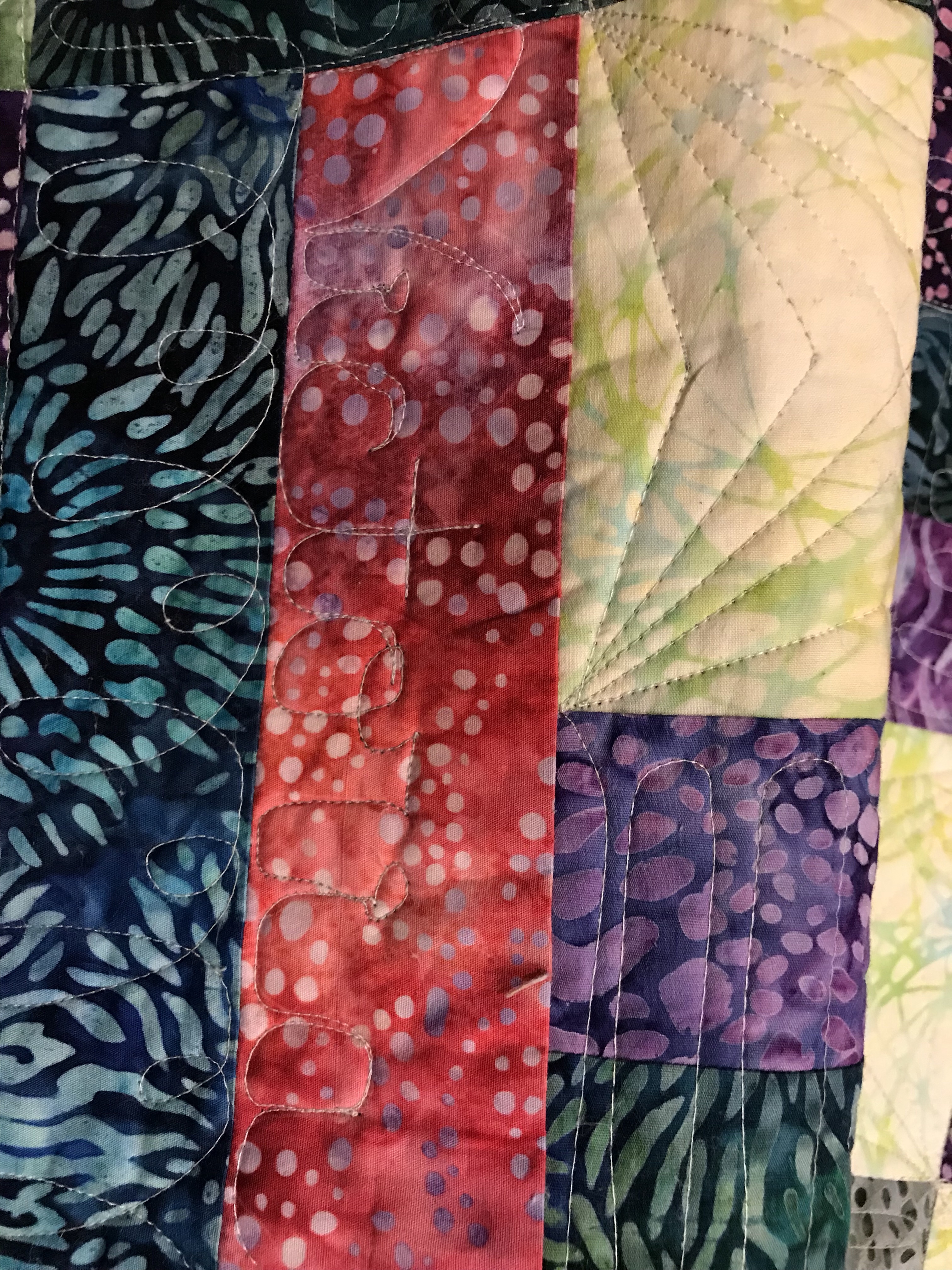 Well to wrap up this post and linkup with Elm Street Quilts for the One Monthly Goal. February was a success except I missed the linkup by one minute cause I couldn't remember how to do it. #sigh. Oh well it isn't like I would have won anything anyway but it is nice to share with everyone. Have a great night!
Peggy