It is Hockey Wednesday and I find myself at my favorite blogging place – Starbucks!  I've been on a good roll blogging the past few weeks so I certainly don't want to break that trend.  So I have been sitting here for the past 30 minutes flipping through my pics to see what I have done this week.  Since last weekend was hockey weekend not much sewing and quilting really got done.  Although, I am not disappointed in my progress.  I spent most of the weekend working on my sewalongs and my March one monthly goal.
#FW1920EPPSAL
I finished block 14 this past weekend with adhering pretty closely to the 15 minutes a day theory.  It started because I saw another EPP doing it and realized that she was participating in @southbaybella Sew for Fifteen 2019 challenge.  Each month is a different type of sewing to either learn or do.  January was Curves which was why I totally ignored it.  February was EPP and March is Hand or Machine Quilting.   My 15 minutes of EPP still count as well as all the other work I am doing for the sewalongs.  This week I finished Block 14 (official photo hasn't been posted yet to FB or IG).  I have started Block 15 and have finished 2 of the three rows already.  Yes this one has less pieces but it still feels soooo good.  Monday night I got a little concerned because I am on my last prepped block so I did a fabric pull for the next 3 blocks.  I was able to cut & glue Block 16 before midnight.  It doesn't have a jillion little pieces so I am concerned about making sure I get Block 17 cut & glued as well because it does have a bunch of tiny pieces.  I will have plenty of time while sitting in the ski lodge to work on this.  Block 17 has me doing my first all red block.  I realized I do not have a lot of red since I am using Alison Glass fabrics so I pulled over some red-orange fabric to use in my blocks and was totally thrilled that my package with 2019 Sunprints arrived.  They are so pretty!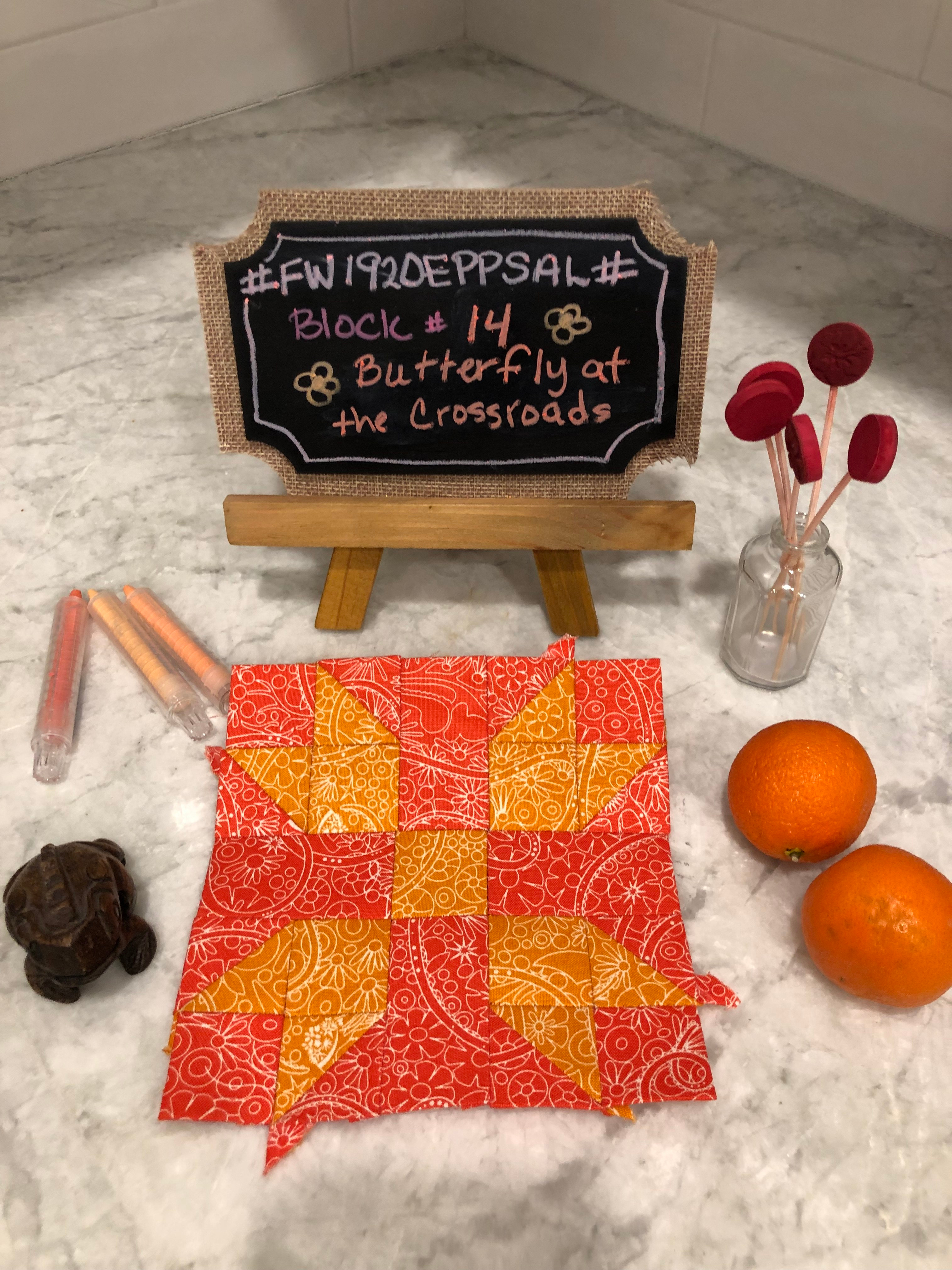 #trinketsal
This sew-a-long starts March 10th which is next Monday.  I will really be stretching myself with this one because I suck at foundation paper piecing (FPP) but I had bought this kit last summer not realizing it was FPP.  I really like the pattern and some of the alternate layouts that have come out with this sew-a-long has been awesome.  I sketched out my block layouts and decided how many of each block as well as color family they would be.  Printed out the first two weeks of blocks so I can start this weekend.  I talked with my friend Mary Elizabeth how to cut the fabrics (need all the advice I can get).  So I have a plan but I have to wait until Saturday night or Sunday to sew my first block.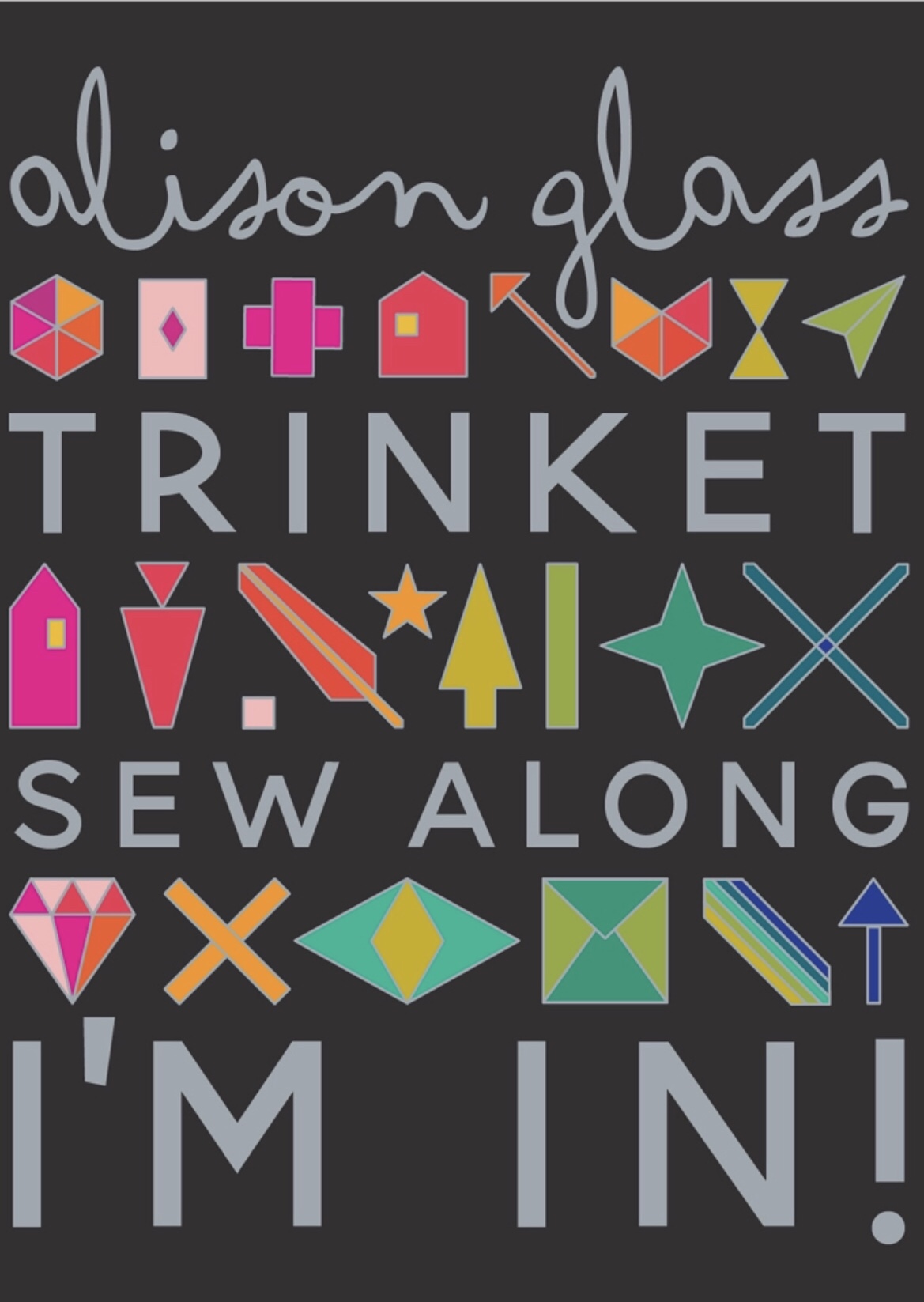 Shabby Fabrics Mug Rugs
I have laid out to draw out the fusible for the next wool rugs.  They are cute strawberries.  I have to get this drawn, ironed, and cut to work on while at the ski lodge Fri & Sat.  Hoping to get it done by tomorrow.  If not, it is small enough to take with me to prep.  This strawberries will be my June mug rugs.  Before you get all excited that I am ahead, they were supposed to be done in 2018.  Since I was anxious to do the watermelons, that means July is already done.  After I finish these, I will be halfway!  Exciting.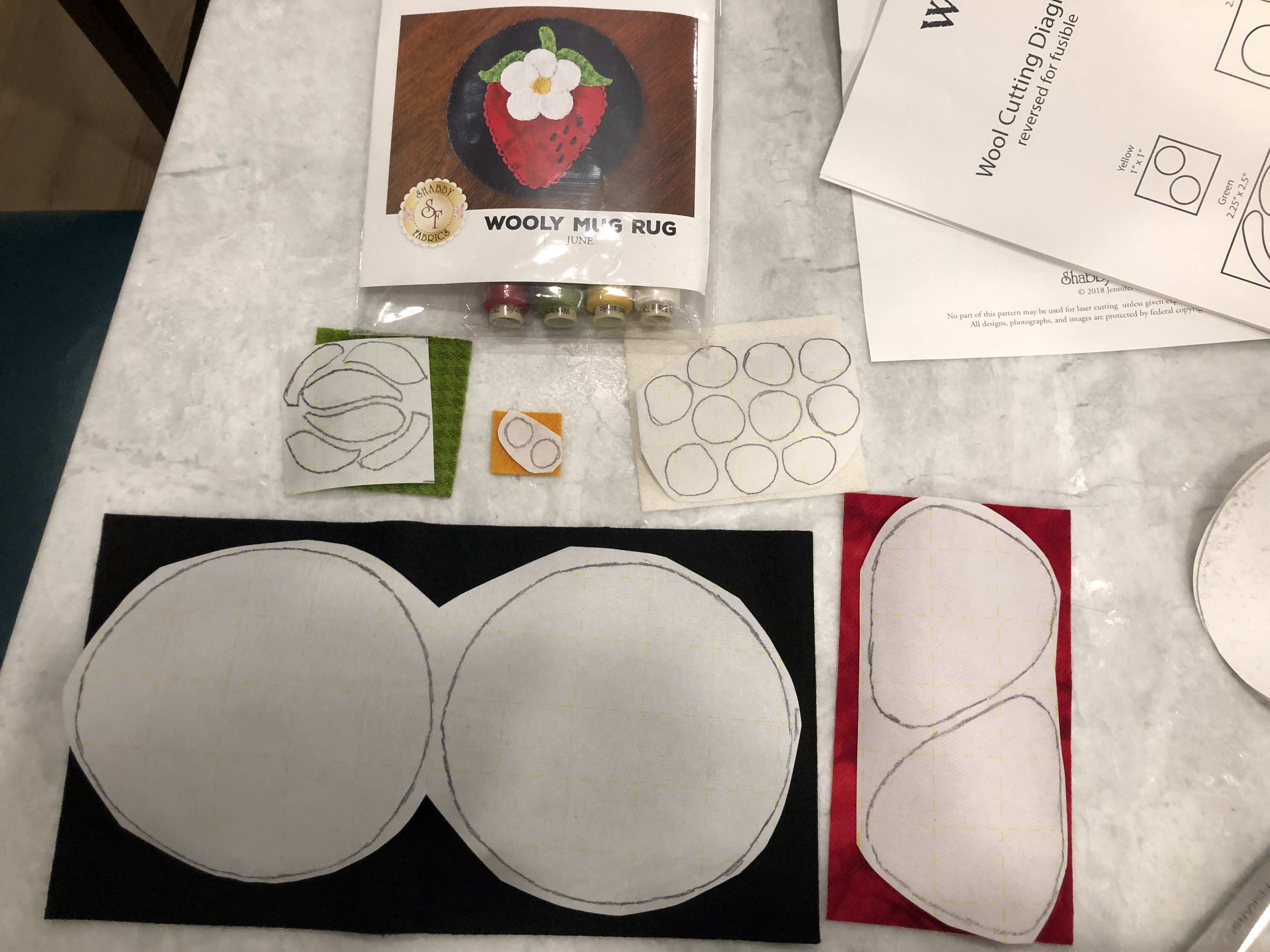 #365blockchallenge
I pulled this out a couple of weeks ago as I have seen some very cute blocks from others participating this year.  Last year I felt all alone but not the case this year.  So this past weekend I tackled the mitered blocks.  I finally finished one of them after 30 minutes and did 1 out of 4 units for another.  I just struggle with this.  But I looked ahead there is only 2 left to do.  I am soldiering on with these.  Maybe after I finish these ones I will be better at doing mitered corners.  I really do love this block challenge and adore my first all solids quilt.  I reposted all the blocks that I finished in 2018 and need to photograph the ones I have completed this year.  This quilt is a medallion quilt with many borders made up of 3.5 inch blocks.  These little guys are incredibly cute.  I can't wait to get my center done and add the first border.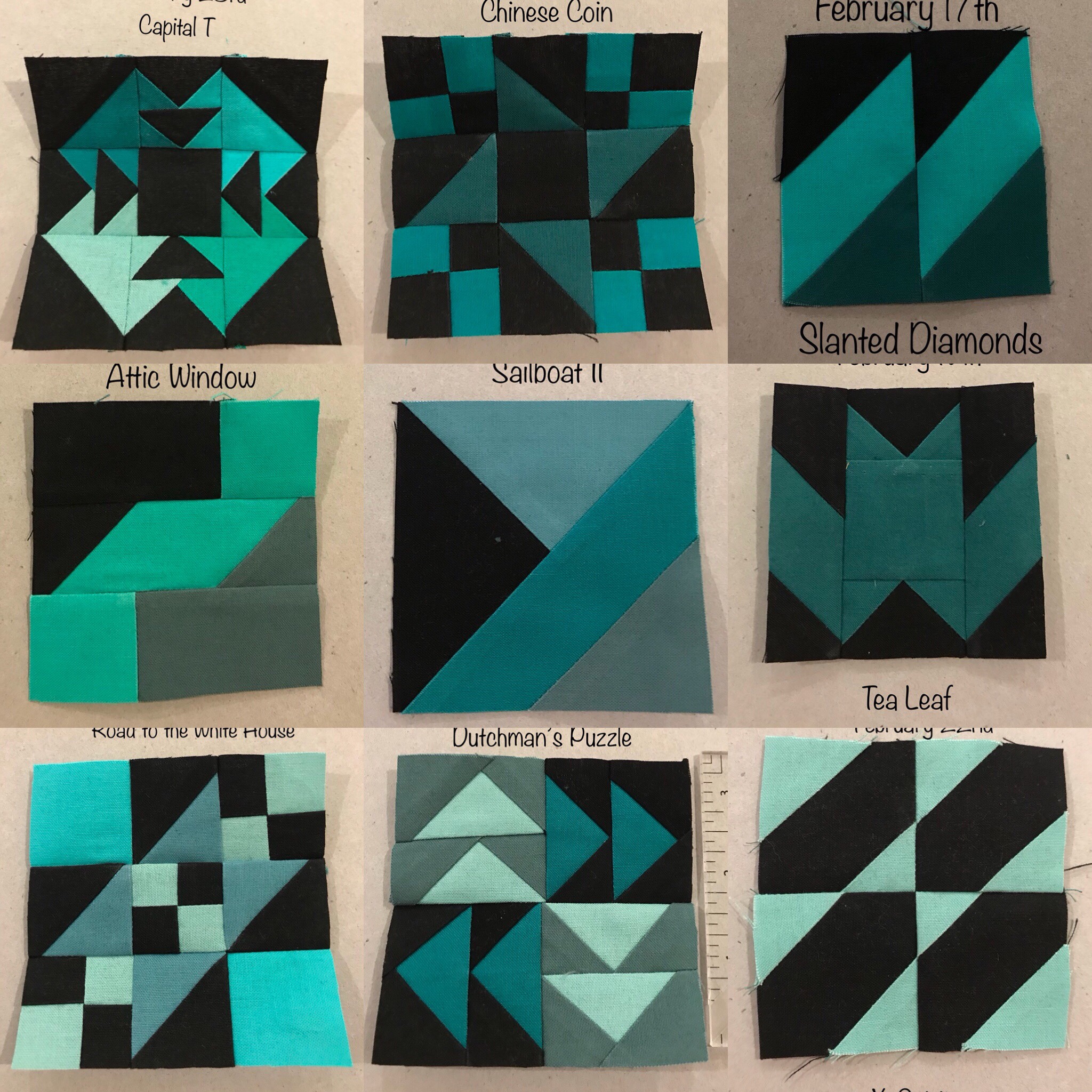 Halifax Temperature Quilt
Haven't finished up August 2018 yet.  I sewed a few more blocks but not many.  Kept running out of triangles and need to cut some more.
#qp2019sewalong
It is March and it is time to sew the two blocks needed for this.  It isn't due until end of March so…well just not a priority.  It is cut and ready to be sewn.
Other things on the sewing table
I am happy to report back on my progress on the NYE quilt.  Almost all of the stitch in the ditch is done.  I need to re-iron the borders and then stitch around them including the outside basting stitch.  I am not sure if I will get to the first border being quilted.  I think I should be able to get the machine setup, threaded, bobbins wound etc.  I am still struggling with thread choice.  I went with the neutral 2370 for the stitch in the ditch but that will not be the case for the rest of it.  I felt it was leaving a shadow.  I was toying with purple variegated but realized Sunday that I have a variegated teal I bought for the #365blockchallenge.  I am 80% sure I am going with that for the blue borders and inside.  My only other thought is to go with white on white border (and conceivable the whole quilt).  White is going to really show on the back which is dark blue.  Anyone who looks at the back will see every mistake I made.  On the other hand, it is meant for my bed so who cares.  Finished is better than perfect right?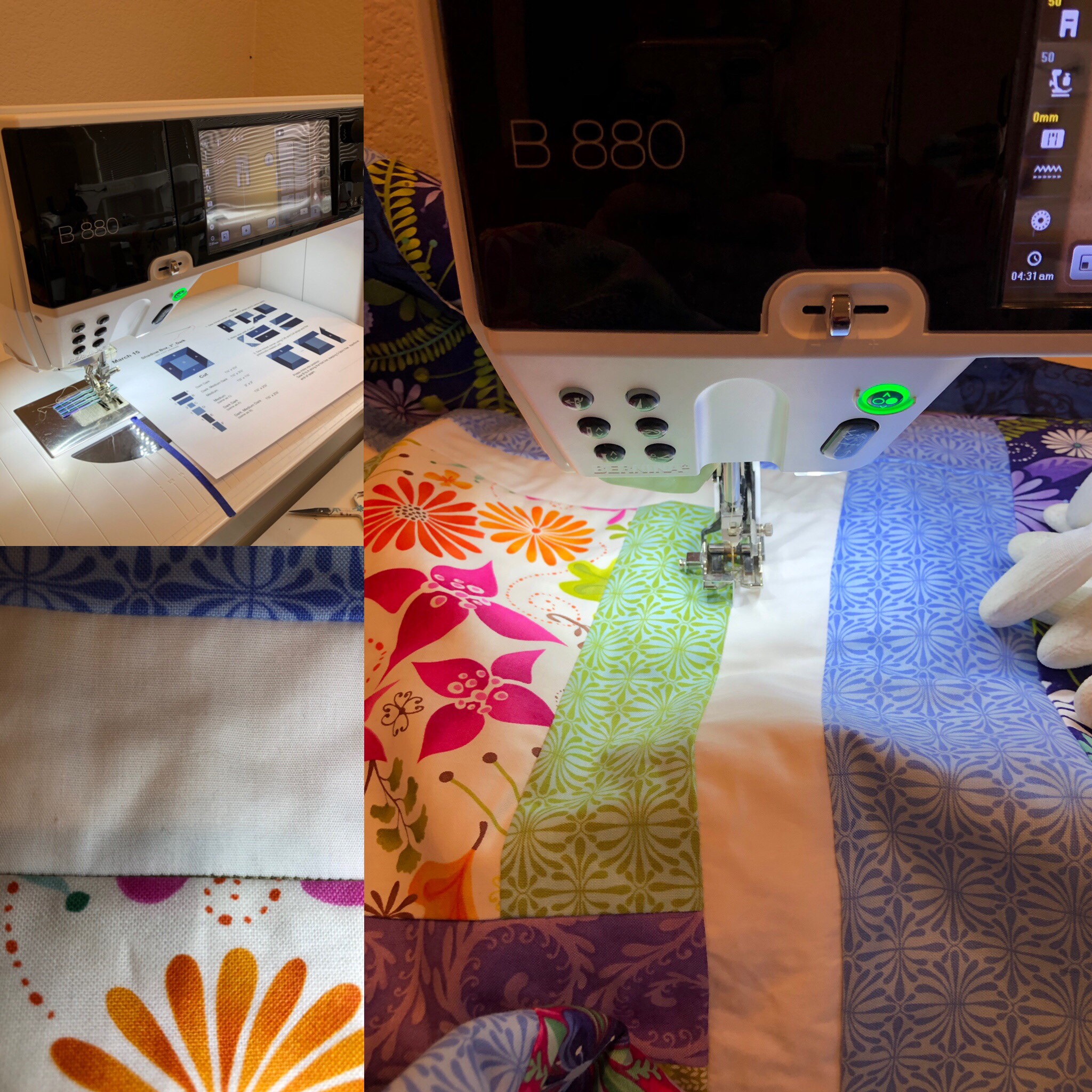 I still have on the sewing table my charity quilt, Tula Pink Zuma blocks, February place mats, and Miss Rosie's Cake recipe blocks, but there is no progress to report.
Adventure Hard…Then go home and quilt all about it!-@burlapandblossompatterns
Peggy Stockwell