February I picked something different than one of my other goal setting blogs I am participating in with the hope that multiple projects will get done.  Haha!  Not so much but I am getting the hang of setting realistic goals and slowly working on my very old WIPs.  Progress can't be sneezed at.
My goal for this month falls onto three different goal setting finishes if I get it done.  I have been diligently using my Quilters Planner to help myself stay on track for work, self care, personal, and of course quilting!  Since the new kitchen finish in November, I found a special place I leave my planner on the island so that it is always accessible.  I am so impressed that I am making so much progress.  I am taking the leap this month and really feel that I will be able to quilt and bind this project from 2010.  I will be linking up the March Goal with Elm StreetQuilts.
Just a little story about the quilt.  It was only my second pieced bed quilt.  I had just started taking quilt classes and this was a Jenny Doan's Craftsy class quilt.  We moved into my current home just that July and still settling in.  On December 31, 2010 I decided that instead of going out to party, my grandson and I would work on this quilt.  We cut all the layer cakes in half and unrolled the jelly roll – very exciting for the 3 year old as well as myself.  I cut all the strips to the appropriate size and then Shaun would pick the pieces that would go together.  We finished all the blocks after midnight.  In the next few weeks he helped me to arrange all the blocks as they were stuck up on my bedroom wall on the back of cheap table cloth (wrong-side out).  Sewed all those rows together and finished piecing the main quilt that month.  We went online and picked fabric for the borders and backing.  By the time the fabric arrived, I couldn't find the will to work on it anymore.  So I stuck it in my china cabinet until 2017 when my house flooded and I had to do an emergency sewing pull while the movers took everything to storage.  I was left with one sewing machine and the projects I pulled.  Over 2018 I kept staring at that quilt thinking I really love the colors.  Finally sewed the borders on with the blue fabrics Shaun had picked (I would have loved to have used purple or berry but it was a joint project for us).  Didn't really like borders once they were on and once again unmotivated to finish but put it on my 2018 WIP list that I had going.  When rewriting the 2019 WIP list, this became a real priority.  How can I not finish the second quilt top I ever made.  It is a queen size quilt and is a beast.  In the last 8 years I have really grown as a quilter and that white inner border that I am not fond of, so what!
Last weekend I had some time on my hands (finally) to baste the beast.  This literally will only be my 2nd Queen size quilt I have finished.  The first one I made with my sister Dorothy and my son ended up taking my quilt.  (When he moved out, I stole it back.)  I have finished several twins, laps, one full size quilt, and so many baby quilts.  This will be a test to how far I have really come but on the other hand finished is better than perfect, right?
The last couple of days have been spent reading, dreaming, and planning on how I will quilt it.  I have gotten very good a certain FMQ and those are my standbys.  As I have been using some of the smaller quilts I have finished, I realized perfect is not necessary.  No one cares.  So here we go!  I will get my stitch in the ditch part done and baste down the outside this weekend and post next week so progress pictures.
What machines I have available to me have grown from the early days.  This one will be on the normal domestic with a walking foot for the stitch in the ditch part.  Then, it will progress to the sitdown midarm for the borders where I prefer to use rulers.  Last it will go to the standing midarm to do the block quilting.  (Yes, I said borders first.  I hate wrinkles and this works for me.)  Lucky for me, all of Shaun's upcoming hockey tournaments are in San Jose.  We have league playoffs St Patrick's Day Weekend.  If the boys qualify, we will have States two weeks later.  It will be nice to sleep in my own bed.
Finishes this past week
I finished the May mug rugs this past week as well as Block 13 of the Farmers Wife 1920 EPP sewalong.  Feels good.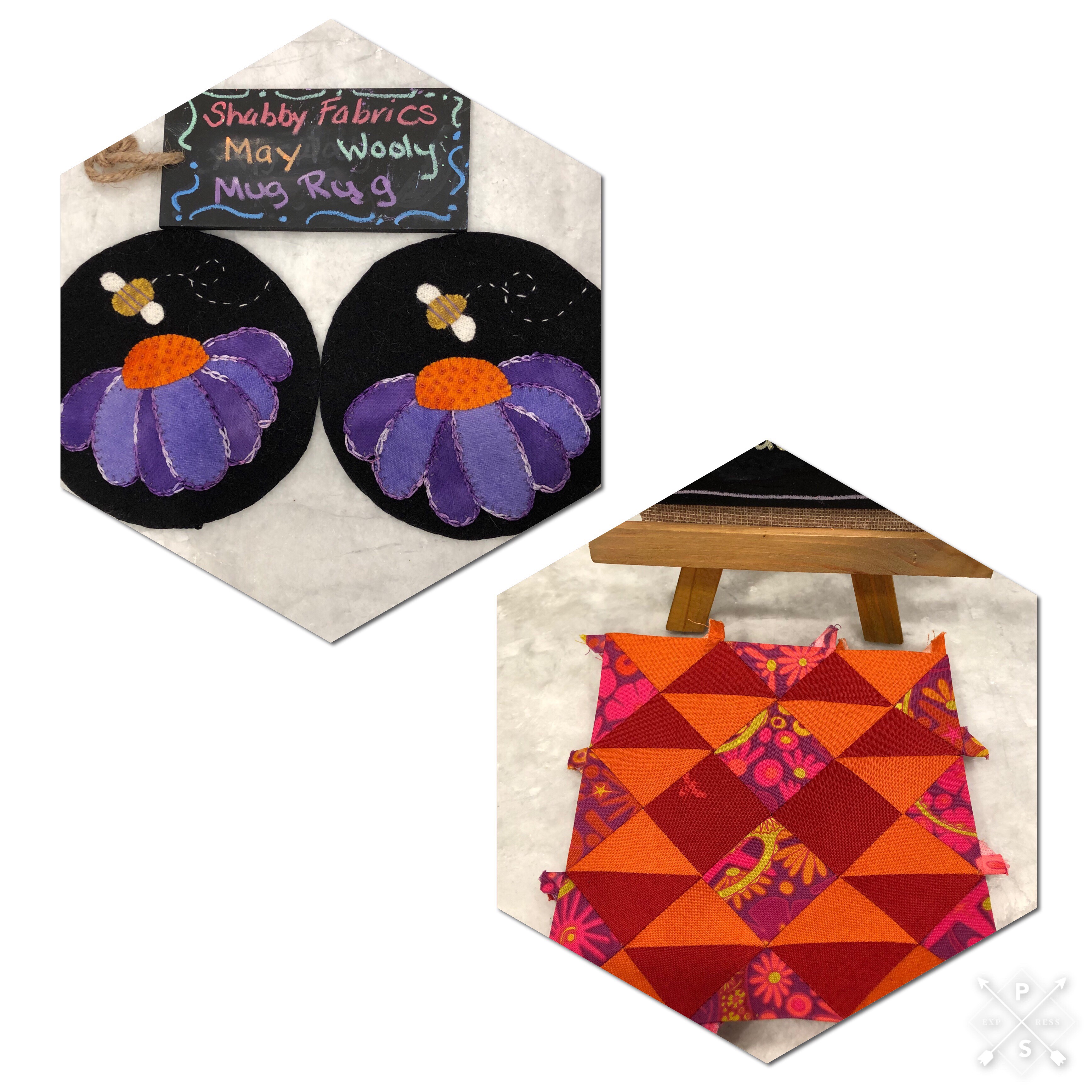 Also got the February Quilters Planner blocks sewn.  They are adorable.  I am loving the fabric I got from Craftsy.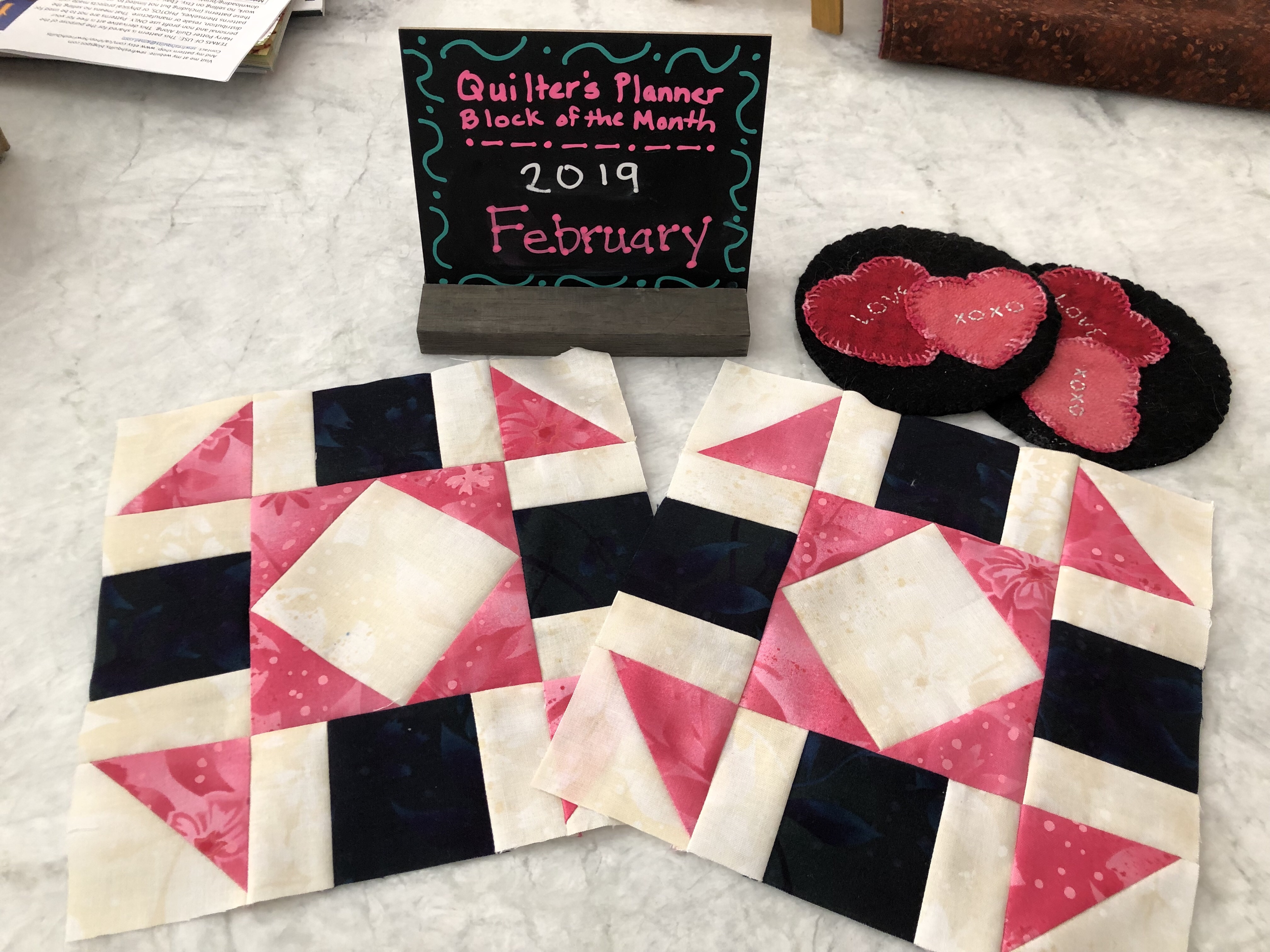 Also was able to plan out my Trinket Quilt for the Alison Glass SewALong.  I haven't done foundation paper piecing since October and I really suck at this, but I feel good with the plan and sorted the kit fabrics into my color groups to make it easier.  Printed out the first 10 blocks to use.
What is left on the sewing table update:
Miss Rosie's Cake Receipe sewn two blocks out of the six I targeted.  Not really concerned as not a priority.  It is fill in sewing for me when I am working on other stuff. Slow progress.
February Place Mats strips are still sitting in the project box.  Zero progress this week.
Tula Pink Zuma blocks are looking cute.  Sewed a few more, but not a priority.
Hexagon Charity Quilt will be moved to my March to do list.  I am not anticipating available time tonight or tomorrow to work on.  Zero progress.
Per above, NYE Quilt is basted as hoped.
Halifax temperature quilt, just started piecing August 2018.  I ran out of HST so had to pull out my Accuquilt and cut some more yellow and light green.  Somewhere along the line I lost my temperature labels.  Lucky for me, I took a picture.  Slow progress, but progress.
#365blockchallenge has zero progress.  Starting to get a little concerned with this.  March last year is where I left off so I have got to get myself reorganized so I can make some more progress.  I love the colors of this quilt.  Note to self: add to QP habits for March.
#FW1920EPPSAL is going well.  The 15 minutes a day is really working for me.  I seem to be missing once a week but that is tons ahead of where I was a month ago and am actually finishing blocks.  I am already halfway done with block 14 this week.  Also feeling like the 15 minutes helps with the hand fatigue and holes in my fingers.  I am tracking my 15 minutes in my planner as a habit.
New projects
 Hockey fabric came, but I decided to put it aside for now.  Too much going on.
Trinket quilt is ready for March 10th start.  Plan to give myself a headstart and do at least one block to post for the next 7 days so I don't fall behind.
#The100dayProject starts April 2nd.  Haven't come up with a solid plan.  I really want to participate but with the Trinket Sew Along, 365blockchallenge, Quilters Planner Block of the Month, is it too much to expect me to sew something every day for the 100 days.  On the other hand a great opportunity to use scraps or do a quilt on my bucket list.  If I have it precut, 15 minutes a day?
That's the updates for this week.  Thank you for following my ramblings.
Adventure Hard…Then go home and quilt all about it! -@burlapandblossompatterns
Peggy Stockwell