Hello!
The weekend went semi how I hoped.  I did get a lot of hockey in.  Way more than I anticipated which cut into my quilt time.  But I was able to update my Quilt-A-Long and Sew-A-Long list and feel like I know what I need to do and even get semi caught up.  Friday and Saturday found me planning my fabrics and accepting the challenge of using only solids for the 365 block challenge of 2018 by Katherine Kerr in Australia.  Obviously without fabric, I have not started this sew-along.  The fat quarters as well as the dark & light background fabrics have been ordered in teals & blues.  Supplements will be required once the sewing starts.  Black as the dark background with white and silver as the light backgrounds.  I am excited and think this will look fantastic.  All the patterns have been printed out through today and are in a folder just waiting….
My March Quilters Planner Sew-Along blocks have been sewn and photographed.  Now just waiting for the 15th of the month to arrive to post on Facebook and/or Instagram.  Plus, I was very ambitious and cut all the blocks for Sunflower Colorway as well as borders and sashing.  They are labelled and waiting to be sewn.  April & May have been cut and labelled for the Jewel/black colorway.  I don't have to think about this one for awhile now.  This finished up through Saturday night.
Sunday found me with a planned potholder & charity quilt quilting in my head.  I decided to do the Walking Foot Quilt-Along by Leah day on the potholders.  On set number one I practiced the quilting for my brothers quilt on the front and tried quilting the back (per the suggestion of a friend) with straight line walking foot quilting.  While it looks good, I found the potholders too thick.  So on my second set I removed a layer and didn't quilt the back only the front.  This design of potholder is very well laid out for practicing techniques.   I quilted the 4 1/2 square with Leah's walking foot concentric square.  (Wow looks great but time suck!) The short strips I did Leah's walking foot "crazy" lines.  (easy, fun, will probably use again).  The long strips I did Leah's walking foot curving lines.  (another easy & fun pattern).  Just need to sew the back to the front and do a little stitch in the ditch and those puppies can be checked off the quarterly list.  Just a few more and I can check the QAL off the quarterly list as well.  Progress baby!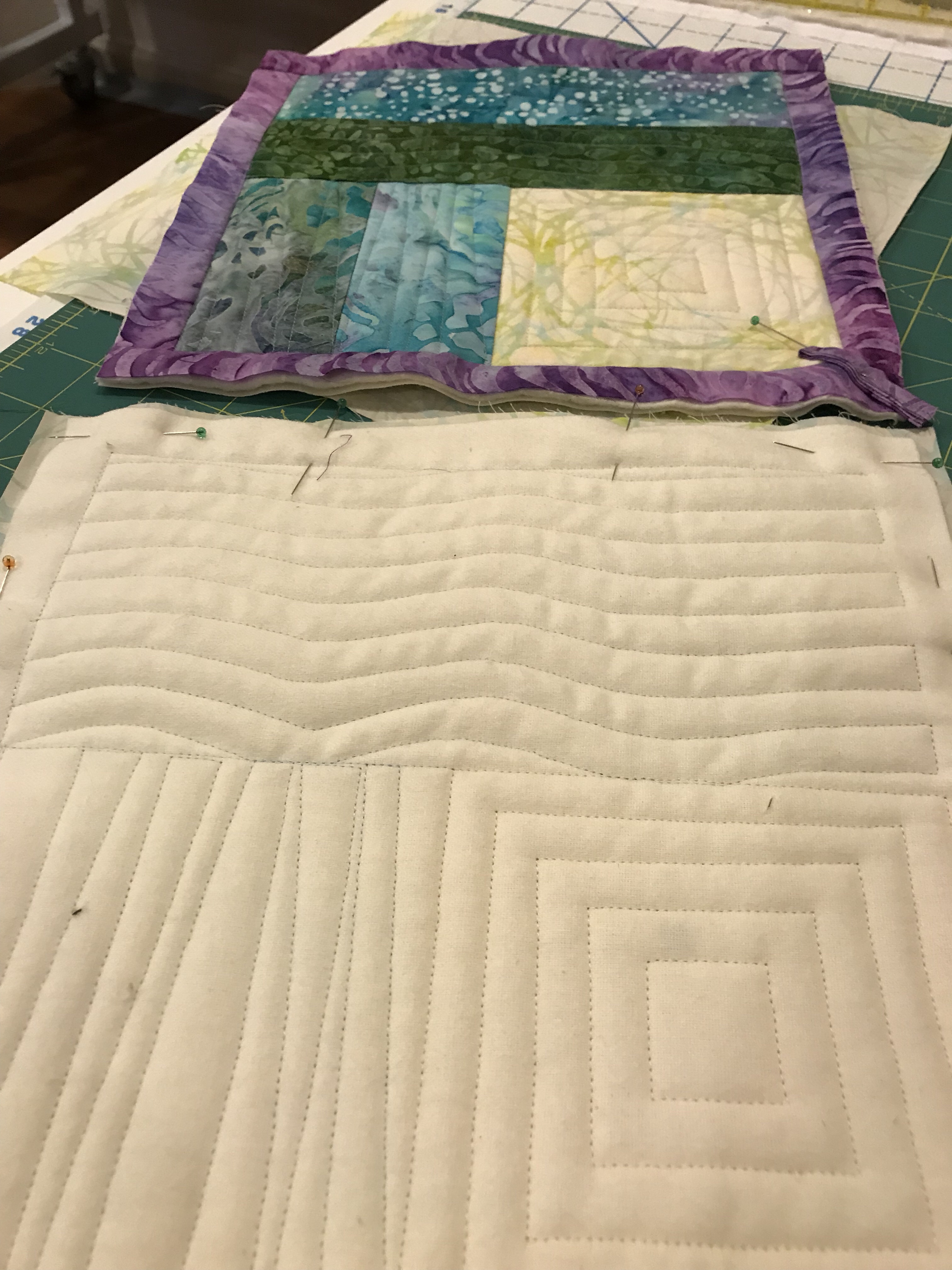 Unfortunately, I planned what I was going to quilt on hexagon charity quilt but it never got mounted on the long arm, but still progress on what is happening.
Basted the layers of my Caitlin quilt but that is it.  The fear is high and I will have to push through that one for better or worse; it will be done this month!
Happy Adventures!
Peggy