Knot Potholders
Already finished my knot orphan blocks into potholders.  I decided not to put loops so they can double as hot pads for the table if needed.  Once I got focused, it was not so bad and I played around with some ideas for when I quilt the finished quilt top this orphan blocks belonged too. I ended up densely quilting the dark background and outlining (stitch in the ditch) around the colored ropes that formed knots.  I really liked the results so that will be the plan for the whole quilt.  I used walking foot quilting from Leah Day for the potholders and that was fun.  Highly doubt the quilt will be walking foot other than the stitch in the ditch. So mark another finish on my 2019 Finishalong goals and personal February goals. If you wish to view the original quarter goals they can be found HERE.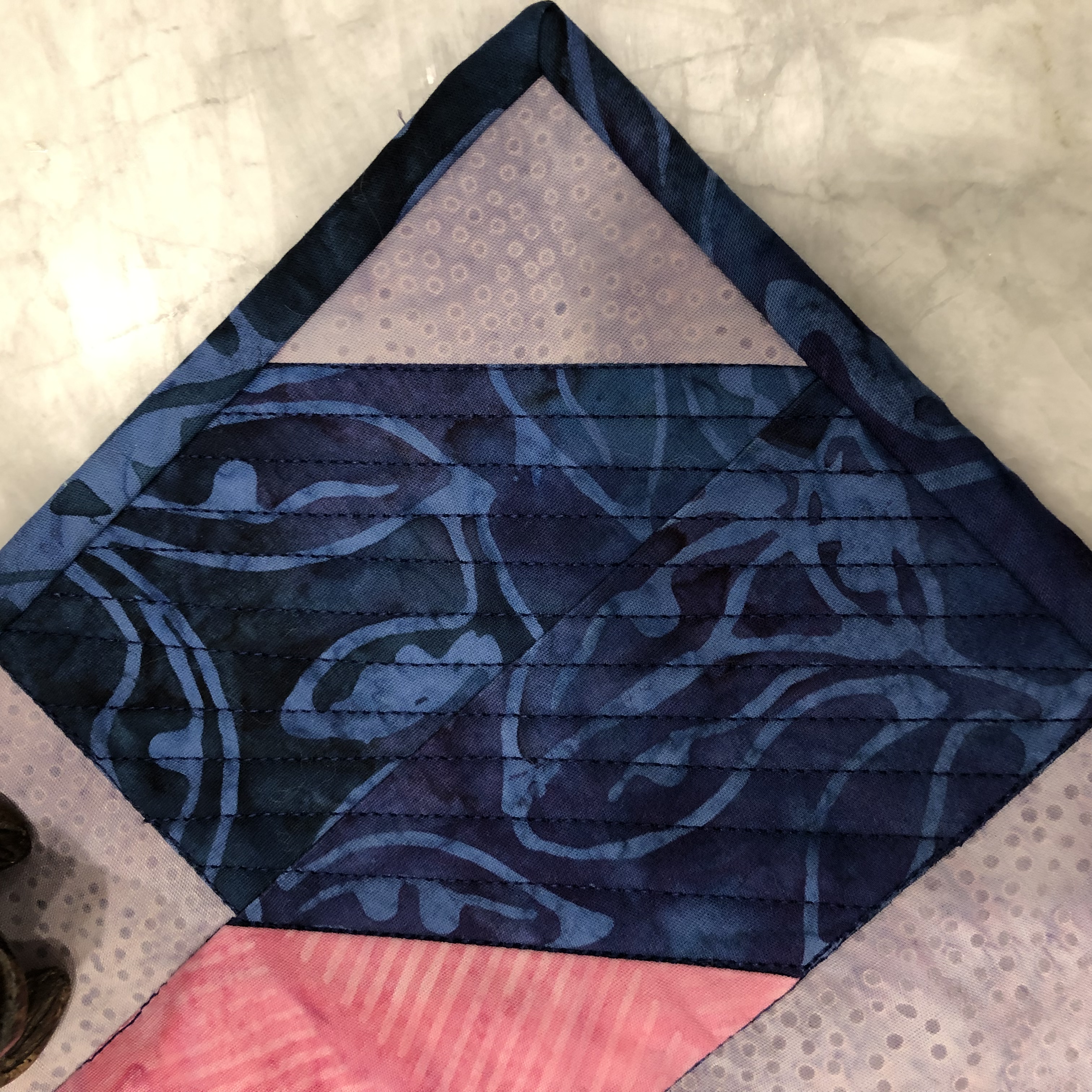 Dresden Hot Pads
I was on such a roll on Sunday that I finished the binding for the Dresden party Christmas hot pads too!  They turned out so cute that I have gotten a few requests from friends and family for a future present.  Haha!  I told them I would take it under advisement.  I did enjoy making them, but certainly was NOT quick. I loved the gold quilting and how it enhanced the dresdens.  I made it up as I went.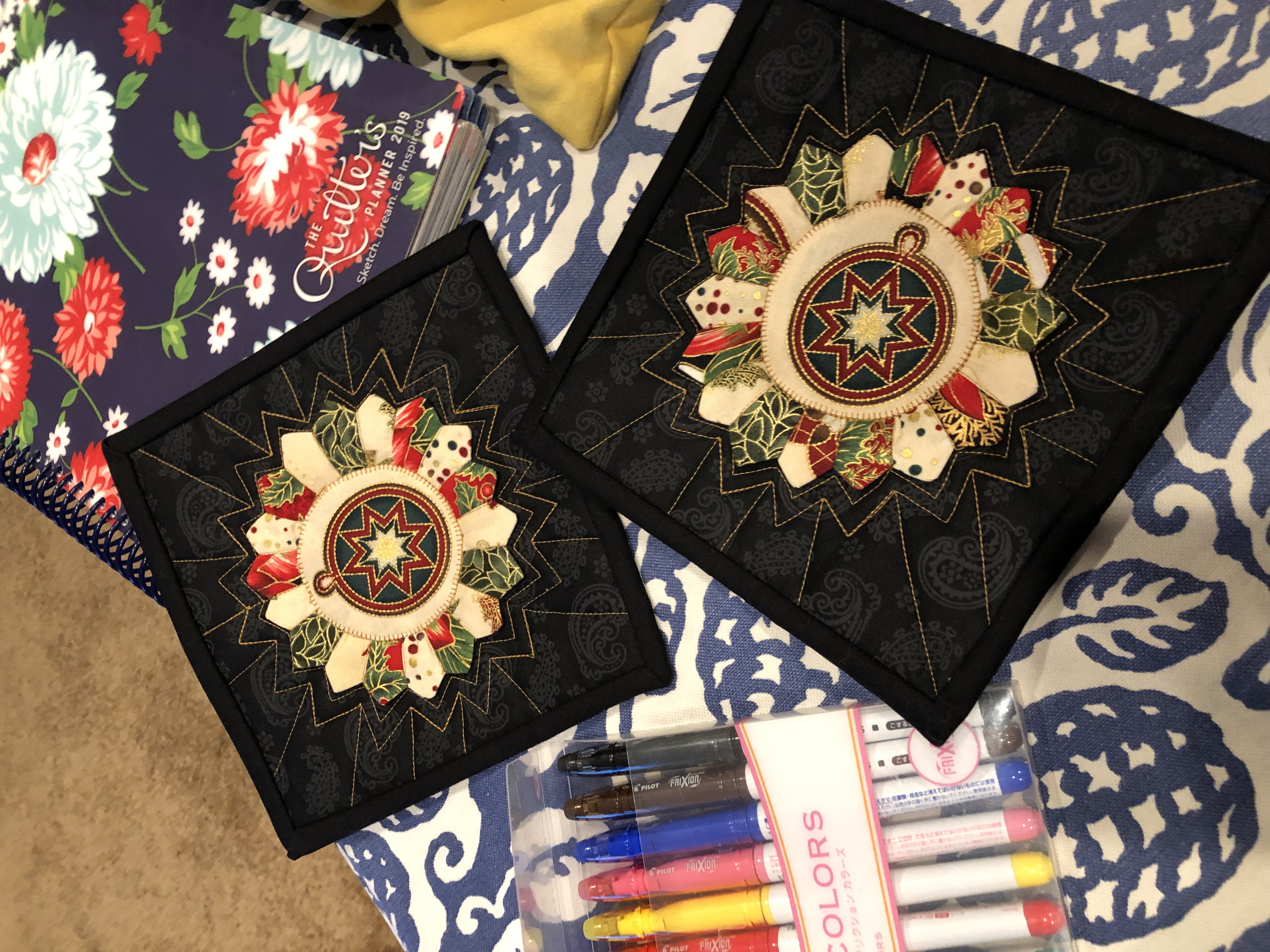 City Scape Update
I also was able to finish the quilting on my one monthly goal City Scape Mini Wall Quilt.  I like it.  Since it took so much time, I would use whatever thread was in the machine at the time of the sewing.  It looks cool even if I was being lazy.  I finished off with the dark blue I used to quilt the knot blocks and attaching the dark biniding on the potholders.  I decided that anything but a plain border would be too much with this mini quilt.  I would have loved to use dark blue but alas none was on hand, so binding is black.  I decided to put in corners on back so I can hang as well as label the quilt.  I have been looking around the house thinking about where I am going to hang this little one and have found the perfect place downstairs.  Hope to finish the binding by next weekend.  I worked on it last night, but well, let's just say it is bigger than a potholder.  So very close.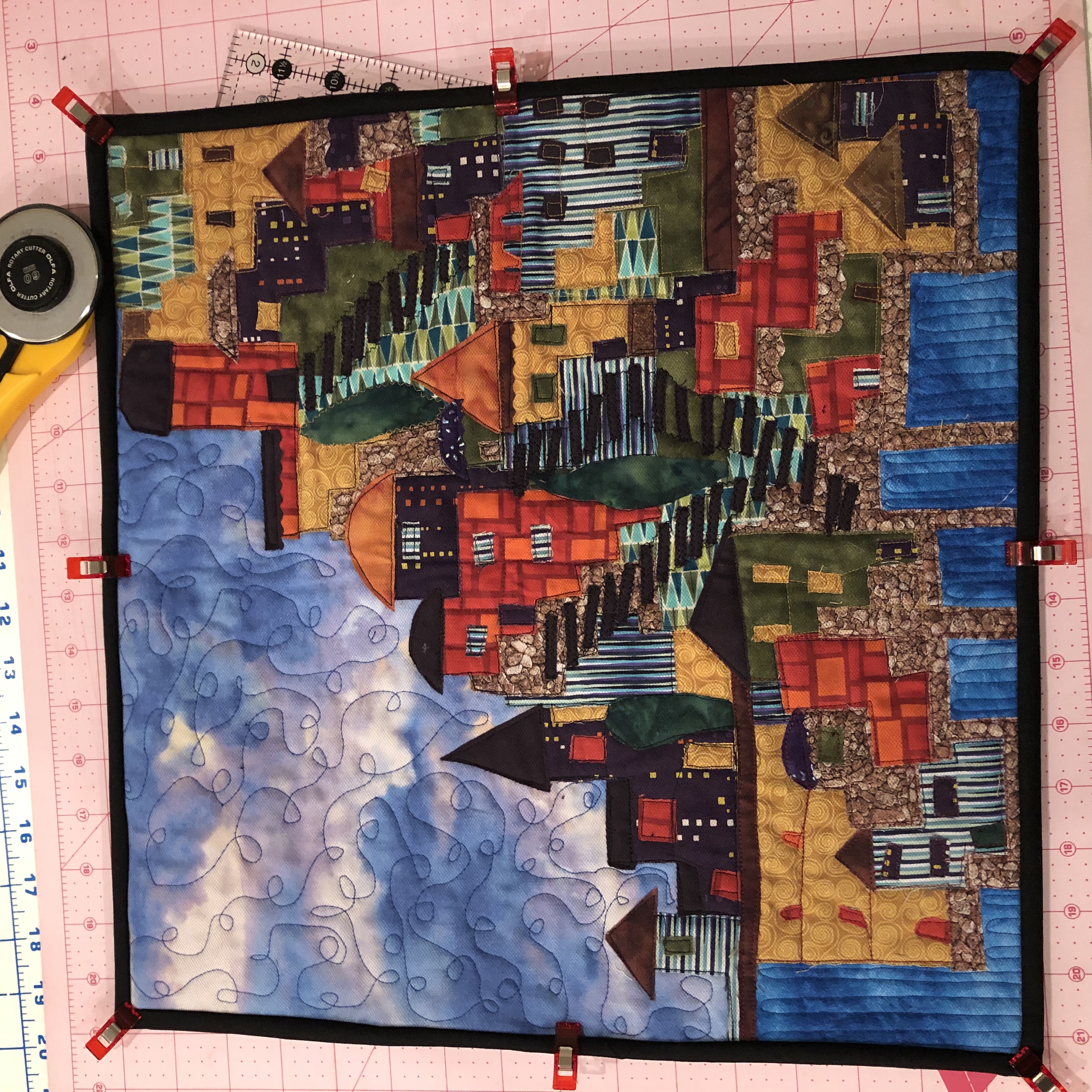 #FW1920EPPSAL Update
This weekend I also finished another EPP block for the Farmers Wife 1920 sew-along with @GnomeAngel.  It was a relief to finish and surprising how well it went together.  With the EPP, I have been having some challenges when the shapes are so different.  In this case, I put them into Square units.  My half square triangles seemed bigger than my 4 patches.  Looking a little closer, it appears I did not wrap the fabric as tight as with the squares.  I had a lot of glue on the edge of the paper where I should be stitching.  I think this contributed to how long it took.  I like my new motto of EPP 15 minutes daily.  It really has made a difference.  Way better than finding a large block of time.  I like that my fingers don't have as many holes and the hand fatigue is much less.  Do you like my new little chalkboard I got to dress up the photos.  While I was at it, I prepped three more blocks to get stitched up.  The pink blocks are finishing up and the blocks I am working on now is transitioning between a couple of colorways including red, pink, and orange.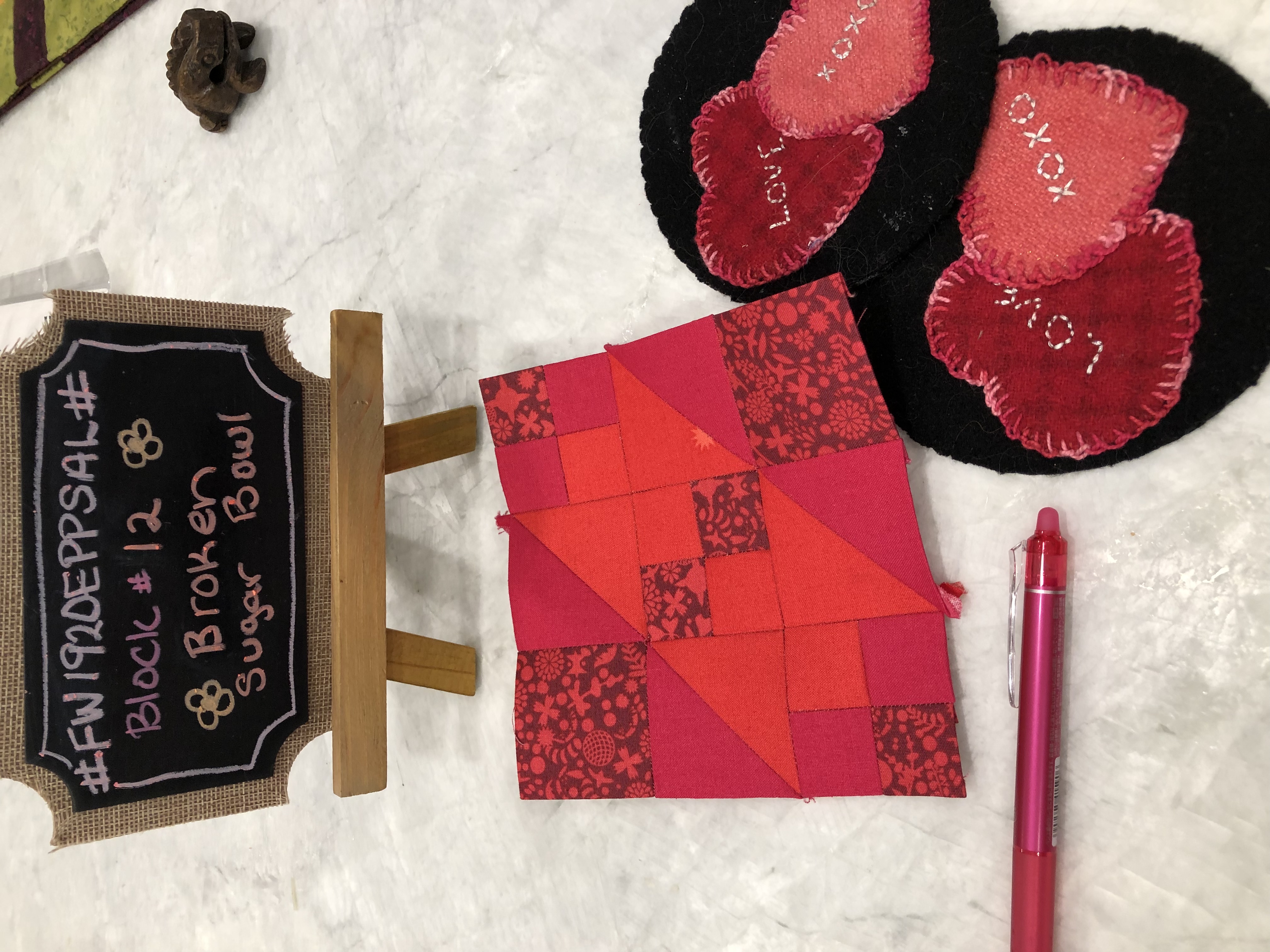 NEW
Speaking of photos, @52Quilters had a quilter on there who alters photos to be quilt friendly and she uses Spoonflower to print 9 photos to a fat quarter for $10.  I downloaded a number of the apps she uses and started exploring using my Adobe suite as well.  You will probably see me exploring more with my own photos as I play around with bringing photos to fabric.  I hope to perfect this in the next few months as I would love to put together a fabric to use for a requested table cloth.  I'm still mentally playing with that.  It is a great new avenue to explore and enjoy in the world of quilting.  Thinking of so many applications……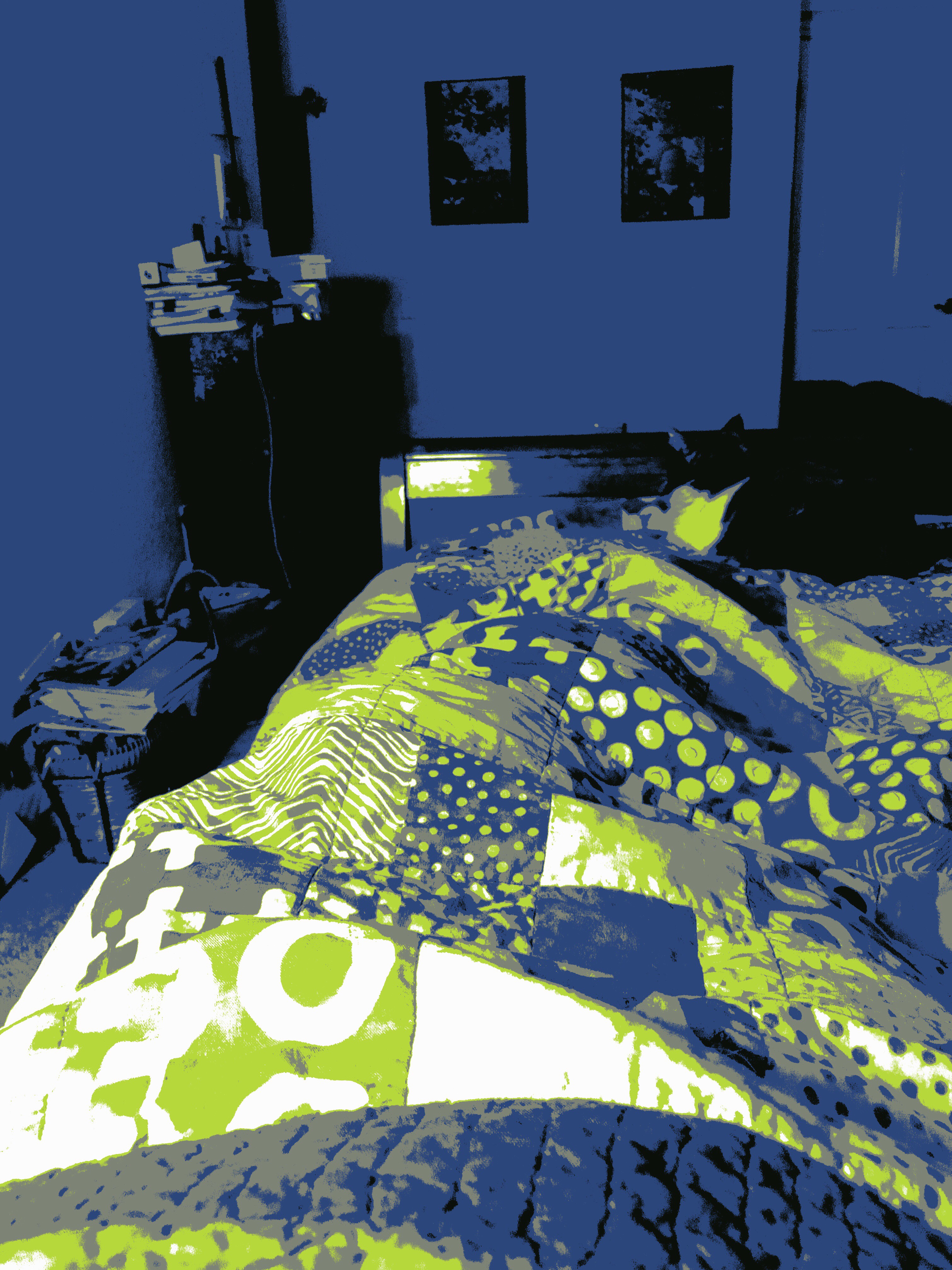 Travel Woes
We hit the road again tomorrow evening for another hockey tournament this time in San Diego.  It means more time away from my sewing machine and quilting.  As mentioned, I was able to get 3 more blocks cut and prepped for travel.  Tonight before going to bed, I have a goal of cutting and ironing the applique for the May Wooly mug rugs which are cute purple cone flowers.  If I don't get it done, then next is to throw my mini iron, fusible, etc in the suitcase so I can get that done.  Obviously, it is quicker and easier to do at home.  We seem to have some down time in our schedules so I should be able to get them done.  This is becoming one of my favorite projects to take on the road as I feel really accomplished getting back and only having to put backing and "bind" them.  It feels so good.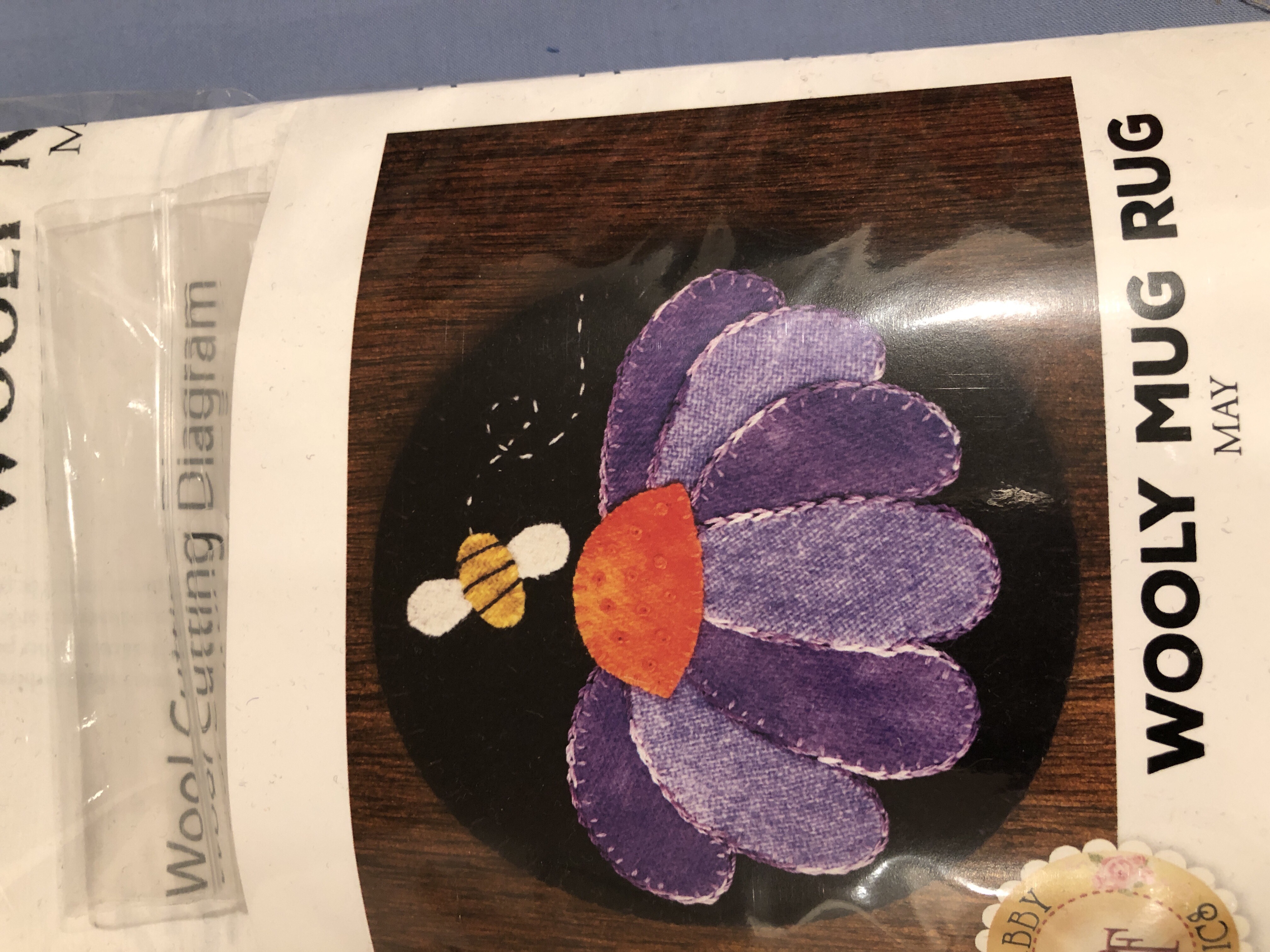 I found a quote that is going to be my motto for this year.  You will be seeing me end with this quote for the rest of 2019 just to remind myself.
Adventure Hard… Then go home and quilt all about it! -@burlapandblossompatterns
Peggy Stockwell