City Scape Mini Wall Quilt Finish!
With one week left I have already finished the linkup with Elm Street One Monthly Goal for February.  This has to be a first.  I'm usually waiting until the last minute to finish up.  It feels good to have this old PIQF class project done.  It was a fun project. I hope I can find the class material to review it.  I would love to make another one.  This is all improv and freeing.  I enjoyed working within the color palette I had chosen.  I can't imagine anyone else wanting this one, so this one is for me.  Last night I hung it on my refrigerator with my new sewtite magnets.  Of course, that was not the intended use.  Learned a lot how I might want to quilt future projects.  I really thought it was appropriate tulle instead of something else to help keep all those tiny pieces in place.
This was also one of my 2019 Quarter 1 Finishalong goals which I linked up with Capitola Quilter.  To see my original list for quarter one go HERE.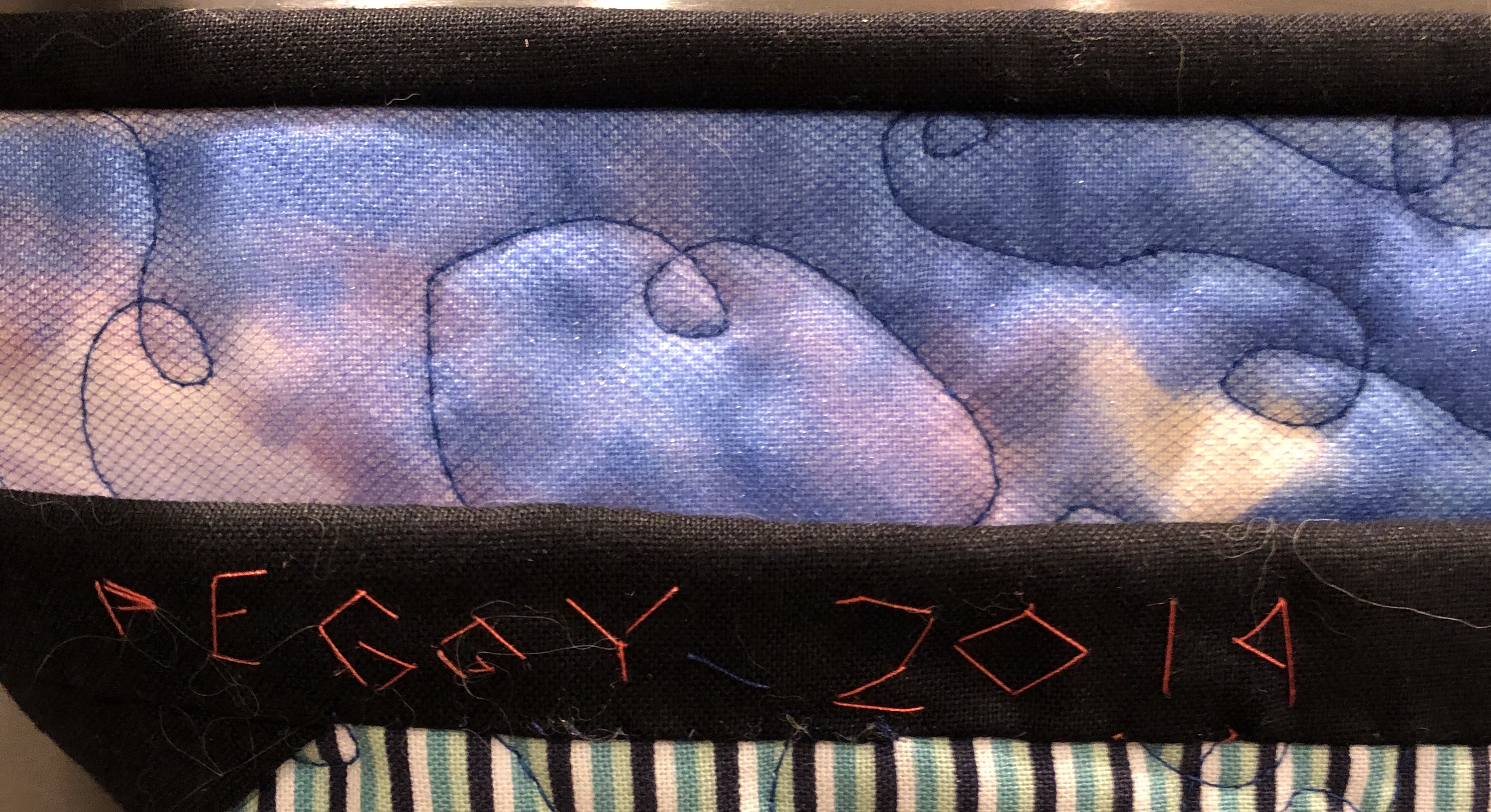 On the Road
While we were on the road this past weekend, I was able to get pretty far with both my new mug rugs and EPP block.  San Diego was cold and wet.  The hockey tournament went well as the boys skated away with a 1st place banner and medal.
The mug rugs this time used mostly wool thread to do the embellishing.  For the flower leaves they are outlined with a chain stitch in variegated purple thread.  One rug is done already and I am almost finished with the second one.  Here is a shot of the in process piece.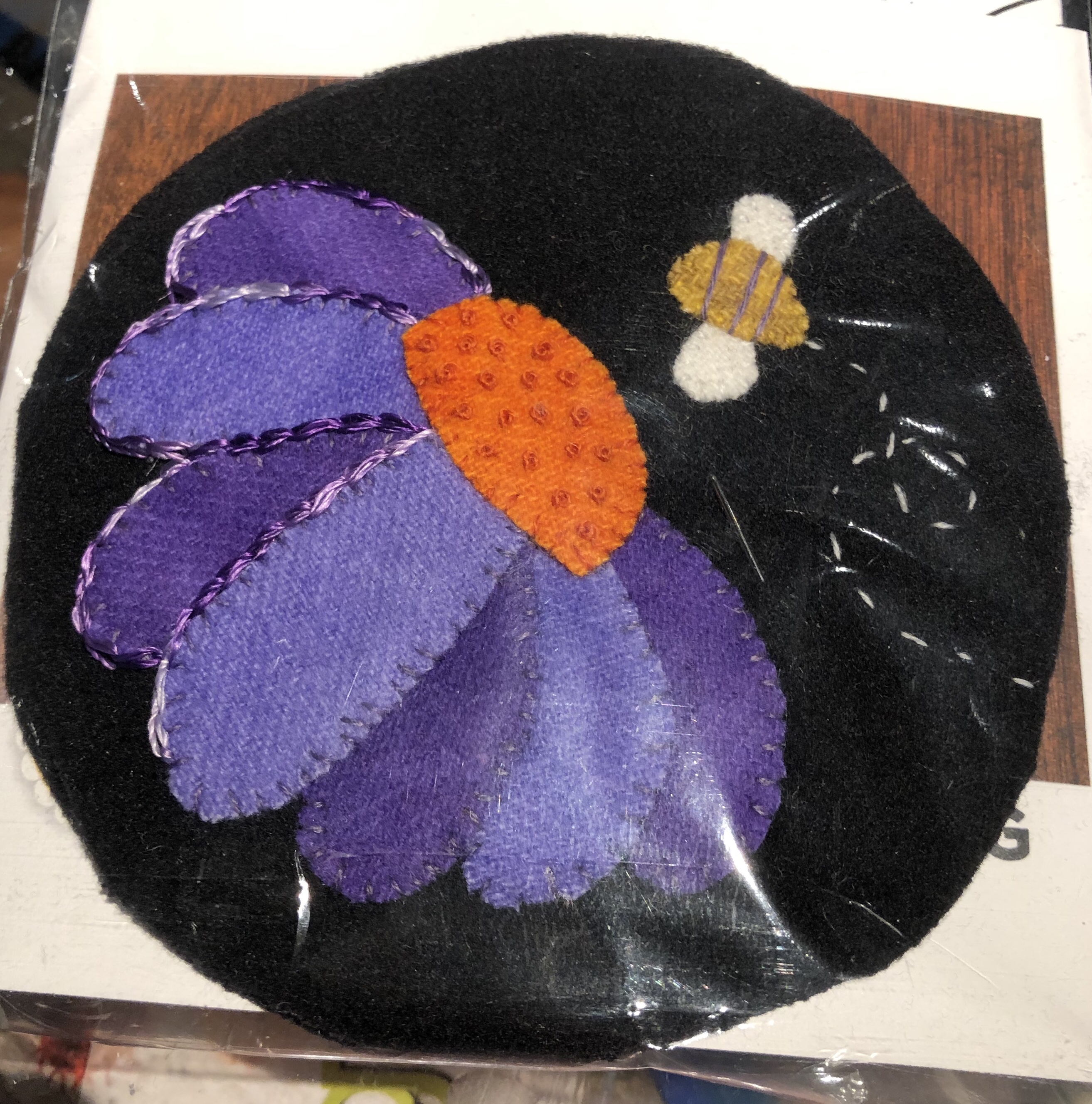 Block 13 of the Farmers Wife has a lot of little pieces.  I have been sticking to my 15 minutes a day goal.  I am only able to finish two seams in 15 minutes.  Although, I feel I am getting faster.  On this trip I finished one half of the block and started the second half.   I am so pleased with the how it is looking.  Even though I lay them out so I know how it should go back together, I am never really sure how it will look.  Love it.  Here is a progress picture.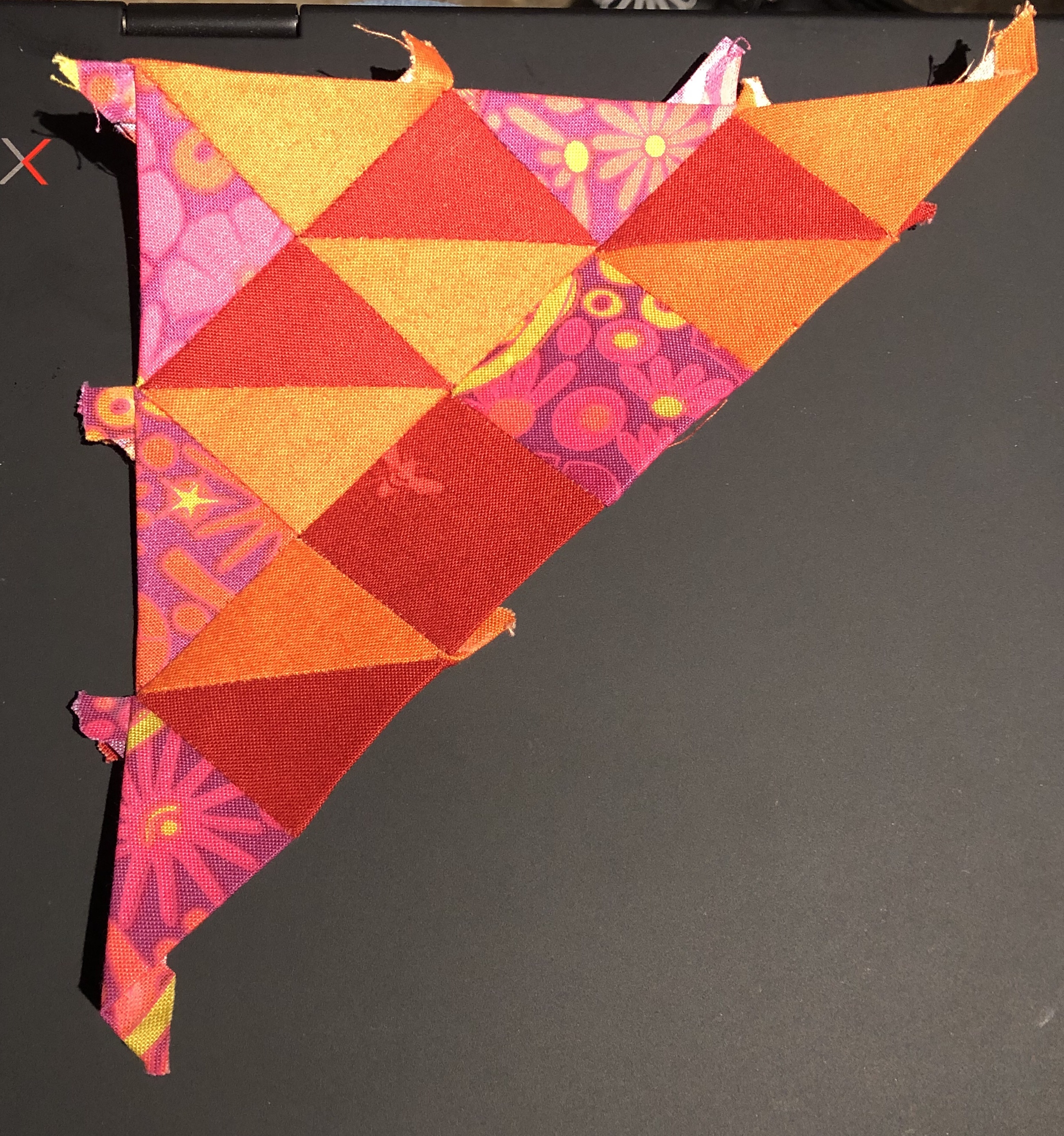 Rest of February
I still have a few more goals for the month that I haven't reached so this weekend will be working on them.  See my February Goals post to see pictures.
 I seriously need and want to finish my hexagon charity quilt.  This is moving to the top of the list.  I know once I get the machine threaded and the quilt on the machine this project will move along quickly.  How can it not?  I have no sentimental attachment and the recipient won't care if it is perfect.
I really would love to get my 2010 New Year's Eve quilt basted so I am set for March and quilting this puppy.  We don't have any commitments for the weekend so maybe it will happen.
My February block of the month for the 2019 Quilters Planner Sew Along.  They are cut and ready.  I might try and squeeze those out Thursday night before the weekend.
I need to check to see where I am at on my Halifax temperature quilt.  I am supposed to finish through August for February and I am close.  With being on the road, I lost track of what months are done.
I wanted to start sewing a block a day with my #365blockchallenge.  I promise to get that rolling this weekend.  Tomorrow I will organize myself to see where I stopped so we are ready.
New Projects
Yes.  I know.  I know.  I have plenty of WIPs.  I should not start anything else but..  Well I could not help myself.
 I saw this awesome hockey fabric.  I bought it.  I need to pick up some background fabric – most likely white.  I going to make into a quilt.  What is the question?  Do I make the second layout for the 2019 Quilters Planner, a sampler quilt, a simple layout, two block quilt like my frayed 9 patch.  What to do?
I am doing the Alison Glass Trinket Quilt Sew Along that begins March 10th.  I already bought the kit months ago so I figured this was a good time to do it when everyone else is doing it.  I am not very good at foundation piecing so it will be a new skill to reinforce.  I have only done it sporadically in the past.  Doing a sewalong should keep me moving along.
#The100DaysProject starts on April 2nd.  I have decided to participate this year.  I am thinking 100 days of Churn Dash blocks.  I could design one in EQ8 or use the design in 2019 Quilters Planner.  That has a churn dash inside a churn dash which is very intriguing.  So many decisions.
What is left on the sewing table
Haha!  I was thinking I was doing so good (I am).  These projects are not part of my February goals but I find myself working on them from time to time:
 Miss Rosie's Cake Recipe is not urgent but I have been working on it a little at a time.  The fabric is orient in design and a beautiful peacock colors.  I made a weekly goal of finishing 6 blocks this week.  Week ends Friday.
February place mats strips are cut and just need to be sewn together.  It is going to be a rail fence design this time.  Most likely I will sew mat tops together but not finish the whole project.  I think I will skip March and start thinking about April instead so maybe I can get some done in time again.
Tula Pink Zuma blocks are still being sewn randomly.  Not sure how many are done.  It looks like I am about half way through the charm/strip pack.
Okay, that is enough update.  Ya'll can see why my friend Mary Elizabeth rolls her eyes at me.  I can't seem to finish anything.  In reality, I probably start two or three new projects for every one I finish.  I can't seem to help it.  I am easily distracted and bored.  Maybe if I retired I could at least finish as many as I start.  That would be different.
Thank you for following me and listening to my ramblings.  Hopefully I can put something more instructional soon.  Maybe one of my new quilt designs as I go through my process.
Meanwhile, Adventure Hard… Then go home and quilt all about it! -@burlapandblossompatterns
Peggy Stockwell