I have been pondering since Friday what I would like to get done this month.  I have quite a few things on my quarter one list and definitely need to work on them.  So I pulled out the list to see what would be my focus of something that has been out there for a long time.
Here is what I came up for February:
Abstract City Scape from PIQF (what year I have no idea 2015? 2016?)  I loved this class and I loved how it turned out but instead of selecting an allover design to quilt I went with stitching each individual piece down.  You have no idea how many tiny pieces there are.  I also was so anal in the beginning to match color to color.  Now after so many years, I just want to be done so I can hang it up.  I have started using various colors based on what is in my machine at the time I get a hankering to sew.  I also really want to be motivated to finish this up so I am linking it up with Elm Street Quilts – February One Monthly Goal.  I will FINISH this design.  I have left quilting and then either bind it or frame to finish whichever I decide at the end.
Hexagon Charity Quilt is my second project on my Sunflower Stitchery & Quilting Finishalong and I really need to get this one on the sitdown machine and just do it.  I know I am unhappy with my thread choice but it is what it is and I just need to get it off my sewing room table to make room for project #3 which will be a very big deal.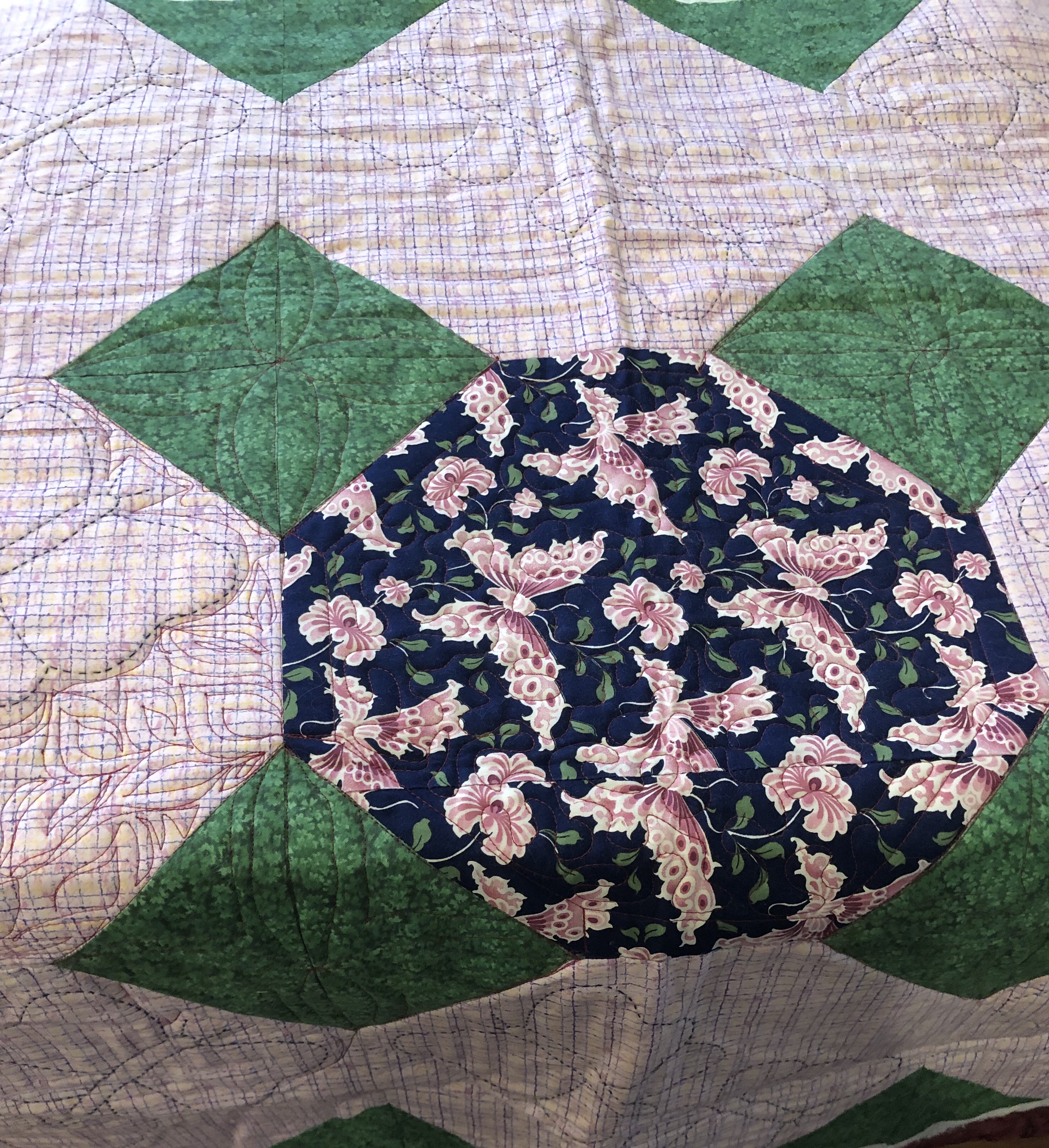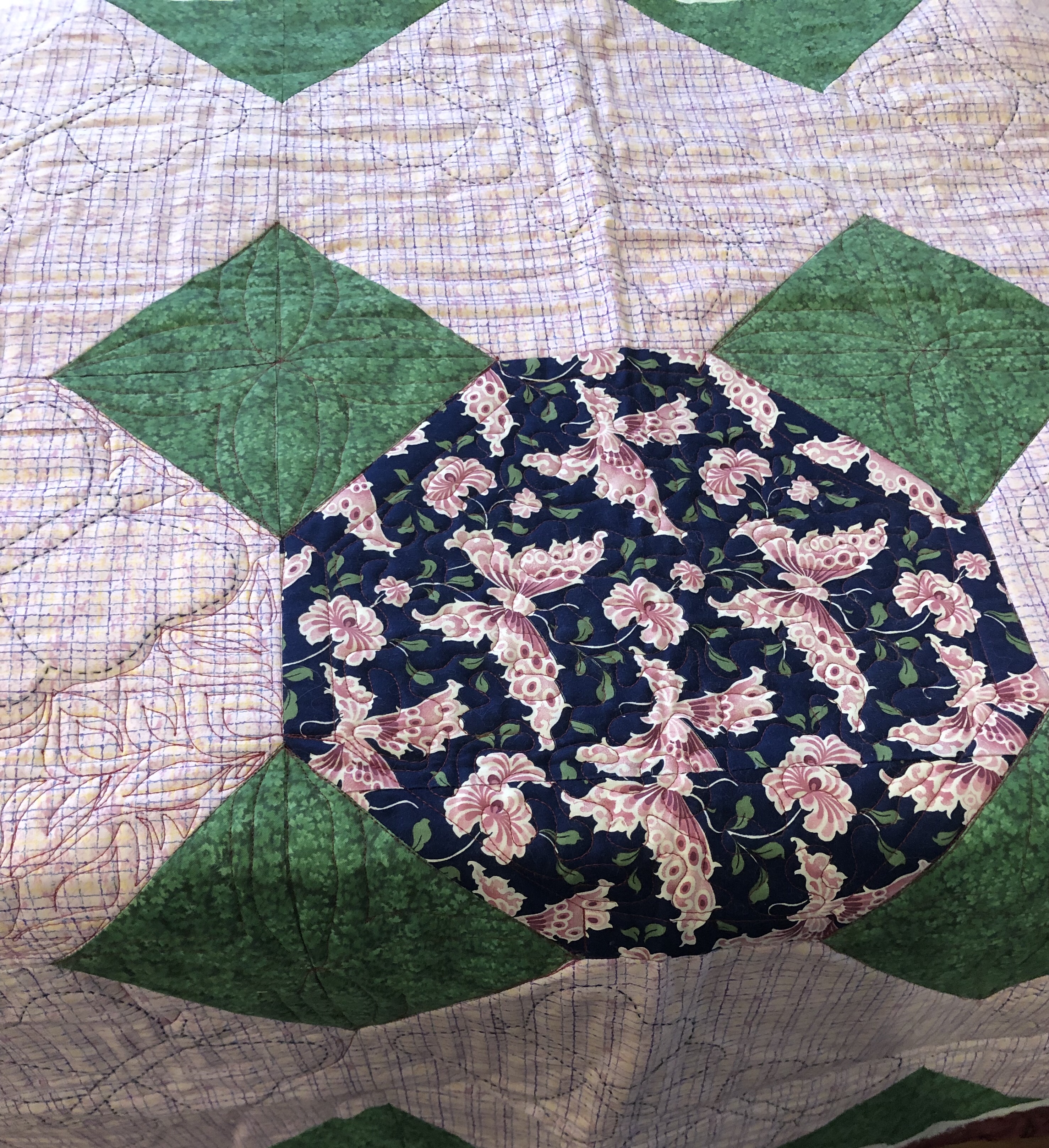 Project #3 is basting, quilting, and binding my 2010 New Year Eve's quilt so I finally have a quilt for my bed.  I love the colors on this and back in 2018 I finally added the borders.  This month will be getting this behemoth basted at a minimum.  Since this is slightly larger than a queen and I have to do it all by myself, this is usually a whole day project.  Wish me luck on that one.  Why is it things that are destined for our own personal use get pushed aside for gifts for others?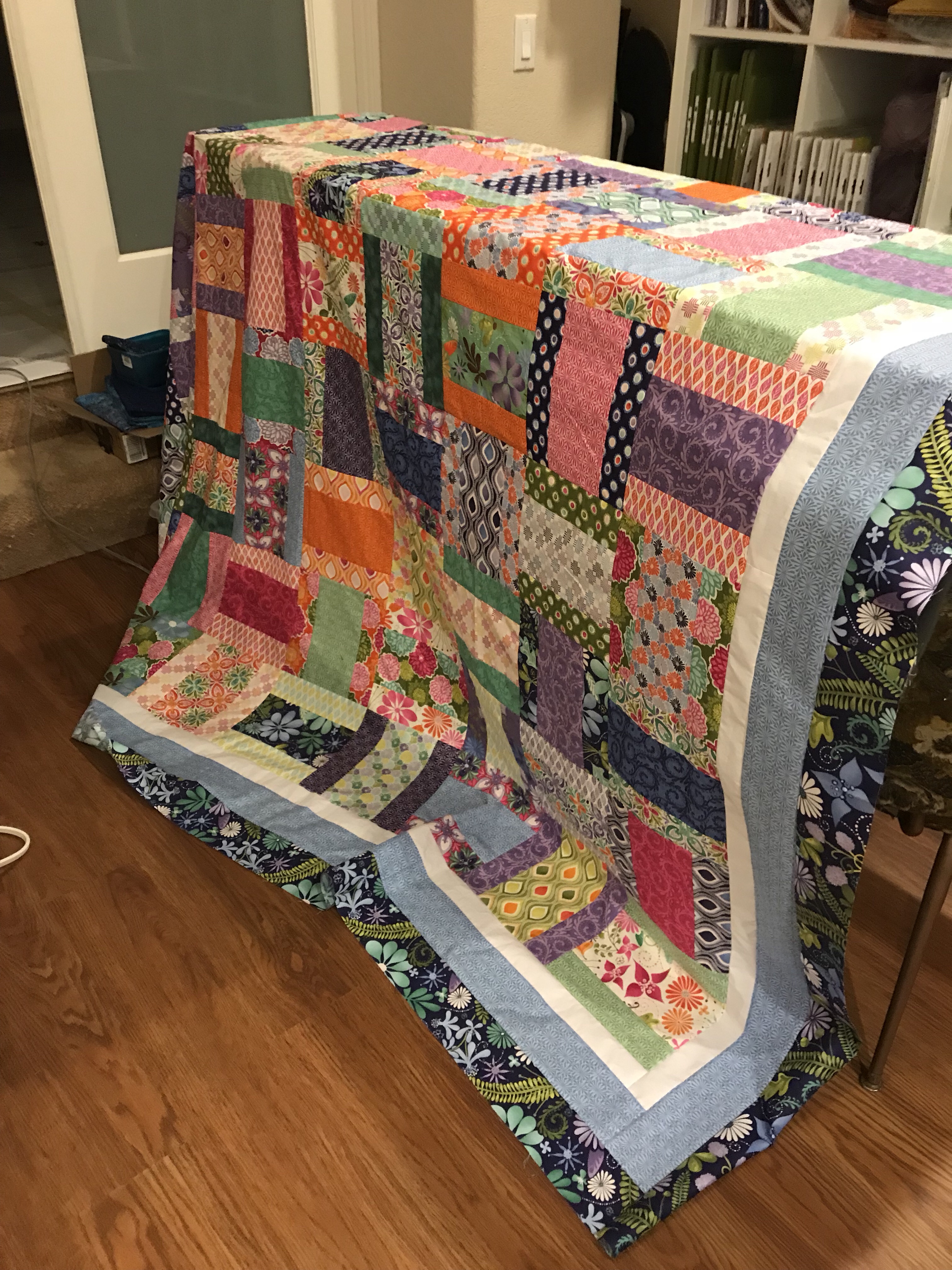 Now for some easy ones:
 Sew up my February blocks for the Quilters Planner 2019 Sewalong.  I got the blocks cut yesterday.  (Yay!)
Finish my Knot Potholders that I set aside January 2018.  They are adorable (and don't match) but I really need some new potholders.
Finish up my #minidresdenparty2019 Christmas Hot Pads.  I quilted them last night and love how they look.  Just need to bind.
Finish my Bunny wooly mug rugs.  Just need to layer and blanket stitch together.
August 2018 Halifax temperature column and that will complete the first year.
Need to get back into the swing of #365blockchallenge after falling off the wagon last year.  So…. I will begin posting each day on Instagram to get going and sew 15 blocks this month so I can stay ahead.  It is hard to stay up with this challenge when you do not have the pattern ahead of time.  I have almost all the days now except for August & September.
Another sewalong that I fell off the wagon with is my EPP project (which I could do another method but I refuse to do it).  I am actually really excited to have a hand pieced quilt when it is done, but I have got to stay on it.  I was trying vague commitment such as when at hockey or watching tv.  Someone committed to 15 minutes a day.  So during the month of February, I will do 15 minutes a day of EPP.  I am very slow but hopefully I can get at least 3 Farmers Wife 1920's blocks completed.  I am currently working on block #12.
This is more than enough things for me to be committed to and knowing me, I will not be able to help myself and will end up working on things that are not on the list.  But you know, the list is a roadmap or a guide to help me when I don't know what to do.  Last month I ended up with 3 finishes from my list so I am really cool with that.
I have a coach (or mentor).  He tells me that guilt is a waste of energy.  Let it go and focus on the positive.  So here we go!  What are you working on?
Quilting is an adventure and adventures should be fun!
Peggy Stockwell